Long before the Indians played in the state championship game at Broadmoor World Arena last month, vying for the program's first title, there was always the whisper that this 4A team on the Western Slope could make some noise, at least in the mind of two-time Southwestern League Player of the Year Luke Hutto.
"Even before the season started I felt like we had the talent to go very far with the team we had," Hutto said in an interview. "We knew people thought the odds are stacked against us and no one thought we would make it that far."
But Hutto and the other players knew the potential. In 2020, due to the pandemic, players were without summer basketball camps, an opportunity to play additional games. So they pivoted to other tactics to continue playing ball.
Hutto, along with teammates Jordan Jennings, Ashden Oberg and Trey Reese, would visit the Montrose Recreation Center, and play some hoops. Sometimes the group would go to Reese's house, and shoot hoops there.
They even went to the Bill Heddles Recreation Center in Delta, another opportunity for two-on-two action. And if an indoor hoop wasn't available, an outdoor hoop worked just fine.
"Basketball is a lifestyle and a hobby we enjoy doing," Hutto said. "It's something you find to play regardless of the situation, and that's something that a lot of us did."
The summer passed and fall came, and with it came news that the season would be restructured due to the pandemic. Winter neared, and the season was postponed, adding yet another loss of games.
It didn't stop the players, though. They kept working.
"We knew we had to put more time outside of practicing at the high school," said Jennings, a senior. "Whether it's alone at the Rec, or having a good group of guys at the Rec, or finding things to do outside of the Rec. We knew it was going to be tough. We knew we had to get in shape and work on things."
The offseason commitment led to a historic season for the Montrose boys basketball program. An 18-1 record, an appearance in the state title game, an undefeated record in conference play, two members with All-State recognition (Reese was an honorable mention), and a considerable presence in Southwestern League All-Conference honors (Hutto and Reese made the first-team, while Jennings and Cheezum were selected for the second-team).
"It's great in the fact that basketball is a team sport," said Hutto of the team's SWL honors. "It's never going to be one guy to make those deep runs. It takes five to seven guys to make some noise … even guys that didn't get any honor, Ashden and Cody (Proctor), definitely deserve some praise."
"The biggest thing I saw with these guys was they believed from day one they were one of the top teams in 4A," Montrose boys basketball coach Ryan Voehringer said. "Not only did they believe it but they went out and showed it on the floor. That's what I'm most impressed with. Believing and getting the job done on the floor are two totally different things."
Of course, players have to buy into the system and culture, already established in the six years prior when Voehringer arrived in 2014 to lead the boys program. But that task is much easier when everyone involved is on the same page.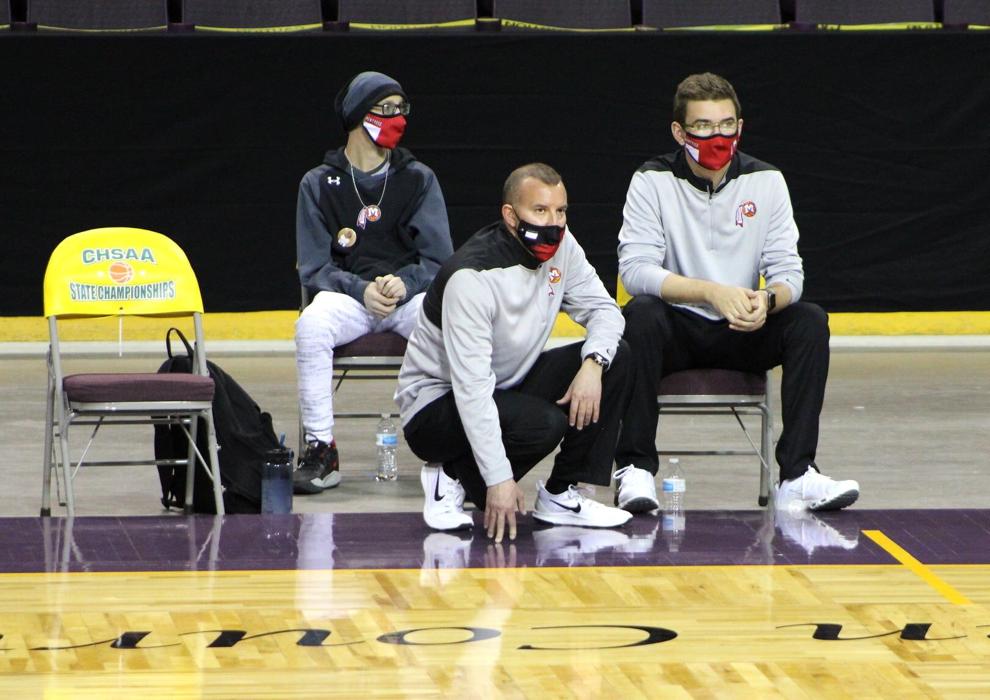 "He put so much time into making sure we're ready, whether it be watching film or coming up with new things in practice," said Jennings of Voehringer, who was named SWL Coach of the Year last week. "He has a great relationship with all the players and he's just like us. He wants to win."
The Indians have done plenty of winning in the past four seasons. Since 2017, the team is 71-23, including 38-6 in the past two years, a period that's seen the current group flourish.
"These guys have a great bond as a group," Voehringer said. "They developed great chemistry as a team and played for each other and not as individuals."
The group pushes one another during training, Jennings said, especially Proctor, who remains tough to guard in practice. "He gave all us a run for our money," Jennings added.
That drive rang true during games, too, when the players, like Jennings or Reese, would have those in-game discussions, analyzing a previous play or game-planning for the ensuing possession.
It's why Jennings, during the season, attributed that chemistry and leadership as pivotal reasons why the team remained undefeated, and even more so after back-to-back road wins against Fruita and Durango. The Indians defeated the Wildcats 52-48, and three nights later, downed the Demons in Durango, a difficult environment to win in, 50-42.
"After those two big road, conference wins, it was a big boost in our confidence and got us rolling," Jennings said.
The Indians continued to roll through their schedule and entered the postseason 14-0, one of two teams in 4A to enter the playoff bracket without a loss.
The Indians, Hutto said, were playing some of their best basketball in the postseason. A gritty, come-from-behind 54-52 win over Green Mountain in the Sweet 16 only exemplified that, and the Final Four win over Longmont, a team always in the tournament (and going far), was the Indians' best game of the season, Hutto said.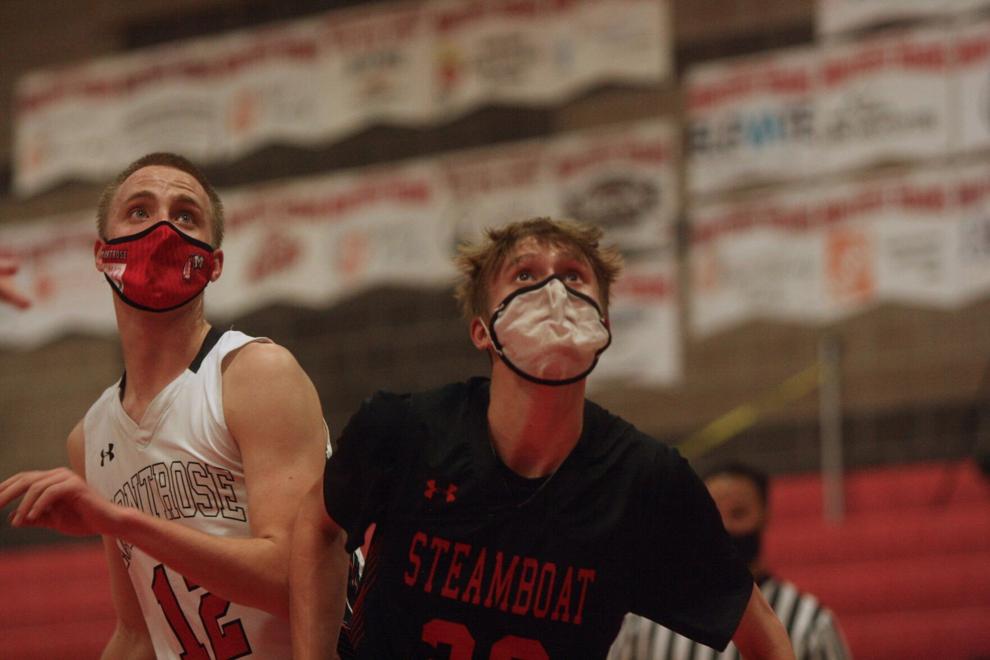 "Everybody was clicking when we needed to be, and that's what playoffs are all about — playing at your best level when it's needed," he said. "And as a team, that's exactly what we did, and it wasn't just one guy every night."
Montrose had two double-digit scorers in all five playoff games, and three scorers over 10 points in the first three games, including a season-high 24 points from Hutto in the Great 8 win over Steamboat Springs.
In 19 games, opposing teams scored 50 points or more just twice, all while the Indians averaged 56.3 points. Hutto led the team in scoring, averaging 15.1 points, but Cheezum, Oberg and Reese averaged 9 points or more.
"We all made each other better," Jennings said. "Whether it was Luke one game scoring 20 points, or Trey (the next) game, or Oberg, who had a couple big games for us, everyone made each other better throughout the season."
Connected to the 1951 team
Until the next time MHS boys basketball reaches the state championship game, for now, the 1951 and 2021 teams are the only two to accomplish the feat in program history, pairing both squads for the foreseeable future.
The 1951 team, made up of Kenneth Townsend, Jim Doud, Phil Pratt, Alan Buzan, Richard Kelley, Vincent Foster, Tex Whiteman and others, coached by Howard Hooper, were a basket away from winning the 1951 title. With 30 seconds remaining in the fourth quarter, Foster missed an open shot, and Brighton dribbled out the clock to win the Class A championship 43-41.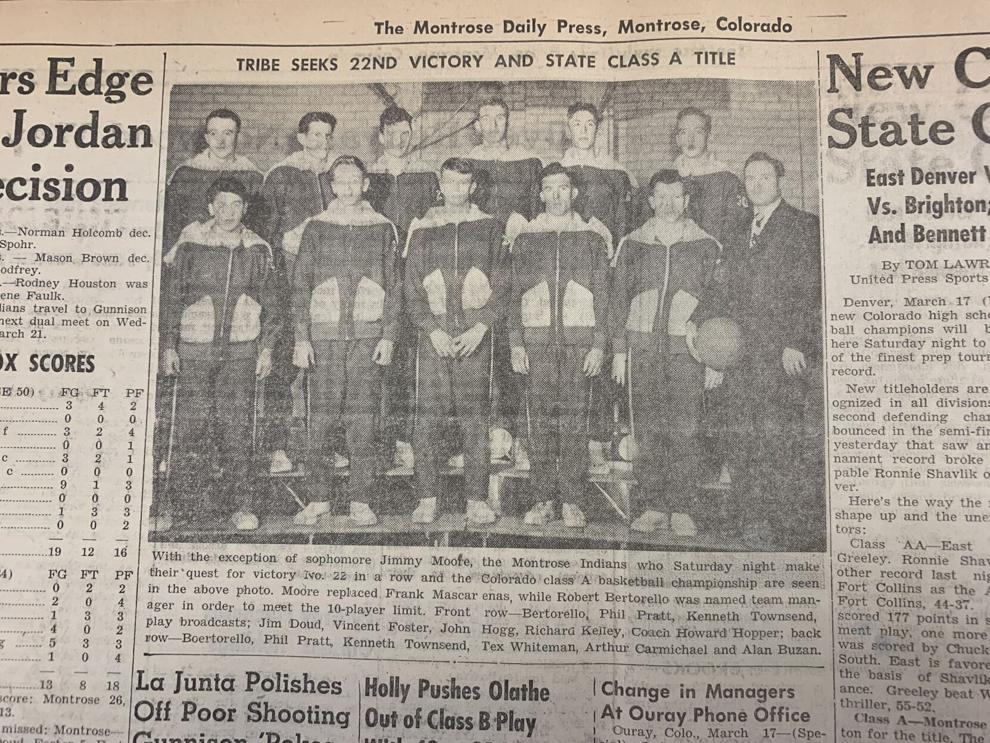 It was a talented group of athletes, as some went on to win Montrose High School's lone baseball state title months later, an 11-2 win over Brighton.
Like the 2021 squad, the 1951 basketball team, too, went on a historic run, winning 20 straight games before defeating Fort Morgan 50-34 to reach the state championship. Montrose had hopes to make it 22 straight to cap its season.
Much like many do today when talking about the athletes from the 1951 Montrose Indians, years from now, those who revisit the record books will hear and see those names — Hutto, Reese, Jennings, Oberg, Cheezum and Proctor — when talking about the 2021 team.
"What they accomplished this season, most coaches and players never get the opportunity to experience," Voehringer said. "Most people don't realize what it takes and how hard it is to go undefeated and reach the state title game. Even though we lost in the state championship, the remarkable season we had will go down as one of the greatest seasons in MHS boys basketball history. Those (are) moments the guys will never forget."
The group will have a chance to provide some additional moments and memories. All players outside of Jennings and Aiden Samuelson will return for their senior seasons.
"My high school career feels like it just started yesterday," Hutto said. "It goes pretty fast and I'm looking forward to having one more year, being out on the court again and making another run."
And Jennings, who committed to play golf for Colorado State University, will keep all the team's moments and memories close.
"We had a great group of guys that really got along with each other and built relationships with each other," he said. "It's something I'll remember for the rest of my life."
Josue Perez is a staff writer for the Montrose Daily Press