Life in the Philippines hasn't been the easiest lately. With over 325,000 confirmed cases, the country wears the unenviable crown as Southeast Asia's current coronavirus hotspot, with regions across the country dipping in and out of lockdown since March. Needless to say, the pandemic's impact on the day-to-day life of its citizens has taken some adjusting to. If you live in 10 of Metro Manila's 17 local government districts, for example, you'll need a quarantine pass to be able to head to the shops. Things are even harder if you're based in Mandaluyong City, where grocery shopping schedules have been drawn up based on residents' surnames. Add mandated face mask and shield wearing in weather that routinely tops 30 degrees celsius to the equation and it's safe to say that it's been a tricky time for all.
Beyond the pandemic, things have hardly looked much rosier. Since the start of lockdown, a swift succession of alarming political decisions have been made. A controversial Anti-Terror Bill was passed, renowned journalist Maria Ressa was found guilty of cyberlibel, broadcast network ABS-CBN was shut down, and, most recently, a U.S. marine who killed a trans woman was granted absolute pardon by Philippine president Rodrigo Duterte, who has gained global notoriety for his violent crusade against drugs. While some took to the streets to protest what they considered affronts to democracy, both the threat of imprisonment over quarantine violations (for example, 20 people were arrested at the Pride march) and the fear of contracting the virus have hindered in-person mobilisation.
It looks like Filipinos will have to embrace this 'new normal' for the long haul — the country has been placed under a "state of calamity" until at least September 2021. Still, despite the harshness of the current climate, members of the capital's young creative community have demonstrated admirable resilience. Familiar with bootstrapping to get by, they've overhauled their practices, adjusted to working via livestreams and Zoom calls, or simply hit pause to focus on themselves. With it looking like we might all have to readjust to life under lockdown sometime soon, eight Manila-based creatives tell us how they've navigated the last few months.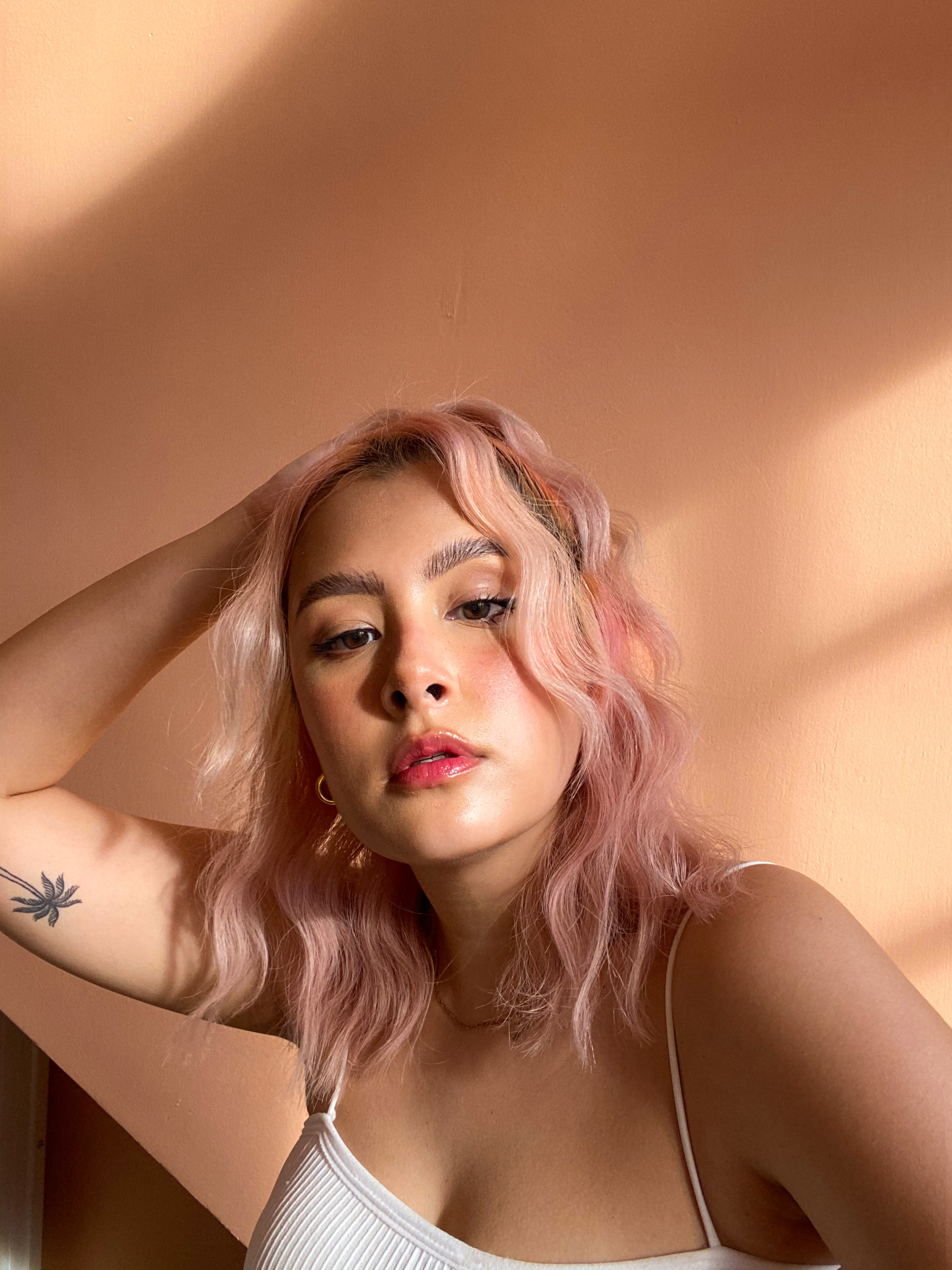 Chi Gibbs, designer and singer
How has the pandemic affected your practice? Aside from projects being shelved, it's posed a lot of challenges for my business, Neon Island. Working from home has been stressful, as there's only so much you can do. But it has also pushed us to be more creative. We've switched gears and started making masks and loungewear, things we feel our buyers need right now. I feel like this will push everyone in the industry to slow down and be more mindful of wastage. Has your outlook on life changed? Definitely my view on politics. In my entire life, I've never felt the need to be more vocal about social issues than I do now. It's important to hold our governments accountable. Have you taken up any new hobbies during quarantine? I've been working on new music with my sister @gabsgibbs which is always fun and therapeutic. Also, I started @chigibbs.studio, which was initially an account where people could purchase my art for the benefit of NGOs such as @pagasa.ph, but it's become a place for me to showcase my art and share my process with people. If there's something I've loved about staying home these past months is that I've had the time to experiment and do art for the joy of it, without any pressure or time constraints. What's your advice on getting through lockdown? All you need is Masterclass, painting materials, cooking lessons via YouTube and TikTok.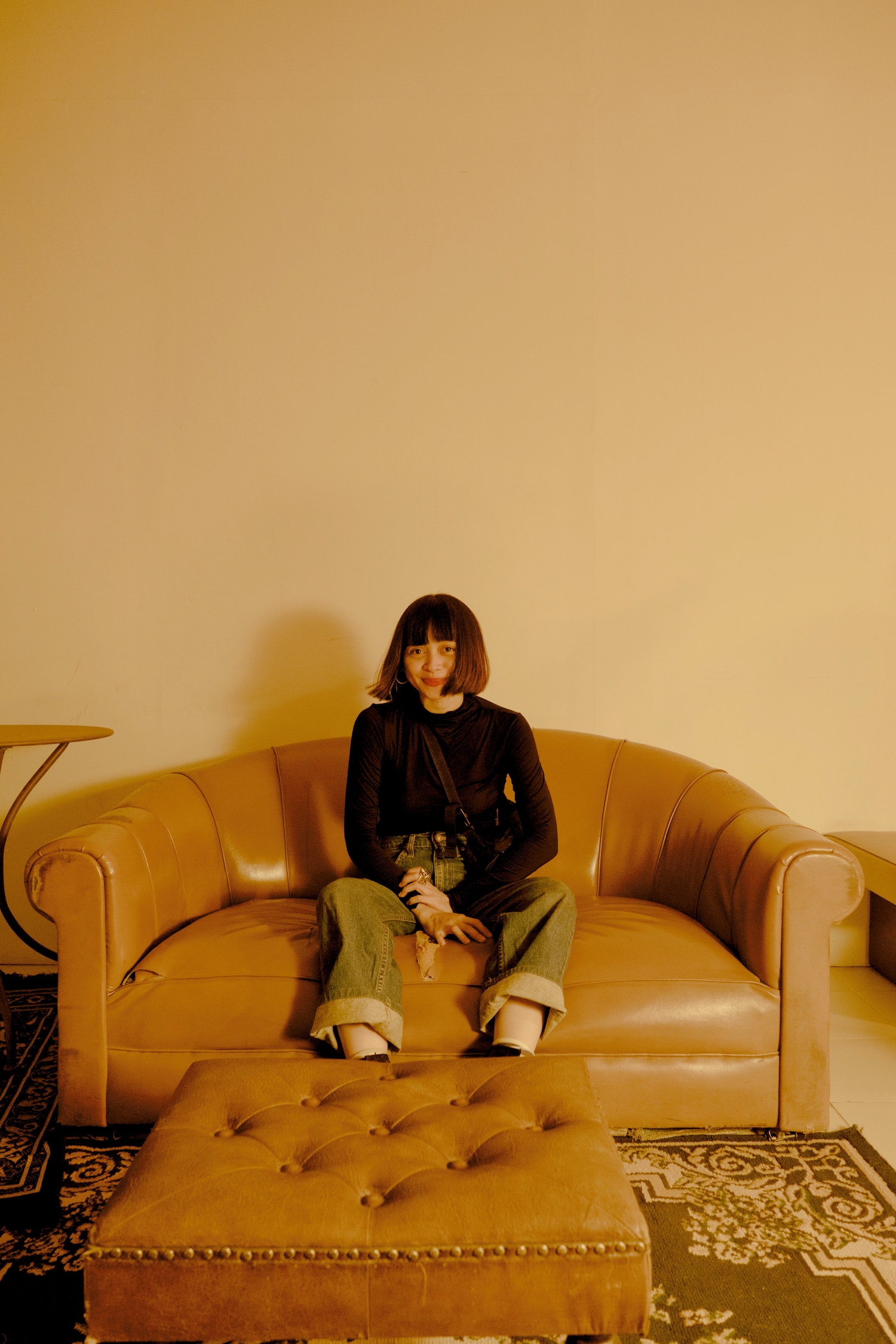 Shaira Luna, photographer
How has the pandemic affected your practice? Shoots were frozen for months, and it's hard thinking about the people we used to work with day to day, especially those working behind the scenes, because a lot of them are on a "no work, no pay" basis. Many projects were postponed indefinitely or cancelled altogether. As a photographer used to working very long days, I had to shift my mindset immediately. We were able to declutter, work on the house, make videos, and so much more. The time and environment at home has been energising and great for creative processes. How do you think it will affect your industry long-term? Even now, shoots are completely different. Each person can be assigned multiple roles because of the number of people allowed on set. Decision-making has become faster because of the curfew and limited resources. It's helped in terms of efficiency and creativity. Have you taken up any new hobbies during quarantine? I have more time to do my YouTube videos, which are about thrifting and seeing the beauty in old things. I also brought my garage sale online. I used to hold a physical one every year to declutter the costumes and clothes I use for my shoots. It has been really fun and fulfilling. Through it, I've 'met' people who also have a love for vintage. How are you taking care of your mental health? It helps to make your living space as comfortable as you can. Tidying up helps give me a fresh start every morning, and a nice environment to look at before I close my eyes.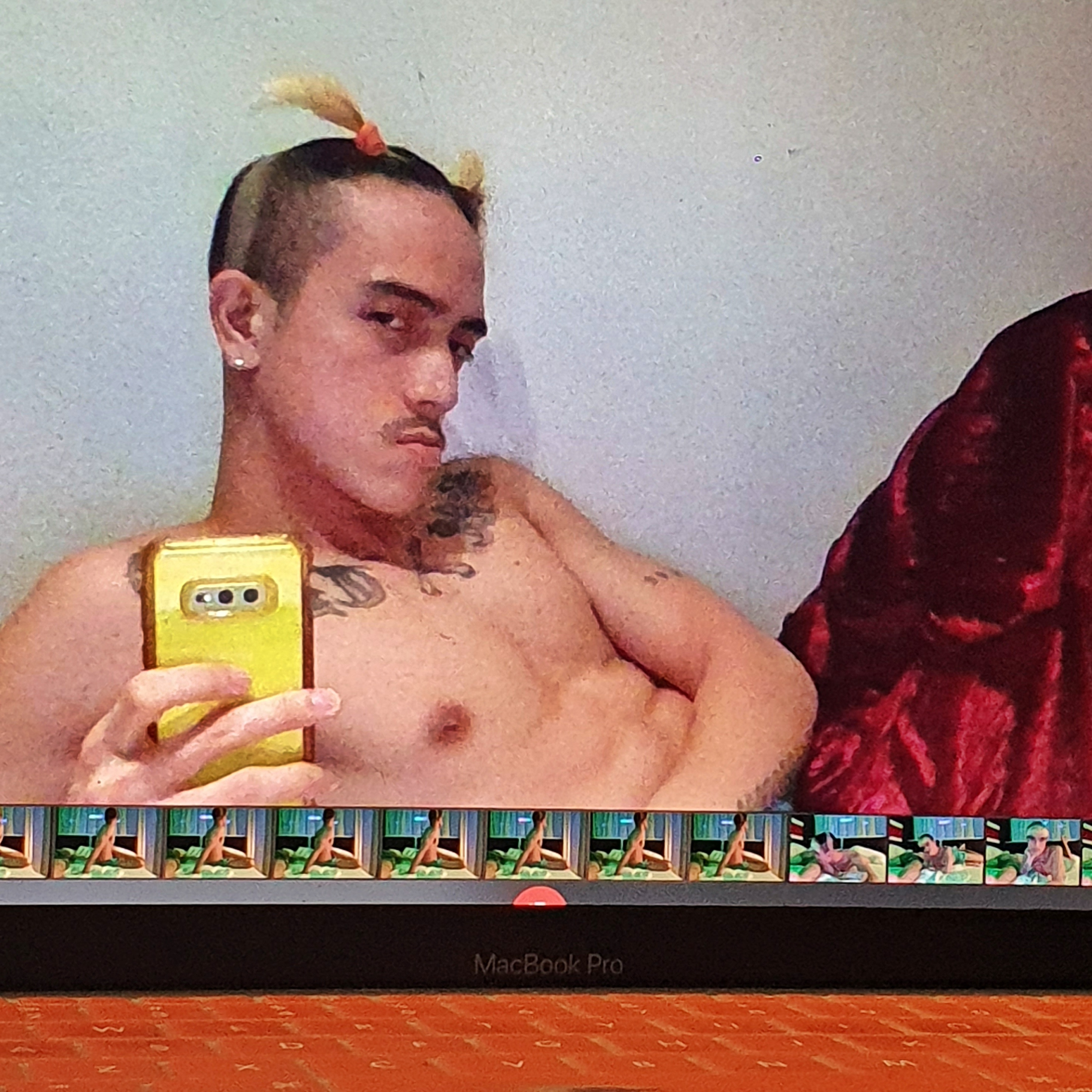 Paul Jatayna, production designer and artistic director
How has the pandemic affected your practice? As an organiser for Elephant, a queer techno party, it's been depressing waving goodbye to our community's safe spaces like XX XX, Limbo, and Today X Future one by one. As a freelance production designer catering to mostly clubs and private hotel events, my career was butchered. I was supposed to be opening a vintage thrift shop, but that's been postponed. As an artist, the group shows I was supposed to exhibit in all got cancelled. All of this, including the Duterte's demoralising presidency, mentally and emotionally drained me. Lately, I've been organizing an online streaming party on Community Bread focused on Pinay Trans Power protest to raise awareness against Pemberton's pardon. What has been the most difficult thing about quarantine in the Philippines? It's almost impossible to make a concrete plan for the future because the government doesn't have a concrete plan. But based on my own lifestyle, the hardest pill to swallow is not having the usual nightlife's "safe spaces" on the dance floor where you can gather with your direct community to express yourself freely and dance all your tensions away. Has your outlook on life changed? Aside from relationships, I've grown to perceive all other things cynically, especially under this regime. Bad governance can really mess you up. What does 'hope' look like to you at the moment? Definitely to overthrow the Philippines' kakistocracy but I'm inclined to be pessimistic about this. So, hope for me now is to reunite with my boyfriend who was repatriated back to Russia, his homeland.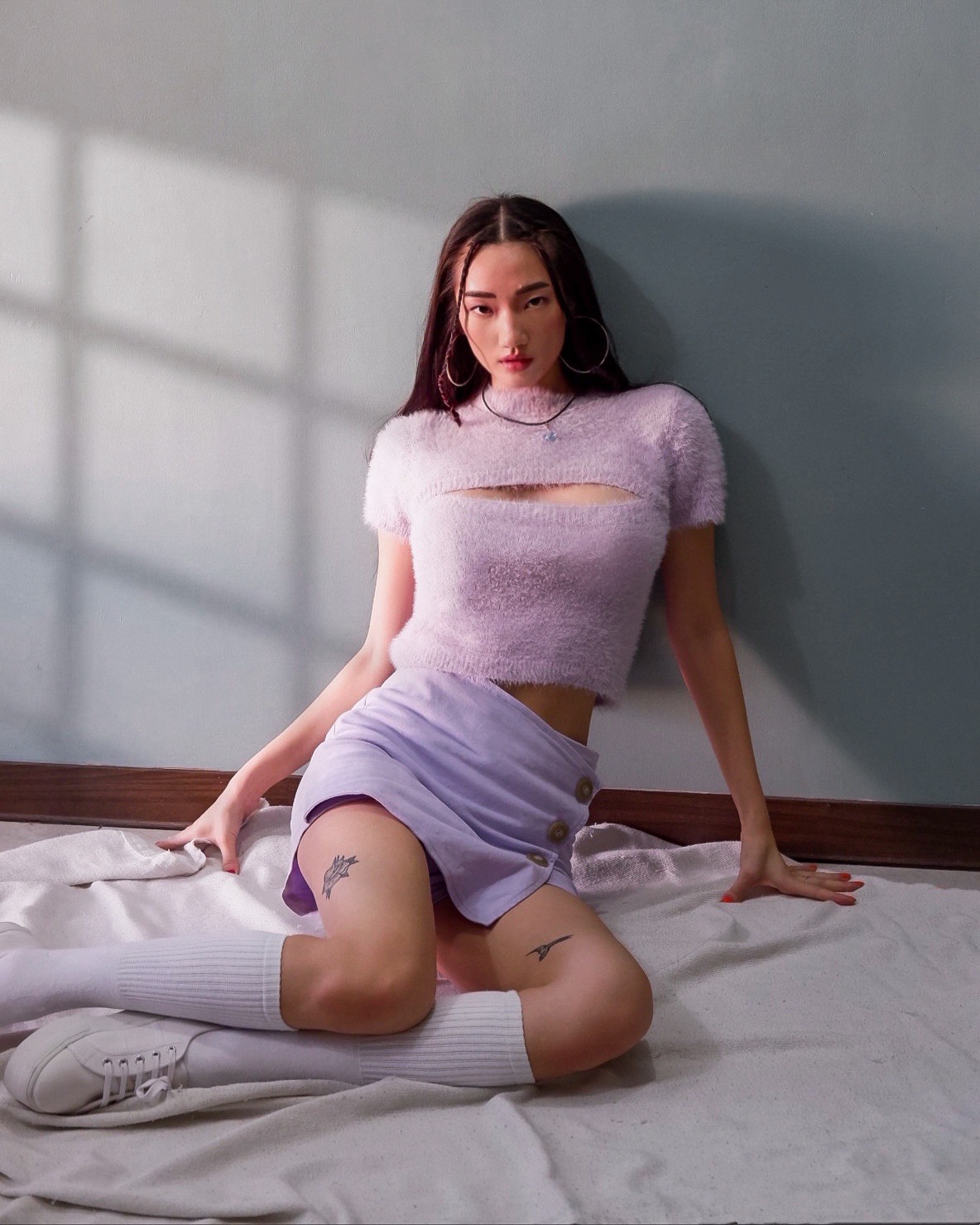 Jessica Yang, model
How has the pandemic affected your practice? My jobs, shoots, events, plans were all cancelled or postponed, but thankfully, I'm an introvert, so I have absolutely no problem staying at home. I've done a campaign that I did everything for — shooting, styling, hair, make up, nails. I'd say I did a great job, but it is still not the same with the complete team. Have you taken up any new hobbies during quarantine? I started taking online courses, I meditated more, and read more. I wanted to keep my creativity flowing so I did a lot of home shoots. I also started a little auction for my drawings and Instax photos as art pieces to earn extra money and also donate to animal charities. I also started a little dinosaur earring business. I gave each dino a name and packed them in recycled materials before I sent them out. It's more for me to kill time, but I've received so many messages from my dino mommies saying that they love it, and that they feel great wearing my dino earrings. How are you taking care of your mental health? Practising how to live in the present! Every little thing is beautiful and inspiring if you look into it with mindfulness. Mindfulness brings joy from the very basics. Has lockdown brought any positive changes? I definitely became more grateful.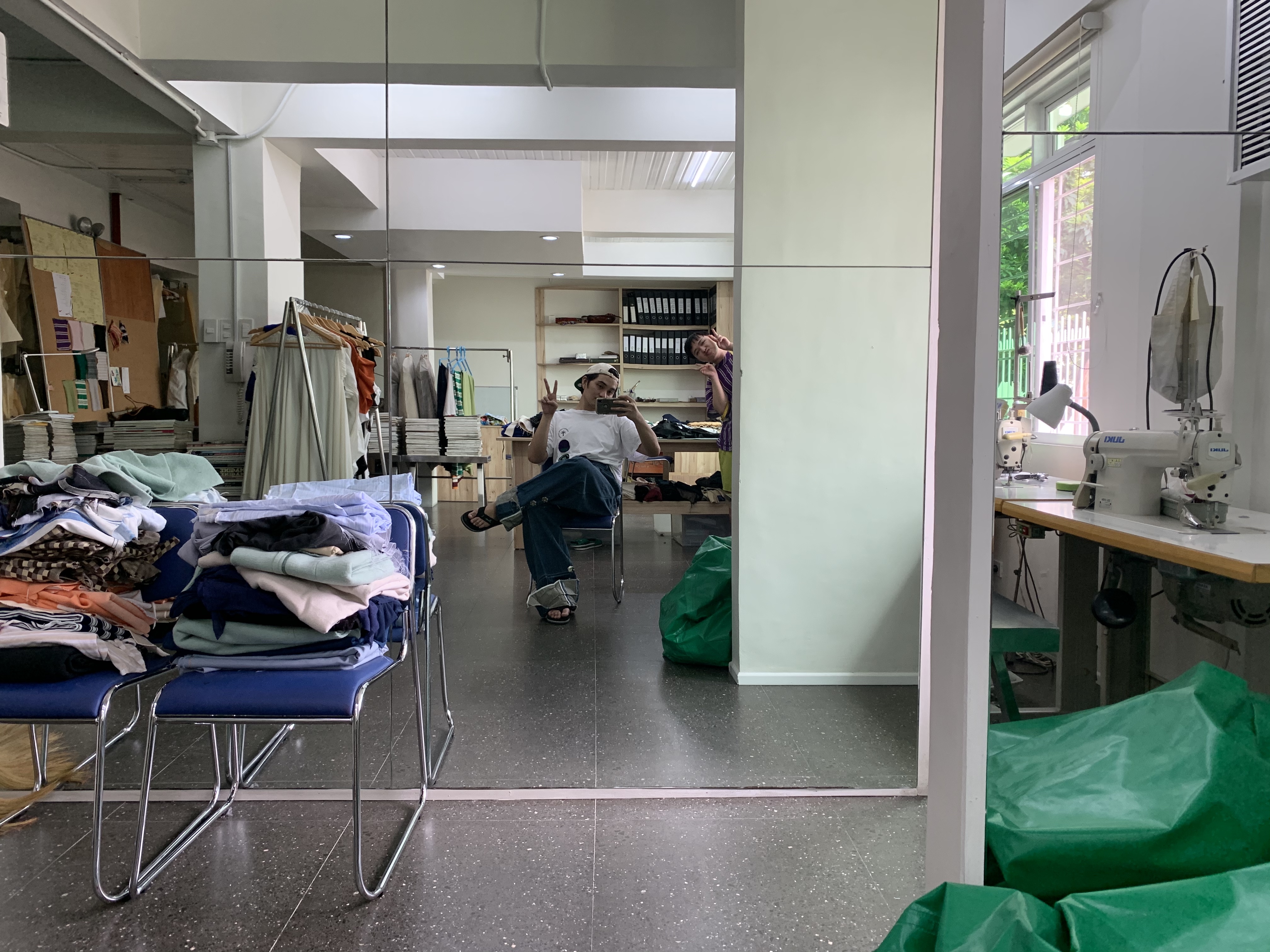 Carl Jan Cruz, designer
How has the pandemic affected your practice? We ultimately got hit as we are a small independent brand that operates internationally. We have cancelled plans that involve activities outside of the Philippines. It's also affected communications and planning with our pre-existing stockists as we are not able to resume collection production anymore. We've permanently closed our Manila showroom and have moved to www.carljancrewz.com, offering an adapted range of 'Pambahay' [loungewear] along with some collaborators that we've also started having conversations with during lockdown. I'm still reflecting a lot on the craft that I do and being pragmatic about what we can create and slowly offer our audience. How do you think it will affect your industry long-term? I think we will not be depending on seasonal markets and focus on what we do best. Ideally, it will be more about the clothes, attitude, and individuality again. Our audience, locally and internationally, share similar, grounded values regarding how they see fashion, so we are hoping we get to grow and reconnect with each other again. What has been the most difficult thing about quarantine in the Philippines? To be in a situation where politics and difference weigh heavier than the only important thing: the wellbeing of people. What advice can you give people in lockdown? Facing things you don't like brings the most unpredictable results out of you.
Florian Trinidad, stylist
How has the pandemic affected your practice? Everyone was scared, everyone stopped working. For editorials and print, a lot explored the option of having the talent style themselves. I didn't go out for four months, so when I finally got offered jobs, I had to think about it. I live at home and would be exposing my family, so I had to ask them too. What has been the most difficult thing about quarantine in the Philippines? That you need a quarantine permit so that if you go out during curfew the police don't ask you questions. How are you taking care of your mental health? I try to be calm about it. I got into yoga, meditation, and self-care. I depend on my boyfriend, who's my instructor. We wake up early, do meditation, then breathing exercises, go into yoga, and then exercise. Have you taken up any new hobbies during quarantine? I did an online course about upcycling in the fashion industry to understand how it's contributing to pollution. When I did the course, I realised that I don't want to shop anymore! It's really scary. There's so much waste. I also tried one workshop with Mini Swoosh. She teaches you how to rework old bags into vests. She sent all the patterns, did the demo, and uploaded the videos on YouTube. It was all free! I was thinking this could be my business in the future — getting old things from other people and turning them into something else for them.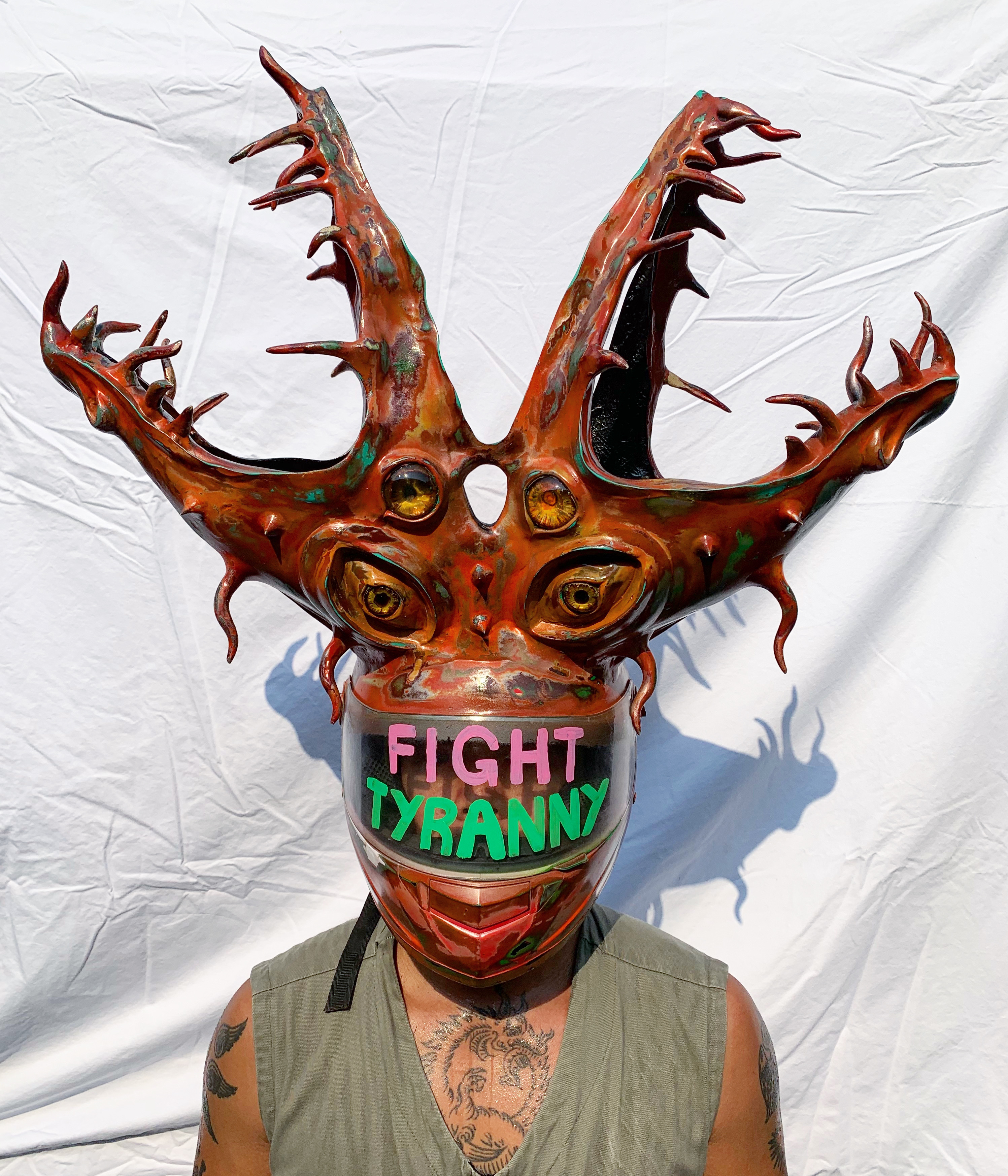 Leeroy New, artist
How has the pandemic affected your practice? My work — public art installations, wearable sculptures, and experimental fashion — is travel-based and site-specific. I've lost almost 20 trips since March. I had a show in New York and in Burning Man. I usually spend more than half the year doing work outside of the country, which is telling of the markets that seek my work out. A good friend said, artistic practice here is basically disaster relief. [Quarantine] has given us more time to art and design to address urgent sociopolitical concerns. We redirected a lot of our energy towards helping out our community and contributing to the resistance. How have you used your art to address social issues? Since there was a desperate need for PPE at the start of the lockdown, we improvised face shields using materials in my studio. I've always responded to what's available anyway, be that discarded surplus materials or random common household objects. We managed to make a couple thousand improvised face shields which we distributed amongst the different medical facilities. I also made a series of face shield statement masks which we've used for online and physical protests. Have you taken up any new hobbies during quarantine? Our skills evolved tenfold especially with the technology that we were forced to get comfortable with. We're also constantly trying to reinvent art production — art as something that directly attempts to provide viable solutions. Right now, I'm converting my studio to a mini farm. One of the main issues for Filipinos has been food security. A new collective consciousness is developing among Filipinos on issues around ecology, agriculture, the farmers' plight, and they come into this through their renewed fascination for growing plants or their own food. What does 'hope' look like to you at the moment? I guess I'm in the business of envisioning hope and giving form to hope. Harnessing creative energy itself is a hopeful endeavour. To create is a hopeful endeavour. It's having faith that what you imagined in your head will come to fruition.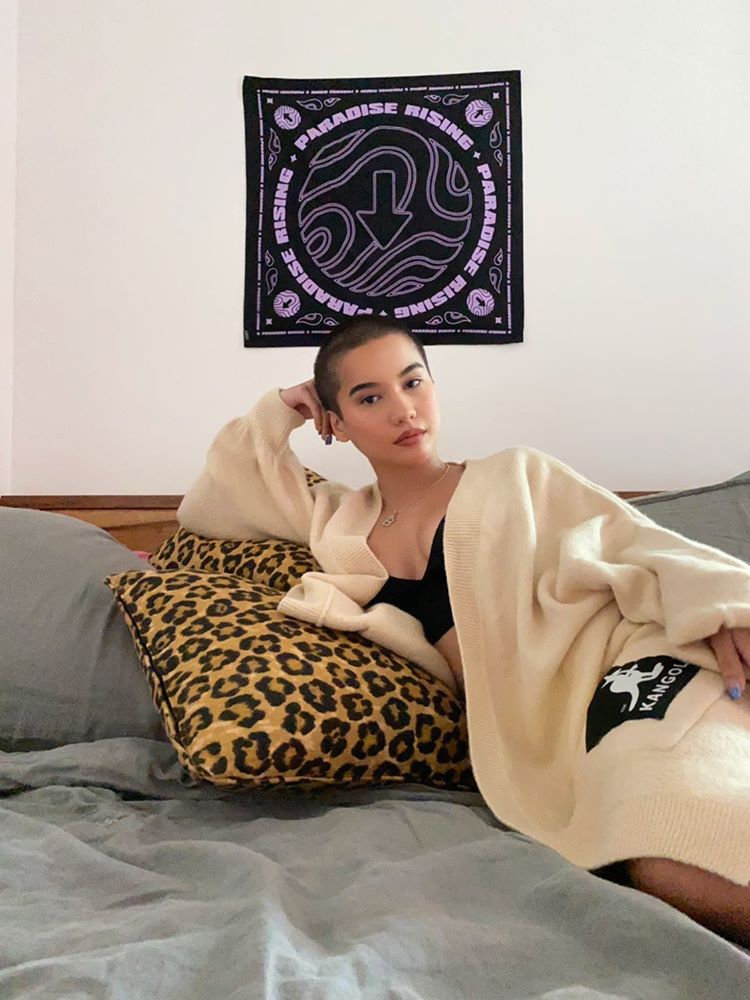 Bea Te, DJ and bar owner
How has the pandemic affected your practice? The first two or three months were very unstable. I used to have a routine, gigging four or five times a week. People started doing live DJing online to keep up with the demand of people who missed going to bars. I tried it but it was awkward for me to DJ in front of a wall. There's a special connection between a DJ and a crowd, a give and take of energy, and that's important for me. It's hard. I had a full breakdown. Has quarantine led to any positive changes for you?  I got to reconnect and listen to things I was into before, rediscover old jams. I used to wake up in the afternoon, it was taxing on the body. Every time I'd play a gig, I'd have a drink. I'd wake up sluggish. But that was my fault, I would always go HAM. Now I wake up at 9 a.m. I started working out again. When things go back to normal, I want to continue to live this way. How are you taking care of your mental health? I read about what's happening but I make sure it doesn't get me down. I also make sure that people I speak to keep me on track and make me feel good. If you have friends or family who don't, there's no space for that anymore. Has your outlook on life changed? I've never voted so I'm going to register and vote because this has definitely awakened something in me. I used to just be 'whatever' about politics, but the virus has heightened how people feel about the government. I'm pushing my boyfriend to do the same. We need to try to make a difference. What advice can you give people in lockdown? Be kind and help each other.