The results are in and Xbox has won the distinction of becoming the first brand to win the "Best of Tweets" competition put on by Twitter, and now gamers can look forward to official Xbox mini fridges in the future.
In the lead-up to the championship round between Xbox and Skittles, both brands made promises to the public for their votes. Skittles promised the return of lime-flavored candy, which was replaced by green apple in 2013, while Xbox promised to produce Xbox Series X mini fridges.
"Ok, here goes. Help Xbox win this and we'll put into production this year REAL XBOX SERIES X MINI FRIDGES! Yep, you read that right. Not an April Fools joke. Not clickbait," Aaron Greenberg, Xbox Games Marketing, wrote on Twitter on April 1.
The Twitter competition went down to the wire, with the gaming brand holding on for the victory over the chewy candy brand.
After more than 340,000 votes, Twitter called the competition over after Xbox received 50.5 percent of the votes to Skittles' 49.5 percent, leading Greenberg to claim victory and make good on the brand's promise.
"Thanks to everyone who voted, this was down to the wire and thrilling to follow. Now that Xbox won, we will move forward on our promise to make those Xbox Series X Mini Fridges. First one off the line will be filled with games & headed to our friends Skittles of course!"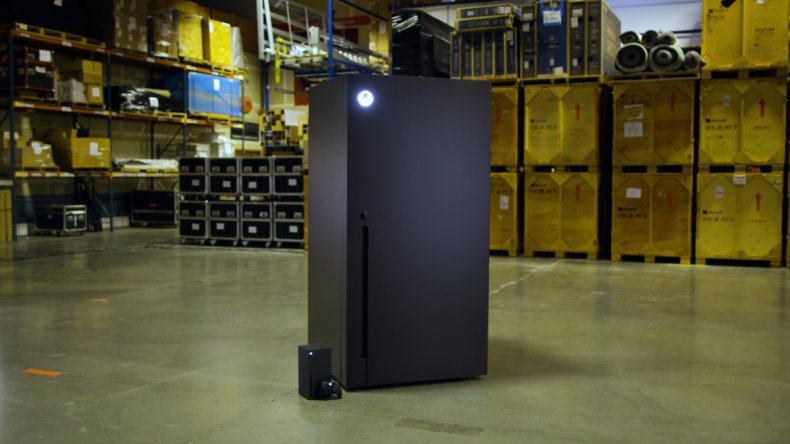 If you're not familiar with the Xbox Series X fridge, it spawned from memes created after Microsoft showed off the look of its next-gen console during the 2019 Game Awards.
The shape and look of the Xbox Series X made many gamers online liken it to a fridge. Xbox, not one to hide from a joke at its expense, created a limited number of Xbox Series X fridges.
When plugged in, the Xbox icon on the front of the fridge powers on. Using the disc drive slot to open the fridge door, you'll be greeted with the new Xbox boot animation and an Xbox green light shining inside.
Debuting in October 2020, just a month before the console's actual release, Xbox delivered the first Xbox Series X fridge to Snoop Dogg for his birthday. However, Microsoft gave one lucky fan a chance to win one of the fridges in a tweet contest that took place between October 28 and November 4.
There was also a special Xbox Series X mini fridge that was given away in conjunction with Dwayne "The Rock" Johnson's energy drink company, ZOA. A sweepstakes is currently underway that Xbox users can enter to win their very own mini fridge.
However, now that Xbox is the top Twitter brand, more gamers are likely to get their hands on their own Series X mini fridge.
Will you be attempting to get your own Xbox Series X mini fridge whenever they go on sale? Let us know in the comments section.