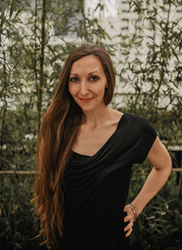 "When it comes to our first release, we want to make a big splash," Del Grosso says, "and I strongly believe that Calculated will do just that. Nova McBee has a smart, fresh, new voice that will serve her well in the YA world."

LAS VEGAS (PRWEB)
October 07, 2020
Wise Wolf Books, Wolfpack Publishing's new Teen/Young-Adult imprint, led by Associate Publisher Rachel Del Grosso and Associate Editor Lauren Bridges, announces its lead author and title.
Nova McBee's debut Calculated, and two sequels, pitched as a modern-day gender-bent Count of Monte Cristo meets Mission Impossible and set in modern Seattle and Shanghai, were sold to Wise Wolf Books as their lead title set to release in early 2021.
This YA action-adventure features a teen mathematical prodigy, Jo Rivers, who is kidnapped and forced to use her gifts to shore up a criminal empire. With help from an old Chinese sage, a billionaire businessman and his handsome son, Jo escapes and vows to put an end to the clandestine empire. Under a new identity, she must choose whether to seek revenge on her enemies or keep her vow.
With themes of revenge and forgiveness, loss and identity, brainpower versus brutality, and the triumph of right over might, Calculated will resonate with readers everywhere.
"When it comes to our first release, we want to make a big splash," Del Grosso says, "and I strongly believe that Calculated will do just that. Nova McBee has a smart, fresh, new voice that will serve her well in the YA world."
Del Grosso joined Wolfpack Publishing as Operations Manager in February 2015 and was promoted to Managing Editor in June 2017, and to Associate Publisher in June 2019. Wise Wolf Books is now seeking teen/young-adult submissions, particularly those in a series, from all regions of the world.
About Wise Wolf Books and Wolfpack Publishing
Wise Wolf Books is an imprint under the Wolfpack Publishing umbrella. With over 30 years of online and off-line marketing experience, Wolfpack is as much an online marketing company as it is a hybrid publishing company.
Wolfpack Publishing was formed in 2013 to bring both established authors and new authors to the market. It has embraced the rise and opportunities created by online bookstores and their limitless, virtual bookshelves (primarily Amazon) which have not only fueled the growth of e-books but, have also eroded much of the pre-existing differences between front list and back list books, which are now side-by-side on today's largest virtual bookshelves. Additional information can be found on WiseWolfBooks.com, or follow at @wisewolfbooks on Instagram and Twitter.
Share article on social media or email: