Day 1 of Chuck's Wisconsin Wonderland Adventure highlights small-town shopping, mesmerizing ice constructions and a lesson in curling.
LAKE GENEVA, Wis. — For the latest Chuck's Big Adventure, we traveled north to the frozen tundra of Wisconsin, where the weather is cold but the fun didn't stop!
Lake Geneva
Lake Geneva, Wisconsin, is idyllic. Whether it's experiencing summer breezes, fall colors or winter snow, this upscale resort town doesn't disappoint. 
To me, Lake Geneva is at its best in the cold time of the year. Despite COVID-19, bitter cold and snow, this south-central Wisconsin village is simply beautiful and has plenty to offer when you are tempted to just stay inside.
Cornerstone Shop & Gallery
Karin Bennett turned away from a career in the telecommunications industry 17 years ago to start a deceptively large, 10,000-square foot boutique downtown called Cornerstone Shop & Gallery, and she has never looked back. 
Packed with works from regional artists, chic clothing, stylish jewelry and home goods, Bennett's business is a destination for tourists and has thrived despite the pandemic.
"We have had our ups and downs, but I think because the outdoors here is so popular, there is so many things to do outdoors," Bennett said. "They have also done some shopping because you know, people still need baby gifts, wedding gifts, clothing. They've done so, but in a different manner, and done so cautiously and carefully."
The Saturday we visited was a cold, snowy day, but the store was alive with busy and anxious shoppers — a few who told me they just loved walking in the store and smelling the candles.
Kilwins
Bennett and other shop owners have heard this before: Winter in downtown Lake Geneva is like a Hallmark movie, from the quaint shops and bundled-up visitors, to the beautiful architecture and iced over lake. What separates it from a film though, are the smells — the glorious smells of candy being prepared before your eyes.
R. Jay Morgan grew up in Petoskey, Michigan, but brought his chocolatier skills to Lake Geneva at Kilwins. I went into a "sugar high" just watching him work!
"I learned to make candy in high school and developed the passion for making people feel good, and this was a good fit," Morgan said. "This store has been here since 1985, actually, so we are for sure a staple here in Lake Geneva. We have customers that we have grown to know by first name. We know their grandkids' names, generational families that come here and been coming here for that long."
Overland Sheepskin Company
We visited Overland Sheepskin Company in Lake Geneva to find something warm and fashionable to wear on Wisconsin's frozen tundra. 
The store has been a destination spot for tourists for decades, featuring sheepskin based clothing and is a popular stop for travelers in every season. 
Manager Diana Bahrke put together three different looks for me, ranging from Western chic to a modern and very warm fur coat. She also picked hats to match each coat!
Which look do you like the best? 
A visit to Lake Geneva can be fun for a day, but spending two or three days will really help in experiencing the food, lodging, shopping and peace of this world-famous town.
Also, spend time meeting the real draw to this community — the people, who make this such a welcoming, fun and irresistible vacation spot.
"It's a place that will always be one of the best places to go because of the beauty and warm generous spirit of the people," Bennett said.
As a young boy, my mom and dad took my brother and I to Lake Geneva. I had memories then and memories that are reborn due to this latest visit. Producer Megan, photographer Steve and I love this town and hated to leave.
From the multimillion dollar homes along the lakefront, to the boat tours and world class menus, I can't wait to visit again and meet up with the new friends I met.
Click here for more information on visiting Lake Geneva.
Ice Castles
Ask a golfer about Geneva National Golf Club, and they are bound to mention Arnold Palmer, Gary Player and Lee Trevino — the golf legends who designed this course. It is one of the Midwest's most beautiful golf resorts with three courses that draw visitors from around the globe.
Ask any visitor about Geneva National in the winter, and their view of this place will have changed forever because now, this legendary resort is the host of the Ice Castles of Lake Geneva. 
I wanted to visit this place, believe me, I really did. I did not, however, want to freeze looking at an ice sculpture at night. I was wrong about all of it.
There is a reason why Condé Nast Traveler has named this as one of the top 20 snow-filled winter vacation destinations. When you arrive at the site, this frigid fantasy looks massive, with carefully lit ice steeples, a maze that wraps around sharp edges and steep drops — plus, tricked out tunnels for the little ones to climb in.
Ice Castles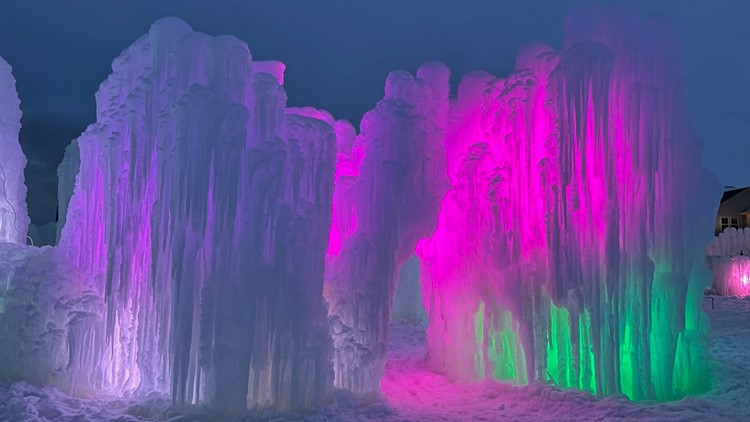 Joe Weiler opened up Ice Castles for us a few days before its official opening. 
"We are at about 5 million gallons of water already, which is a lot, but it's a lot of ice. We have about 25,000 tons of ice around us now," Weiler said. 
Imagine a cross between "Fantasia" and "Frozen," and you may get some insight into what to expect. This isn't just something to look at — it's something to experience with thousands of icicles hand-placed by ice artists. 
The castle includes LED-lit sculptures and changing colors with thrones, slides, fountains and tunnels. I can't tell you how many times I let out an "ooh" or an "ahh!"
Our photographer, Steve Rhodes, was amazed at how the colors changed depending on the angle from which you were standing. More than 5 million gallons of water, all streaming from one city fire hydrant, helped to create this masterpiece of art that changes as conditions go above freezing, then below freezing in evenings. 
Enter the castle, stand over the deep valley of ice lit by thousands of lights and your jaw will drop. It's a view you can't even see in the Alps.
Weiler said the maze aspect of this wonderland is his favorite. 
"We have a general layout of what we wanted to do. Again, it [happens] as we build it, so we don't know how it's going to diffuse," Weiler said. "We want them to get lost in here and then pop back out and say, 'Oh, that's where I am, OK.'"
You won't get lost in the maze, but like me, you may just forget about the cold and get lost in the lights frozen in the ice and the experience itself, which takes you into a space of pure winter joy. 
Make your reservation online, spend the day and night in gorgeous Lake Geneva and take your kids or grandkids to this unforgettable winter destination. I loved it!
Milwaukee Curling Club
Many Americans discovered curling as a sport at the 2006 Winter Olympics in Torino, Italy, when the United States team scored a bronze medal and gained literally millions of new fans, thanks to NBC's coverage. In Milwaukee though, the Curling Club has been together since 1845. 
Curling grew in popularity here when the sport was brought indoors on refrigerated ice in 1915. Since then, new players have joined, generations of families have continued the tradition and the sport is more popular than ever.
The club built a new state-of-the-art facility in 2012 in suburban Cedarburg, and despite the COVID-19 outbreak, curlers have still been able to toss the 42-pound stone and sweep it home to victory. Since curling is such a social sport and community is part of its allure, the club developed a safe way to keep the sport going this winter.
Kelly Conrardy met her husband through the sport and worked with others to keep the club going during the pandemic. 
"We, from the get-go, required masks the whole time," Conrardy said. "There's typically four people on a team, usually two people are sweeping at the same time. Right now, only one can sweep."
For her, it's important that this tradition continues despite the pandemic. 
"I remember seeing it for the first time, thinking, this is crazy, there is no way I'm going to do this crazy sport. It quickly became, you know, a family affair," Conrardy said. "I've done it my whole life, and as I started dating people, and you know, eventually was getting married, that was a part of my marriage contract, and my husband needed to curl."
It seems to be working. The club has a nonprofit arm that runs high school and middle school curling. Gym classes even come to learn the sport too.
Milwaukee Curling Club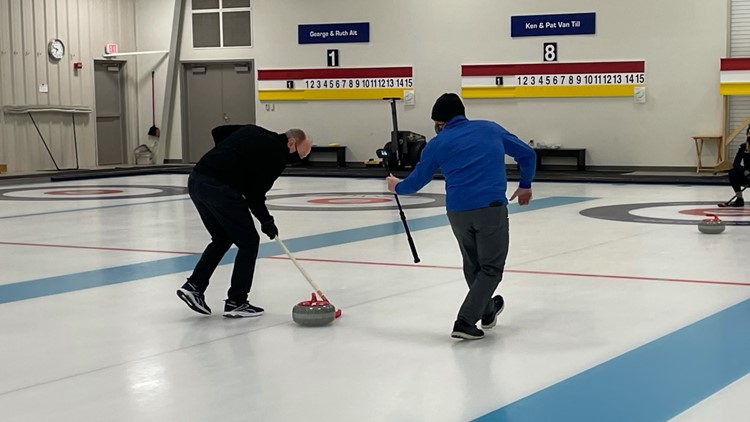 To the uninitiated, it may seem like bocce or even lawn bowling, but this can be a difficult sport with intense strategy and game plans. For me, it was a workout. As Conrardy tossed the stone, I swept to try and get it inside the 12-foot ring. It was amazing how winded I was after just one toss, and yes, I did fall once. In fact, I was so into sweeping in front of the stone, I got out of the lane and wound up on my backside! That's not a usual occurrence; in fact, curlers use special shoes and flats to guide themselves and keep upright.
The Milwaukee Curling Club is made up of friendly, serious athletes who have a passion for the sport, each other and growing this wonderful winter activity. For me, it was a bucket list visit, even if I made my impact on the ice…by falling on my bottom!
RELATED: Chuck's Big Adventure preview: Wisconsin Winter Wonderland
RELATED: Chuck's Big Adventure now takes him to beautiful Northern Michigan