Vaccinations offered to those 50 and older | Coronavirus
6 min read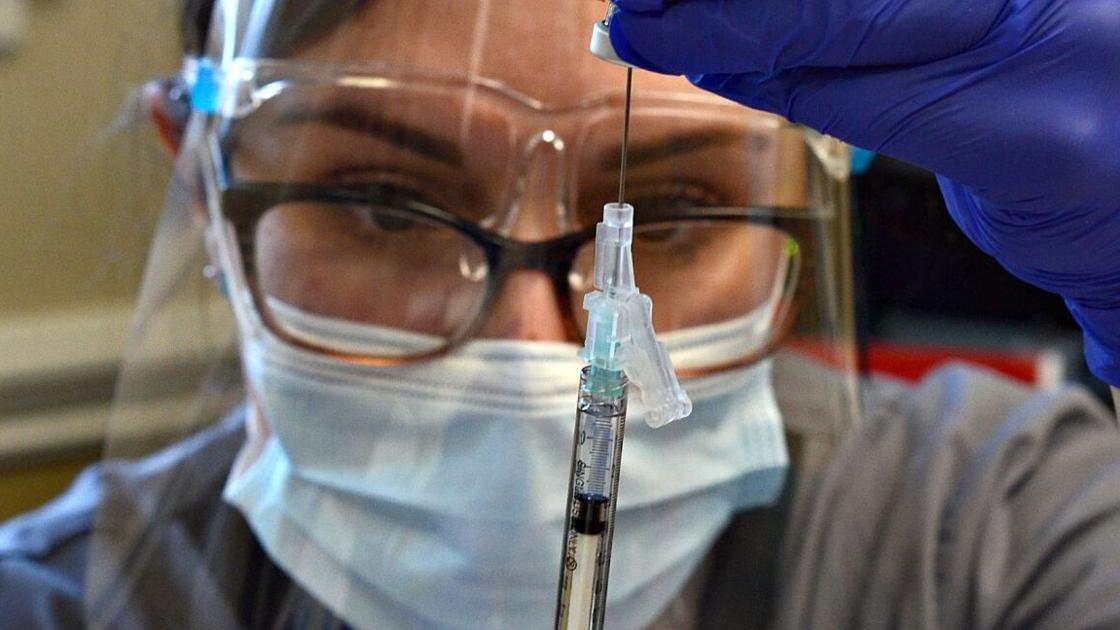 Beginning at 8:15 a.m. on Monday, Vermonters age 50 and older will be able to make an appointment for the COVID-19 vaccine.
Going online to healthvermont.gov/MyVaccine is the fastest way to make an appointment, and there are enough slots at sites throughout Vermont for everyone who is eligible, the state said.
Click on the "Make an appointment" button to use the health department's registration system. Those who prefer to make their COVID-19 vaccine appointments through a participating pharmacy can find links on the same page to Kinney Drugs, CVS and Walgreens.
Anyone who is unable to make their appointment online, or who needs to speak with someone in a language other than English, can call 855-722-7878.
Vaccination sites are available around the state, and people can choose a nearby location when making their appointment.
THE NUMBERS
The health department reported 121 new cases of COVID-19 in Vermont on Saturday, and 194 on Sunday, for a total of 315. The new cumulative total was reported as 18,820, which is 322 higher than the total reported Friday. The discrepancy was not explained.
All of Vermont's 14 counties reported new cases over the past two days. Chittenden County had 90; Rutland County had 50; Caledonia County had 29; Franklin County had 28; Orleans County had 26; Bennington County had 17; Windsor County had 16; Windham County had 14; Lamoille and Washington counties each had 13; Addison County had nine; Grand Isle County had five; Essex County had two; and Orange County had one.
One Vermonter died of COVID-19 over the past two days, the Vermont Department of Health reported. The state's death toll is now at 225.
Twenty-six Vermonters were hospitalized with the disease as of Sunday, and four of those patients were in intensive care.
Bennington County's number of active cases has risen to 40.34 per 10,000 residents. That number is now below the statewide average, which has jumped nearly 25 percent since Friday, to 45.12 active cases per 10,000. Windham County remains well below the state average, at 19.83 active cases per 10,000 residents. The hot spot continues to be Orleans County, with 105.56 active cases per 10,000.
The seven-day average of daily new cases per 100,000 residents in Bennington County stands at 19.3 as of Friday, putting the county in the "high risk" range, according to the nonprofit Covid Act Now. Windham County is considered high risk as well, with a seven-day average of 10.5 daily new cases.
Bennington County has reported 103 new cases over the past two weeks, and Windham County has reported 74. Chittenden County, Vermont's largest county, has had 644 over the same period.
Bennington County continues to have the highest infection rate of COVID-19 in Vermont, at 467.3 cases per 10,000 residents since the beginning of the pandemic. Chittenden County is second, at 362.3, while the rate in Windham County is 254.0 per 10,000.
So far, 353,318 people have been tested. The reported statewide seven-day average for positive tests has climbed to 1.9 percent. In Bennington County, the positivity rate is 2.9 percent.
The number of Vermonters reported to have recovered from COVID-19 rose by 201 since Friday, to 15,562.
The statistics supplied by the Vermont Department of Health at midday each day are accurate as of the end of the previous day. The information is preliminary and subject to change.
35.1% OF VERMONTERS NOW VACCINATED
The Department of Health reported that 192,790 Vermonters, or 35.1 percent of all those over the age of 16, had received at least one dose of a COVID-19 vaccine as of Saturday. That's an increase of six-tenths of a percentage point over Friday.
According to the state, 107,100 people have completed their vaccination, and 85,700 have received a first dose.
In Bennington County, 39.5 percent of residents have received vaccine, and in Windham County, 32.7.
So far, the state has received 370,700 doses of vaccine, 79.5 percent of which have been administered.
The vaccination dashboard is not updated on Sundays.
VT. HEALTH COMMISSIONER URGES CAUTION OVER HOLIDAYS
Vermont's health commissioner is urging people to be careful during Passover, Easter and Ramadan.
Dr. Mark Levine stressed that anyone who is not yet vaccinated should limit their social interactions to one other unvaccinated household at a time.
He also said the federal Centers for Disease Control and Prevention is continuing to urge people to avoid nonessential travel. Anyone who does travel and is not vaccinated needs to quarantine upon their return for 14 days or for seven days and then get a negative COVID-19 test.
Fully vaccinated people can gather freely two weeks after their final dose, Levine said.
JAZZ FESTIVAL RETURNING TO BURLINGTON
A popular jazz fest in Vermont is returning in the latest sign that pandemic-related restrictions in place for most of the past year are easing.
The Burlington Discover Jazz Festival will be back on the streets in June with in-person performances.
Jay Wahl, executive director of The Flynn, told WPTZ-TV that the majority of the performances will be free. The event takes place June 4-13 and announcements are expected in the future on musical acts.
"This is a year when so many people have struggled in so many different ways that we don't want there to be any barriers. So if tickets were an issue, let's not worry about that this year. Let's figure it out. We believe that people in the community will step forward to help us do this because it's so important," Wahl said.
The annual festival was cancelled last year amid the coronavirus pandemic.
In-person events are also planned in the city for for Juneteenth and Burlington's annual July 3 celebration, said Mayor Miro Weinberger.
CAPE COD SEEKS HELP AS VIRUS SURGES
Officials on Cape Cod are pleading with Massachusetts officials for more help as the vacation destination deals with another surge of COVID-19 cases, including multiple cases of new variants that are considered more contagious.
Yarmouth Health Director Bruce Murphy told The Cape Cod Times on Saturday that the region needs fast tracked, emergency vaccination sites.
He said about 20 cases of a variant of the virus first identified in Brazil have been reported on the cape, and a variant first discovered in the United Kingdom has also been detected in the region.
Cape Cod officials say they're dealing with a third surge in virus cases since the pandemic emerged last year.
Seven communities— Barnstable, Yarmouth, Sandwich, Mashpee, Dennis, Harwich, and Brewster — are now considered by the state high risk for the virus.
School officials in Barnstable switched to fully remote learning late last week after more than 100 students and employees tested positive for coronavirus over the past two weeks.
MASS. LAUNCHES TEACHER VACCINATION EFFORT
Saturday marked the start of an effort to get more teachers in Massachusetts vaccinated against COVID-19.
WCVB-TV reports K-12 teachers and staff and child care workers were prioritized for first-dose appointments at Massachusetts' seven mass vaccination sites.
The station says it's the first of four scheduled days meant to support President Joe Biden's directive to states to prioritize teacher vaccinations.
The state's education commissioner has ordered school districts to shift to in-person classes five days a week by April 5. Many have been conducting classes remotely or with a combination of remote and in-person learning throughout the pandemic.
A coalition of Black and other parents of color rallied at the Massachusetts State House Saturday to protest the reopening order, which they say will have a disproportionately negative impact on minority and immigrant families.
UNH PUSHES BACK COMMENCEMENT DATE
The University of New Hampshire is pushing back its commencement ceremonies to May 23.
University President James Dean said in a message to graduating students on Friday that the move allows the ceremony at Wildcat Stadium to be held on a weekend day, which graduates had requested.
He also said the original May 15 wasn't feasible, given the current pandemic safety regulations and the fact that classes would still be in session at that time.
Dean said graduates need to register to attend and will have to submit a proof of a negative COVID-19 test. No decision has been made yet on whether guests will be allowed to attend, he added.