Tucker Carlson has suggested that the liberal media is using the recorded Donald Trump calls as a diversion tactic to distract from the Georgia U.S. Senate elections today.
"But no matter what you conclude about vote counting in Georgia, we're willing to bet that you won't decide Donald Trump's latest phone call is the single most important thing happening in the world right now. Probably not even close," the Fox News anchor said in his Monday night monologue.
"And yet CNN is claiming that it is. Why are they doing that? That's a good question and worth pondering. Maybe they're trying to divert your attention again, but divert it from what? Well, here's one guess: Tomorrow, as we told you, there are two U.S. Senate elections in Georgia, and the outcome of those races will determine who controls the entire U.S. government."
Trump's phone call recording with Secretary of State Brad Raffensperger of Georgia was released yesterday causing a media frenzy.
The president threatened and begged Raffensperger to "find me 11,780 votes" to overturn the election results in the call which was described as an "impeachable offense" by Congresswoman Alexandria Ocasio-Cortez.
"The people of Georgia are angry, the people in the country are angry," Trump told the official. "And there's nothing wrong with saying, you know, um, that you've recalculated. All I want to do is this. I just want to find 11,780 votes… Because we won the state."
Referencing the impeachment calls, Carlson downplayed the call to his audience, saying: "They're telling us today that Donald Trump must be impeached over a phone call that was tape-recorded. The call they're mad about this time took place over the weekend. The president spoke by telephone to the secretary of state of Georgia for about an hour.
"They talked about vote counting. The president, as you may have heard, believes the election was stolen from him. Georgia's secretary of state, whose job it is to oversee elections, disagrees. You can listen to the call yourself. It's online, and you can make up your own mind about who's right on that question. By the way, if you have time, you ought to do that. It's interesting."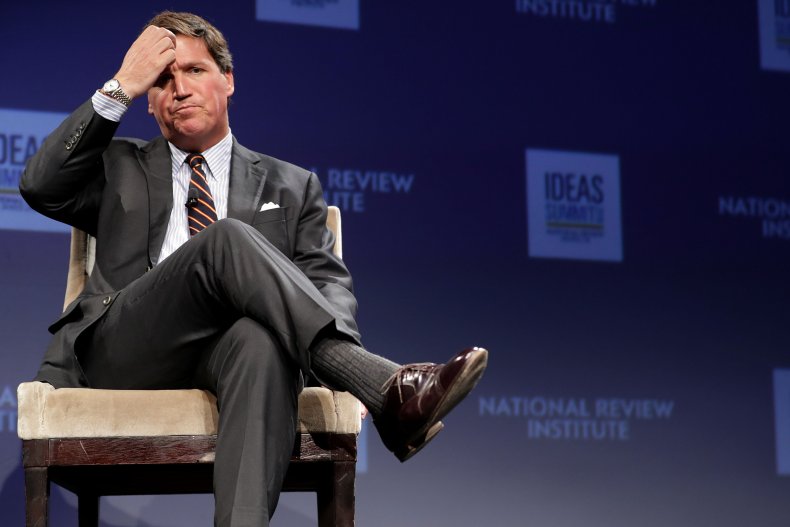 Carlson went on to say that the Democrats and certain news channels are pushing the phone call story to avoid covering news about the Senate election.
"The Democratic Party and its marionette to the news media would rather you didn't get involved," he said. "And so they're encouraging you to think about Trump's phone call instead."
Today's runoff elections in Georgia will decide whether the Republicans or Democrats will control the U.S. Senate. Incumbent Republican Sens. David Perdue and Kelly Loeffler are against Democrat challengers Jon Ossoff and Raphael Warnock.