Sinfonietta plucks forward in uncertain times | Local News
5 min read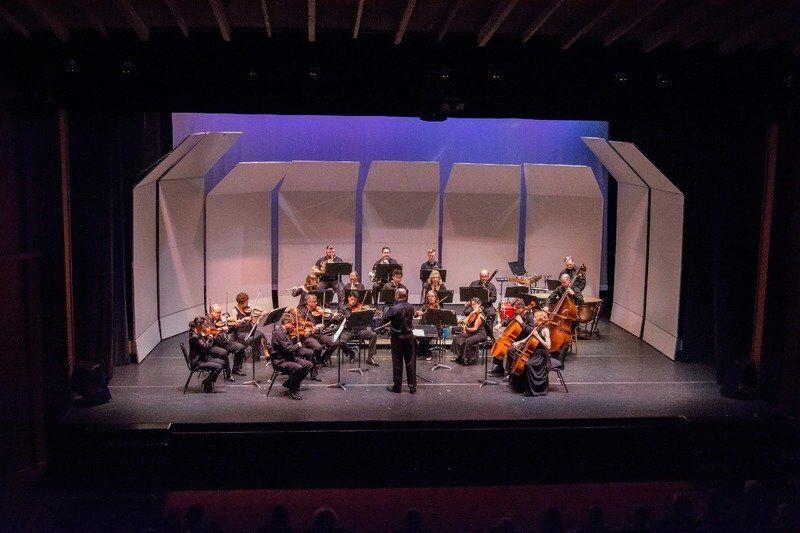 LAKE PLACID – The Lake Placid Sinfonietta reinvented itself on the fly like many performing arts organization when it was winged by the COVID-19 pandemic.
"It's kind of amazing to think that I'm already almost a year and a half into my tenure as musical director of the Sinfonietta, and I haven't yet conducted a concert as the music director of the Sinfonietta," Stuart Malina said.
"But what's amazing is just how active everyone has been – the board, the volunteers and certainly the staff.
"I have been working really hard all through this time to make sure that we can keep the ball rolling and be ready, hopefully, to perform this summer."
FINGERS CROSSED
This year, plans are in the works to bring the orchestra to Lake Placid July 7 through August 15.
"We have the six Park Concerts slated for Wednesdays beginning with July 7 and are planning six Sunday concerts at the LPCA on Sunday evenings," Deborah Fitts, executive director, said.
"We also plan to perform in the ballroom at the Hotel Saranac on July 22. This said, we are simultaneously preparing alternative programs and venues if there are restrictions on size of audience or how many musicians we can have perform together at one time.
"We're expecting that we will have to be flexible, but hoping the situation with COVID is much safer by July."
Adaptations might include performing with fewer musicians at a time, offering online streams of concerts, and changing venues.
"Whatever we do will be prioritized to ensure the health and safety of our audiences and musicians and will comply with any gathering guidelines that are in effect during the summer," she said.
"We will also be watching guidelines on quarantining after travel very closely as our twenty professional orchestra musicians come to the Adirondacks from across the country."
MONEY WOES
Like all other non-profits, especially for arts based groups who rely on revenue from fundraising events and admission/ticket revenue, 2021 will be a challenging year.
"We are very grateful for the ongoing support from our many individual supporters and business and foundation partners that have continued to donate through this difficult time," Fitts said.
"We anticipate, and most performing artists anticipate, not really knowing what the guidelines will be until probably June. They seem to change that often.
"We know that even if guidelines are completely lifted, we know that there will be some people that are reluctant to gather."
Fitts anticipates that audiences will be somewhat less.
"Not only for projecting finances, but we want to keep these people engaged in what we're doing," she said.
"We are in the process of trying to figure out if we can stream some of our concerts and how that works. Whether it's a livestream that's open to everybody or you put up a paywall. It's a big technology learning curve."
Malina has already navigated that digital realm as musical director of the Harrisburg Symphony Orchestra principal guest conductor in the Florida Orchestra in the Tampa Bay area.
"It's a busy schedule normally," he said.
"This year, certainly, has been a little bit wacky in that a lot of concerts have been canceled.
"But at the same time, certainly here in Harrisburg, we've been very busy doing streaming concerts, doing video series, and various other things that have been keeping me quite busy. It's been surprisingly rather an active time for me."
There are different challenges for the different organizations.
"For the bigger orchestras, you have budgetary challenges that are far greater than ours," Malina said.
"I think that when it gets to actually performing concerts, our challenges are going to be fairly large in that if one person gets sick or if one person can't perform, it really does make an enormous impact."
In Lake Placid, it's not always so easy to find a musician readily available to fill in as it is for bigger orchestras in large cities.
"If someone falls ill, there is a deep list of substitutes that you can call in," he said.
"The biggest challenge right now is that we don't know what the situation is going to be come July.
"As soon as we have a better sense of what actually is going to be the reality whether it means we're able to perform in the performing arts center or we're going to have to look for alternate venues or we're not going to be able to have an audience larger than a particular size, as soon as we have that information we'll be able to do the final planning for our season."
WAITING GAME
The Sinfonietta is scouting out alternate venues, which may be a better choice than their established venues.
"We are looking at whether than squishing 20 musicians on stage, perhaps we want to do presentations of smaller groups, some chamber works or solo works or maybe a combination," Fitts said.
"It's too soon for us to address this, but other orchestras nationwide are having to make adjustments. It's happening all over. It's not just here.
"Even simple things like rehearsals. Some orchestras are shortening the length of rehearsals, increasing the time of a break during a rehearsal, spreading people out more. If you're 10 feet part from each other, it's really hard to hear. So artistically, it's putting some new challenges up which is interesting."
Malina's national expertise is an asset for the Sinfonietta.
"He is very much in the loop of all these adaptations that orchestras are needing to make, which is great so why reinvent the wheel?" Fitts said.
"Since we deal with professional musicians, all of our musicians do play in big orchestras or are part of large university faculties. We have to make sure that we treat them the say way. It's invaluable to us that he knows how to do that."
Despite the orchestra's best laid plans of 2021, there's very little that's predictable right now.
"What I will say is everyone is very keenly focused on being in Lake Placid this summer, having a musical presences and bringing our music to the community," Malina said.
Email Robin Caudell:
Twitter:@RobinCaudell