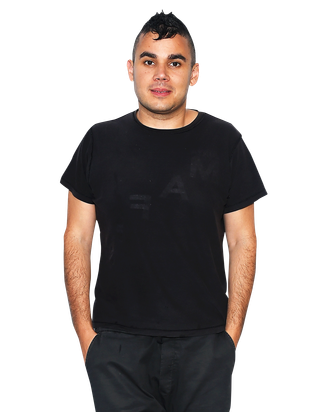 Photo: Ben Gabbe/Getty Images
Rostam knows the power of a good saxophone riff. He announced he'd started producing for Haim with one — that uniquely infectious part on "Summer Girl," a string of notes that are surely still echoing in your head. Henry Solomon, the saxophonist who played on the song — along with two others on Haim's Women in Music Pt. III, which Rostam executive-produced with Danielle Haim and Ariel Rechtshaid — also ties together Rostam's new solo song "Unfold You," the first offering of new music he's been working on. "As soon as he started playing, I could tell there was something about the way that he plays the saxophone that was going to change my life," Rostam says from Los Angeles, where he moved around the time he left Vampire Weekend in 2016. Solomon's work on "Unfold You" predated "Summer Girl," and Rostam brought him on to Haim's record after being so impressed with his playing. "There's a tone that he has that you don't hear on modern records," he continues. Or maybe, he adds, "It might be that I'm always asking him to reference bebop, 'cause to me, bebop is the coolest jazz that I've encountered." Rostam's wisps of falsetto counter the woozy saxophone in "Unfold You," making for a masterfully low-key love song.
Rostam's first single since his 2017 solo debut Half-Light (discounting the 2018 one-off "In a River") stems from a 2017 performance with psychedelic-R&B-rock musician Nick Hakim in Paris. Hakim's music entranced Rostam, and Hakim's instrumental track "Papas Fritas" later formed the base of the song that Solomon played sax over. Eventually, a spur-of-the-moment decision to shoot a video on a quarantine trip to Provincetown, Massachusetts, starring Rostam's quarantine pod-mate Hari Nef, pushed the song over the finish line after nearly three years. Vulture caught up with Rostam to talk making "Unfold You," working with Nef, and the TikTok second life of Massachusetts prodigy Clairo's 2019 breakthrough song "Sofia," which he also produced.
"Unfold You" took years to make. What had you coming back to it?
From the moment that I started singing over Nick Hakim's instrumental track, I felt like I had a classic melody. When you have those moments where it just comes out of you quickly like that, you can feel it. It feels good. When you get that feeling, it's usually right, so you've got to trust it.
As you kept working on the song, did you stay in touch with Nick about it? Have you shown him the final cut?
A few months ago now, Nick actually came over to my house with a mutual friend. I was very tempted in that moment to play him the song, but I felt like there was too much pressure. [Laughs.] He remembered us playing the show together, and I told him the story about how after the show, I went back to the hotel room and I stayed up listening to his music. And I told him that I would send him the song soon. Luckily when that happened, he was psyched on it. But it was scary for a second, 'cause whenever you take somebody else's art and use it for something new, it's always dangerous, because there's that outside chance that they're not sure about it.
I read an interview where you were talking about feeling the same way sometimes as a producer.
When someone brings me something to work on, I want to always elevate and build off what they did, and preserve the beauty. With Nick's song, "Papas Fritas," I felt like it had this sense of mystery and it had this beautiful use of dissonance that was just incredibly fresh to my ears, and it took me out of my comfort zone. I said to myself, You really need to build a song off of this. You need to go to a place that makes you uncomfortable. And that was what pushed me.
The music video that you directed seems like this really spontaneous thing. Can you walk me through how it came together?
I've been going to Provincetown every summer [for] the last six years. There was a part of Provincetown that I'd never been to, this trail called the Dune Shacks Trail. I was almost at the end of the three weeks that I was spending there, and me and my friend walked into this trail, and we happened to catch it at sunset, and it was one of the most beautiful places that I'd ever been. I all of a sudden felt this intense desire to shoot a video there. And I had about three days to do it. I called a DP, [and] he committed to the project.
The first day, I felt like something was missing. I had one of those night where you're tossing and turning and you have cold sweats, and when I woke up I was like, I have to get Hari to be part of this video. We need her presence, we need her aura. We'd been hanging out pretty consistently with our group of friends for three weeks. She immediately said that she was down, and the next thing we knew, we were shooting. This was on Monday at sundown, and it went really well. The last thing I felt was like, I think we need a little bit more. But it was everybody's last night in town, so we all stayed up on the deck having a fun night. I somehow, on one hour of sleep, got back in the car, drove back to the dunes, and I was there by 4:55 a.m. to catch the sunrise and shoot another hour.
What did Hari add to the video?
She has a spirit that's amazing to be around, and there's just a natural glow coming off of her. She's someone who's very fun to talk to, very open-minded, and has an incredible knowledge base about a lot of things. We had fun conversations about things like gender, sexuality, and college — which, we both went to the same college, so it was funny.
Last year you had surprise success with Clairo's "Sofia," that people are now latching onto on TikTok. It's gone viral twice. What has it been like to watch that?
Claire and I had the incredible experience of booking four days to work together and writing six songs in those four days. "Sofia" was maybe the third song that we wrote together. And it came so quickly, I think it took about 20 minutes. Both of us felt this strong emotion about the song, and we didn't know what exactly it was. If this song ends up being the biggest song that I've produced in my career, there's something that feels really right about that as a queer person.
Clairo's been playing some demos and covers online, and it seems like she's been writing some new stuff. Have you kept in touch?
Oh yeah, we're very much in touch. We had a friendship before we had a collaboration, and so that friendship continues.
You wrote in the press release that your new music revolves around this idea of change, which feels apt for right now. How has working on new music amid everything going on this year been? Has that been coming through your music at all?
I'm someone who grew up with refugee parents in Washington, D.C., so my experience with everything is through the lens of politics. It's not something that I can turn off, and I think that all music has its own politics. I think that everything is political. This past year, we learned that when people say that their art is not political, what they really mean is that they have the privilege to not take a stance. And my publicist says I shouldn't reveal too much more, [laughs] about the record, but yeah.