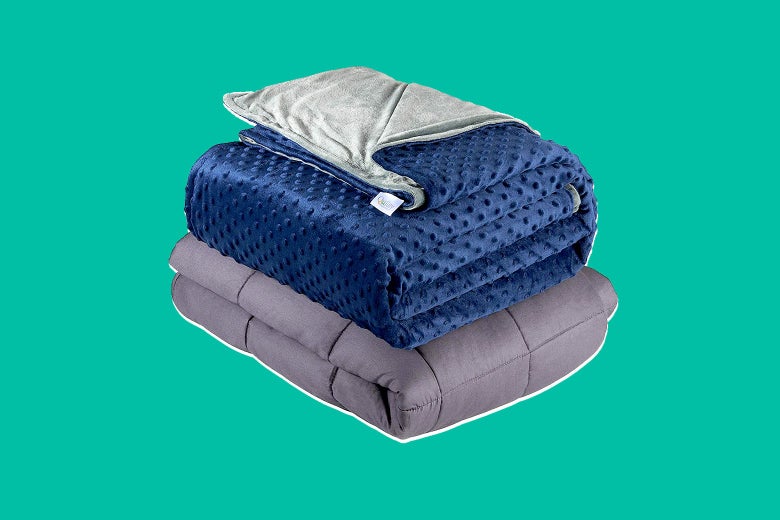 Slate has relationships with various online retailers.
If you buy something through our links,
Slate may earn an affiliate commission.
We update links when possible,
but note that deals can expire and all prices are subject to change.
All prices were up to date at the time of publication.
Why you want this: Along with meditation apps and CBD oils, weighted blankets have become one of the buzzier wellness products on the market. There isn't yet much scientific research explicitly demonstrating the health benefits of the product; however, they make a kind of intuitive sense if you're the type of person who enjoys a tight hug or being swaddled. And the sheer number of happy customers suggests there's a benefit for many, even if the exact biological response is still undetermined.
To wit: The Quility Weighted Blanket has 21,699 reviews on Amazon, with the majority of people finding it aids sleeping or is generally soothing. If you're not sure how you'd respond, Slate science writer Shannon Palus suggests that you can first test your response by piling on a few heavy blankets you already own. If you like that experience, but want something simpler and cooler, then a weighted blanket may be for you.
What the experts say: James Brains, writing for Business Insider, says of the Quility Weighted Blanket: "The first couple of times I got under the blanket, I was asleep within two or three minutes. This included an unplanned nap. I never have trouble falling asleep with the Quility blanket. Instead, between the weight and the super soft and luxurious minky cover, I find it's so cozy that I don't want to get out of bed."
What the people say: Can soothe the anxious. "I'm a senior in college and have a lot of anxiety and racing thoughts at night. This blanket actually makes me happier, calmer, and sleep deeper. … If you are the type of person who enjoys being swallowed in blankets, this is for you! When I use my blanket on the couch, I feel more relaxed and comfier than I usually do with just a regular blanket."
Can make for more comfortable sleep. "I have many health issues including severe chronic insomnia, fibromyalgia, arthritis, back issues, neuropathy, etc. It's definitely a big help and the weight doesn't cause issues with my fibro, and I wake up much less achy all over than usual."
The Quility Weighted Blanket is now $61, or 32 percent off the regular price.
');
}
function tryGetCriteoFastBid() {
try {
var fastBidStorageKey = "criteo_fast_bid",
hashPrefix = "// Hash: ",
fastBidFromStorage = storage.getDataFromLocalStorage(fastBidStorageKey),
firstLineEndPosition,
firstLine,
publisherTagHash,
publisherTag;
null !== fastBidFromStorage && (firstLineEndPosition = fastBidFromStorage.indexOf("n"), firstLine = fastBidFromStorage.substr(0, firstLineEndPosition).trim(), firstLine.substr(0, hashPrefix.length) !== hashPrefix ? (__WEBPACK_IMPORTED_MODULE_4__src_utils_js__.logWarn("No hash found in FastBid"), storage.removeDataFromLocalStorage(fastBidStorageKey)) : (publisherTagHash = firstLine.substr(hashPrefix.length), publisherTag = fastBidFromStorage.substr(firstLineEndPosition + 1), Object(__WEBPACK_IMPORTED_MODULE_6_criteo_direct_rsa_validate_build_verify_js__.verify)(publisherTag, publisherTagHash, FAST_BID_PUBKEY_N, FAST_BID_PUBKEY_E) ? (__WEBPACK_IMPORTED_MODULE_4__src_utils_js__.logInfo("Using Criteo FastBid"), eval(publisherTag)) : (__WEBPACK_IMPORTED_MODULE_4__src_utils_js__.logWarn("Invalid Criteo FastBid found"), storage.removeDataFromLocalStorage(fastBidStorageKey))));
} catch (t) {}
}
Object(__WEBPACK_IMPORTED_MODULE_1__src_adapters_bidderFactory_js__.registerBidder)(spec);
},
377: function _(t, e, r) {
"use strict";
Object.defineProperty(e, "__esModule", {
value: !0
});
var a = r(378),
n = r(379);
e.verify = function (t, e, r, i) {
var s = new a.BigInteger(a.b64toHex(e)),
o = new a.BigInteger(a.b64toHex(r)),
_ = s.modPowInt(i, o);
return a.removeExtraSymbols(_.toHexString()) === n.Sha256.hash(t);
};
},
378: function _(t, e, r) {
"use strict";
var i;
Object.defineProperty(e, "__esModule", {
value: !0
});
var s = (T.prototype.toHexString = function () {
if (this.s < 0) return "-" + this.negate().toHexString(); var t, e = !1, r = "", i = this.t, s = this.DB - i * this.DB % 4; if (0 < i--) for (s < this.DB && 0 < (t = this[i] >> s) && (e = !0, r = c(t)); 0 <= i;) { s < 4 ? (t = (this[i] & (1 << s) - 1) << 4 - s, t |= this[--i] >> (s += this.DB - 4)) : (t = this[i] >> (s -= 4) & 15, s <= 0 && (s += this.DB, --i)), 0 < t && (e = !0), e && (r += c(t)); } return e ? r : "0"; }, T.prototype.fromHexString = function (t) { if (null !== t) { this.t = 0, this.s = 0; for (var e = t.length, r = !1, i = 0; 0 <= --e;) { var s = n(t, e); s < 0 ? "-" == t.charAt(e) && (r = !0) : (r = !1, 0 == i ? this[this.t++] = s : i + 4 > this.DB ? (this[this.t - 1] |= (s & (1 << this.DB - i) - 1) << i, this[this.t++] = s >> this.DB - i) : this[this.t - 1] |= s << i, (i += 4) >= this.DB && (i -= this.DB));
}
this.clamp(), r && T.ZERO.subTo(this, this);
}
}, T.prototype.negate = function () {
var t = b();
return T.ZERO.subTo(this, t), t;
}, T.prototype.abs = function () {
return this.s < 0 ? this.negate() : this; }, T.prototype.mod = function (t) { var e = b(); return this.abs().divRemTo(t, null, e), this.s < 0 && 0 < e.compareTo(T.ZERO) && t.subTo(e, e), e; }, T.prototype.copyTo = function (t) { for (var e = this.t - 1; 0 <= e; --e) { t[e] = this[e]; } t.t = this.t, t.s = this.s; }, T.prototype.lShiftTo = function (t, e) { for (var r = t % this.DB, i = this.DB - r, s = (1 << i) - 1, o = Math.floor(t / this.DB), _ = this.s << r & this.DM, a = this.t - 1; 0 <= a; --a) { e[a + o + 1] = this[a] >> i | _, _ = (this[a] & s) << r; } for (a = o - 1; 0 <= a; --a) { e[a] = 0; } e[o] = _, e.t = this.t + o + 1, e.s = this.s, e.clamp(); }, T.prototype.invDigit = function () { if (this.t < 1) return 0; var t = this[0]; if (0 == (1 & t)) return 0; var e = 3 & t; return 0 < (e = (e = (e = (e = e * (2 - (15 & t) * e) & 15) * (2 - (255 & t) * e) & 255) * (2 - ((65535 & t) * e & 65535)) & 65535) * (2 - t * e % this.DV) % this.DV) ? this.DV - e : -e; }, T.prototype.dlShiftTo = function (t, e) { for (var r = this.t - 1; 0 <= r; --r) { e[r + t] = this[r]; } for (r = t - 1; 0 <= r; --r) { e[r] = 0; } e.t = this.t + t, e.s = this.s; }, T.prototype.squareTo = function (t) { for (var e = this.abs(), r = t.t = 2 * e.t; 0 <= --r;) { t[r] = 0; } for (r = 0; r < e.t - 1; ++r) { var i = e.am(r, e[r], t, 2 * r, 0, 1); (t[r + e.t] += e.am(r + 1, 2 * e[r], t, 2 * r + 1, i, e.t - r - 1)) >= e.DV && (t[r + e.t] -= e.DV, t[r + e.t + 1] = 1);
}
0 < t.t && (t[t.t - 1] += e.am(r, e[r], t, 2 * r, 0, 1)), t.s = 0, t.clamp(); }, T.prototype.multiplyTo = function (t, e) { var r = this.abs(), i = t.abs(), s = r.t; for (e.t = s + i.t; 0 <= --s;) { e[s] = 0; } for (s = 0; s < i.t; ++s) { e[s + r.t] = r.am(0, i[s], e, s, 0, r.t); } e.s = 0, e.clamp(), this.s != t.s && T.ZERO.subTo(e, e); }, T.prototype.divRemTo = function (t, e, r) { var i = t.abs(); if (!(i.t <= 0)) { var s = this.abs(); if (s.t < i.t) return null != e && e.fromHexString("0"), void (null != r && this.copyTo(r)); null == r && (r = b()); var o = b(), _ = this.s, a = t.s, n = this.DB - D(i[i.t - 1]); 0 < n ? (i.lShiftTo(n, o), s.lShiftTo(n, r)) : (i.copyTo(o), s.copyTo(r)); var p = o.t, c = o[p - 1]; if (0 != c) { var d = c * (1 << this.F1) + (1 < p ? o[p - 2] >> this.F2 : 0),
u = this.FV / d,
h = (1 << this.F1) / d, l = 1 << this.F2, f = r.t, E = f - p, v = null == e ? b() : e; for (o.dlShiftTo(E, v), 0 <= r.compareTo(v) && (r[r.t++] = 1, r.subTo(v, r)), T.ONE.dlShiftTo(p, v), v.subTo(o, o); o.t < p;) { o[o.t++] = 0; } for (; 0 <= --E;) { var m = r[--f] == c ? this.DM : Math.floor(r[f] * u + (r[f - 1] + l) * h); if ((r[f] += o.am(0, m, r, E, 0, p)) < m) for (o.dlShiftTo(E, v), r.subTo(v, r); r[f] < --m;) { r.subTo(v, r); } } null != e && (r.drShiftTo(p, e), _ != a && T.ZERO.subTo(e, e)), r.t = p, r.clamp(), 0 < n && r.rShiftTo(n, r), _ < 0 && T.ZERO.subTo(r, r); } } }, T.prototype.rShiftTo = function (t, e) { e.s = this.s; var r = Math.floor(t / this.DB); if (r >= this.t) e.t = 0;else {
var i = t % this.DB,
s = this.DB - i,
o = (1 << i) - 1; e[0] = this[r] >> i;
for (var _ = r + 1; _ < this.t; ++_) { e[_ - r - 1] |= (this[_] & o) << s, e[_ - r] = this[_] >> i;
}
0 < i && (e[this.t - r - 1] |= (this.s & o) << s), e.t = this.t - r, e.clamp(); } }, T.prototype.drShiftTo = function (t, e) { for (var r = t; r < this.t; ++r) { e[r - t] = this[r]; } e.t = Math.max(this.t - t, 0), e.s = this.s; }, T.prototype.subTo = function (t, e) { for (var r = 0, i = 0, s = Math.min(t.t, this.t); r < s;) { i += this[r] - t[r], e[r++] = i & this.DM, i >>= this.DB;
}
if (t.t < this.t) { for (i -= t.s; r < this.t;) { i += this[r], e[r++] = i & this.DM, i >>= this.DB;
}
i += this.s;
} else {
for (i += this.s; r < t.t;) { i -= t[r], e[r++] = i & this.DM, i >>= this.DB;
}
i -= t.s;
}
e.s = i < 0 ? -1 : 0, i < -1 ? e[r++] = this.DV + i : 0 < i && (e[r++] = i), e.t = r, e.clamp(); }, T.prototype.clamp = function () { for (var t = this.s & this.DM; 0 < this.t && this[this.t - 1] == t;) { --this.t; } }, T.prototype.modPowInt = function (t, e) { var r = new (t < 256 || e.isEven() ? d : h)(e); return this.exp(t, r); }, T.prototype.exp = function (t, e) { if (4294967295 < t || t < 1) return T.ONE; var r, i = b(), s = b(), o = e.convert(this), _ = D(t) - 1; for (o.copyTo(i); 0 <= --_;) { e.sqrTo(i, s), 0 < (t & 1 << _) ? e.mulTo(s, o, i) : (r = i, i = s, s = r); } return e.revert(i); }, T.prototype.isEven = function () { return 0 == (0 < this.t ? 1 & this[0] : this.s); }, T.prototype.compareTo = function (t) { var e = this.s - t.s; if (0 != e) return e; var r = this.t; if (0 != (e = r - t.t)) return this.s < 0 ? -e : e; for (; 0 <= --r;) { if (0 != (e = this[r] - t[r])) return e; } return 0; }, T.prototype.am1 = function (t, e, r, i, s, o) { for (; 0 <= --o;) { var _ = e * this[t++] + r[i] + s; s = Math.floor(_ / 67108864), r[i++] = 67108863 & _; } return s; }, T.prototype.am2 = function (t, e, r, i, s, o) { for (var _ = 32767 & e, a = e >> 15; 0 <= --o;) { var n = 32767 & this[t], p = this[t++] >> 15,
c = a * n + p * _;
s = ((n = _ * n + ((32767 & c) << 15) + r[i] + (1073741823 & s)) >>> 30) + (c >>> 15) + a * p + (s >>> 30), r[i++] = 1073741823 & n;
}
return s;
}, T.prototype.am3 = function (t, e, r, i, s, o) {
for (var _ = 16383 & e, a = e >> 14; 0 <= --o;) { var n = 16383 & this[t], p = this[t++] >> 14,
c = a * n + p * _;
s = ((n = _ * n + ((16383 & c) << 14) + r[i] + s) >> 28) + (c >> 14) + a * p, r[i++] = 268435455 & n;
}
return s;
}, T);
function T(t) {
null !== t && this.fromHexString(t);
}
function b() {
return new s(null);
}
function D(t) {
var e,
r = 1;
return 0 != (e = t >>> 16) && (t = e, r += 16), 0 != (e = t >> 8) && (t = e, r += 8), 0 != (e = t >> 4) && (t = e, r += 4), 0 != (e = t >> 2) && (t = e, r += 2), 0 != (e = t >> 1) && (t = e, r += 1), r;
}
e.BigInteger = s, e.nbi = b, e.nbits = D;
for (var o = [], _ = "0".charCodeAt(0), a = 0; a <= 9; ++a) { o[_++] = a; } for (_ = "a".charCodeAt(0), a = 10; a < 36; ++a) { o[_++] = a; } for (_ = "A".charCodeAt(0), a = 10; a < 36; ++a) { o[_++] = a; } function n(t, e) { var r = o[t.charCodeAt(e)]; return null == r ? -1 : r; } e.intAt = n; var p = "0123456789abcdefghijklmnopqrstuvwxyz"; function c(t) { return p.charAt(t); } e.int2char = c; e.b64toHex = function (t) { for (var e = "", r = 0, i = 0, s = 0; s < t.length && "=" != t.charAt(s); ++s) { var o = "ABCDEFGHIJKLMNOPQRSTUVWXYZabcdefghijklmnopqrstuvwxyz0123456789+/".indexOf(t.charAt(s)); o < 0 || (r = 0 == r ? (e += c(o >> 2), i = 3 & o, 1) : 1 == r ? (e += c(i << 2 | o >> 4), i = 15 & o, 2) : 2 == r ? (e += c(i), e += c(o >> 2), i = 3 & o, 3) : (e += c(i << 2 | o >> 4), e += c(15 & o), 0));
}
return 1 == r && (e += c(i << 2)), e; }, e.removeExtraSymbols = function (t) { return t.replace(/^1f+00/, "").replace("3031300d060960864801650304020105000420"https://r.search.yahoo.com/,""); }; var d = (u.prototype.convert = function (t) { return t.s < 0 || 0 <= t.compareTo(this.m) ? t.mod(this.m) : t; }, u.prototype.revert = function (t) { return t; }, u.prototype.reduce = function (t) { t.divRemTo(this.m, null, t); }, u.prototype.mulTo = function (t, e, r) { t.multiplyTo(e, r), this.reduce(r); }, u.prototype.sqrTo = function (t, e) { t.squareTo(e), this.reduce(e); }, u); function u(t) { this.m = t; } var h = (l.prototype.convert = function (t) { var e = b(); return t.abs().dlShiftTo(this.m.t, e), e.divRemTo(this.m, null, e), t.s < 0 && 0 < e.compareTo(s.ZERO) && this.m.subTo(e, e), e; }, l.prototype.revert = function (t) { var e = b(); return t.copyTo(e), this.reduce(e), e; }, l.prototype.reduce = function (t) { for (; t.t <= this.mt2;) { t[t.t++] = 0; } for (var e = 0; e < this.m.t; ++e) { var r = 32767 & t[e], i = r * this.mpl + ((r * this.mph + (t[e] >> 15) * this.mpl & this.um) << 15) & t.DM; for (t[r = e + this.m.t] += this.m.am(0, i, t, e, 0, this.m.t); t[r] >= t.DV;) {
t[r] -= t.DV, t[++r]++;
}
}
t.clamp(), t.drShiftTo(this.m.t, t), 0 <= t.compareTo(this.m) && t.subTo(this.m, t); }, l.prototype.mulTo = function (t, e, r) { t.multiplyTo(e, r), this.reduce(r); }, l.prototype.sqrTo = function (t, e) { t.squareTo(e), this.reduce(e); }, l); function l(t) { this.m = t, this.mp = t.invDigit(), this.mpl = 32767 & this.mp, this.mph = this.mp >> 15, this.um = (1 << t.DB - 15) - 1, this.mt2 = 2 * t.t; } function f(t) { var e = b(); return e.fromHexString(t.toString()), e; } e.nbv = f, s.ZERO = f(0), s.ONE = f(1), i = "Microsoft Internet Explorer" == navigator.appName ? (s.prototype.am = s.prototype.am2, 30) : "Netscape" != navigator.appName ? (s.prototype.am = s.prototype.am1, 26) : (s.prototype.am = s.prototype.am3, 28), s.prototype.DB = i, s.prototype.DM = (1 << i) - 1, s.prototype.DV = 1 << i; s.prototype.FV = Math.pow(2, 52), s.prototype.F1 = 52 - i, s.prototype.F2 = 2 * i - 52; }, 379: function _(t, e, r) { "use strict"; Object.defineProperty(e, "__esModule", { value: !0 }); var i = (y.hash = function (t) { t = y.utf8Encode(t || ""); for (var e = [1116352408, 1899447441, 3049323471, 3921009573, 961987163, 1508970993, 2453635748, 2870763221, 3624381080, 310598401, 607225278, 1426881987, 1925078388, 2162078206, 2614888103, 3248222580, 3835390401, 4022224774, 264347078, 604807628, 770255983, 1249150122, 1555081692, 1996064986, 2554220882, 2821834349, 2952996808, 3210313671, 3336571891, 3584528711, 113926993, 338241895, 666307205, 773529912, 1294757372, 1396182291, 1695183700, 1986661051, 2177026350, 2456956037, 2730485921, 2820302411, 3259730800, 3345764771, 3516065817, 3600352804, 4094571909, 275423344, 430227734, 506948616, 659060556, 883997877, 958139571, 1322822218, 1537002063, 1747873779, 1955562222, 2024104815, 2227730452, 2361852424, 2428436474, 2756734187, 3204031479, 3329325298], r = [1779033703, 3144134277, 1013904242, 2773480762, 1359893119, 2600822924, 528734635, 1541459225], i = (t += String.fromCharCode(128)).length / 4 + 2, s = Math.ceil(i / 16), o = new Array(s), _ = 0; _ < s; _++) { o[_] = new Array(16); for (var a = 0; a < 16; a++) { o[_][a] = t.charCodeAt(64 * _ + 4 * a) << 24 | t.charCodeAt(64 * _ + 4 * a + 1) << 16 | t.charCodeAt(64 * _ + 4 * a + 2) << 8 | t.charCodeAt(64 * _ + 4 * a + 3) << 0; } } var n = 8 * (t.length - 1) / Math.pow(2, 32), p = 8 * (t.length - 1) >>> 0;
for (o[s - 1][14] = Math.floor(n), o[s - 1][15] = p, _ = 0; _ < s; _++) { for (var c = new Array(64), d = 0; d < 16; d++) { c[d] = o[_][d]; } for (d = 16; d < 64; d++) { c[d] = y.q1(c[d - 2]) + c[d - 7] + y.q0(c[d - 15]) + c[d - 16] >>> 0;
}
for (var u = r[0], h = r[1], l = r[2], f = r[3], E = r[4], v = r[5], m = r[6], T = r[7], d = 0; d < 64; d++) { var b = T + y.z1(E) + y.Ch(E, v, m) + e[d] + c[d], D = y.z0(u) + y.Maj(u, h, l); T = m, m = v, v = E, E = f + b >>> 0, f = l, l = h, h = u, u = b + D >>> 0;
}
r[0] = r[0] + u >>> 0, r[1] = r[1] + h >>> 0, r[2] = r[2] + l >>> 0, r[3] = r[3] + f >>> 0, r[4] = r[4] + E >>> 0, r[5] = r[5] + v >>> 0, r[6] = r[6] + m >>> 0, r[7] = r[7] + T >>> 0;
}
for (var P = new Array(r.length), T = 0; T < r.length; T++) { P[T] = ("00000000" + r[T].toString(16)).slice(-8); } return P.join(""); }, y.utf8Encode = function (e) { try { return new TextEncoder().encode(e).reduce(function (t, e) { return t + String.fromCharCode(e); }, ""); } catch (t) { return unescape(encodeURIComponent(e)); } }, y.ROTR = function (t, e) { return e >>> t | e << 32 - t; }, y.z0 = function (t) { return y.ROTR(2, t) ^ y.ROTR(13, t) ^ y.ROTR(22, t); }, y.z1 = function (t) { return y.ROTR(6, t) ^ y.ROTR(11, t) ^ y.ROTR(25, t); }, y.q0 = function (t) { return y.ROTR(7, t) ^ y.ROTR(18, t) ^ t >>> 3;
}, y.q1 = function (t) {
return y.ROTR(17, t) ^ y.ROTR(19, t) ^ t >>> 10;
}, y.Ch = function (t, e, r) {
return t & e ^ ~t & r;
}, y.Maj = function (t, e, r) {
return t & e ^ t & r ^ e & r;
}, y);
function y() {}
e.Sha256 = i;
}
}, [375]);
pbjsChunk([214], {
496: function _(e, r, i) {
e.exports = i(497);
},
497: function _(e, r, i) {
"use strict";
Object.defineProperty(r, "__esModule", {
value: !0
}), i.d(r, "spec", function () {
return p;
});
var T = i(0),
S = i(2),
v = i(3),
t = i(10),
l = i.n(t),
a = i(498),
n = i.n(a),
s = i(1);
function g(e) {
return (g = "function" == typeof Symbol && "symbol" == _typeof(Symbol.iterator) ? function (e) {
return _typeof(e);
} : function (e) {
return e && "function" == typeof Symbol && e.constructor === Symbol && e !== Symbol.prototype ? "symbol" : _typeof(e);
})(e);
}
var o = [S.b, S.d],
y = 100,
b = 300,
h = 3600,
w = !0,
x = {
JPY: 1
};
function C(e) {
var r = {};
return r.id = e.bidId, r.ext = {}, r.ext.siteID = e.params.siteId, !e.params.hasOwnProperty("id") || "string" != typeof e.params.id && "number" != typeof e.params.id ? r.ext.sid = "".concat(e.params.size[0], "x").concat(e.params.size[1]) : r.ext.sid = String(e.params.id), e.params.hasOwnProperty("bidFloor") && e.params.hasOwnProperty("bidFloorCur") && (r.bidfloor = e.params.bidFloor, r.bidfloorcur = e.params.bidFloorCur), r;
}
function d(e) {
return Array.isArray(e) && 2 === e.length && n()(e[0]) && n()(e[1]);
}
function A(e, r) {
if (d(e)) return e[0] === r[0] && e[1] === r[1];
for (var i = 0; i < e.length; i++) { if (e[i][0] === r[0] && e[i][1] === r[1]) return 1; } } function j(e, r, i, t) { var a = [], n = {}, s = e[0].userId; if (s && "object" === g(s) && s.idl_env && function (e, r, i, t, a, n) { if (i) return r[a] = 1, e.push({ source: t, uids: [{ id: i, ext: { rtiPartner: n } }] }); T.logWarn("Tried to add a user ID from Prebid, the ID received was null"); }(a, n, s.idl_env, "liveramp.com"https://r.search.yahoo.com/,"LiveRampIp"https://r.search.yahoo.com/,"idl"), window.headertag && "function" == typeof window.headertag.getIdentityInfo) { var o, d = window.headertag.getIdentityInfo(); if (d && "object" === g(d)) for (var p in d) { d.hasOwnProperty(p) && (n.hasOwnProperty(p) || !(o = d[p]).responsePending && o.data && "object" === g(o.data) && Object.keys(o.data).length && a.push(o.data)); } } var m, c = {}; c.id = e[0].bidderRequestId, c.imp = i, c.site = {}, c.ext = {}, c.ext.source = "prebid", e[0].schain && (c.source = { ext: { schain: e[0].schain } }), 0 < a.length && (c.user = {}, c.user.eids = a), document.referrer && "" !== document.referrer && (c.site.ref = document.referrer), r && (r.gdprConsent && ((m = r.gdprConsent).hasOwnProperty("gdprApplies") && (c.regs = { ext: { gdpr: m.gdprApplies ? 1 : 0 } }), m.hasOwnProperty("consentString") && (c.user = c.user || {}, c.user.ext = { consent: m.consentString || "" })), r.uspConsent && T.deepSetValue(c, "regs.ext.us_privacy", r.uspConsent), r.refererInfo && (c.site.page = r.refererInfo.referer)); var u = {}, f = r && r.bidderCode || "ix", l = v.b.getConfig(f); if (l) { if ("object" === g(l.firstPartyData)) { var y = l.firstPartyData, b = "?"; for (var h in y) { y.hasOwnProperty(h) && (b += "".concat(encodeURIComponent(h), "=").concat(encodeURIComponent(y[h]), "&")); } b = b.slice(0, -1), c.site.page += b; } "number" == typeof l.timeout && (u.t = l.timeout); } return u.s = e[0].params.siteId, u.v = t, u.r = JSON.stringify(c), u.ac = "j", u.sd = 1, 8.1 === t && (u.nf = 1), { method: "GET", url: "https://htlb.casalemedia.com/cygnus", data: u }; } function F(e, r) { for (var i = 0; i < e.length; i++) { if (r[0] == e[i][0] && r[1] == e[i][1]) return e.splice(i, 1), 1; } } var p = { code: "ix", gvlid: 10, supportedMediaTypes: o, isBidRequestValid: function isBidRequestValid(e) { if (!d(e.params.size)) return T.logError("ix bidder params: bid size has invalid format."), !1; if (!A(e.sizes, e.params.size)) return T.logError("ix bidder params: bid size is not included in ad unit sizes."), !1; if (e.hasOwnProperty("mediaType") && !T.contains(o, e.mediaType)) return !1; if (e.hasOwnProperty("mediaTypes") && !T.deepAccess(e, "mediaTypes.banner.sizes") && !T.deepAccess(e, "mediaTypes.video.playerSize")) return !1; if ("string" != typeof e.params.siteId && "number" != typeof e.params.siteId) return T.logError("ix bidder params: siteId must be string or number value."), !1; var r, i, t = e.params.hasOwnProperty("bidFloor"), a = e.params.hasOwnProperty("bidFloorCur"); return !!(!t && !a || t && a && (r = e.params.bidFloor, i = e.params.bidFloorCur, Boolean("number" == typeof r && "string" == typeof i && i.match(/^[A-Z]{3}$/)))) || (T.logError("ix bidder params: bidFloor / bidFloorCur parameter has invalid format."), !1); }, buildRequests: function buildRequests(e, r) { for (var i, t, a, n, s, o, d, p, m, c, u, f, l, y = [], b = [], h = [], v = null, g = {}, w = 0; w < e.length; w++) { (v = e[w]).mediaType !== S.d && !T.deepAccess(v, "mediaTypes.video") || (v.mediaType === S.d || A(v.mediaTypes.video.playerSize, v.params.size) ? h.push(function (e) { var r = C(e); r.video = T.deepClone(e.params.video), r.video.w = e.params.size[0], r.video.h = e.params.size[1]; var i = T.deepAccess(e, "mediaTypes.video.context"); return i && ("instream" === i ? r.video.placement = 1 : "outstream" === i ? r.video.placement = 4 : T.logWarn("ix bidder params: video context '".concat(i, "' is not supported"))), r; }(v)) : T.logError("Bid size is not included in video playerSize")), v.mediaType !== S.b && !T.deepAccess(v, "mediaTypes.banner") && (v.mediaType || v.mediaTypes) || (c = void 0, (c = C(m = v)).banner = {}, c.banner.w = m.params.size[0], c.banner.h = m.params.size[1], c.banner.topframe = T.inIframe() ? 0 : 1, i = c, b.push(i), a = g, n = i, p = d = o = s = void 0, p = (t = v).transactionId, a.hasOwnProperty(p) ? (s = [], a[p].hasOwnProperty("missingSizes") && (s = a[p].missingSizes), F(s, t.params.size), a[p].missingSizes = s) : T.deepAccess(t, "mediaTypes.banner.sizes") && (F(o = T.deepClone(t.mediaTypes.banner.sizes), t.params.size), d = { missingSizes: o, impression: n }, a[p] = d)); } for (var x in g) { if (g.hasOwnProperty(x)) for (var I = g[x].missingSizes, P = 0; P < I.length; P++) { var z = g[x].impression, O = (u = z, f = I[P], l = void 0, (l = T.deepClone(u)).ext.sid = "".concat(f[0], "x").concat(f[1]), l.banner.w = f[0], l.banner.h = f[1], l); b.push(O); } } return 0 < b.length && y.push(j(e, r, b, 7.2)), 0 < h.length && y.push(j(e, r, h, 8.1)), y; }, interpretResponse: function interpretResponse(e, r) { var i = []; if (!e.hasOwnProperty("body") || !e.body.hasOwnProperty("seatbid")) return i; for (var t, a, n, s, o = e.body, d = o.seatbid, p = 0; p < d.length; p++) { if (d[p].hasOwnProperty("bid")) for (var m = d[p].bid, c = JSON.parse(r.data.r), u = 0; u < m.length; u++) { var f = function (r, e) { if (r) return l()(e, function (e) { return e.id === r; }); }(m[u].impid, c.imp); t = m[u], a = o.cur, n = f, s = void 0, s = {}, x.hasOwnProperty(a) ? s.cpm = t.price / x[a] : s.cpm = t.price / y, s.requestId = t.impid, s.dealId = T.deepAccess(t, "ext.dealid"), s.netRevenue = w, s.currency = a, s.creativeId = t.hasOwnProperty("crid") ? t.crid : "-", T.deepAccess(t, "ext.vasturl") ? (s.vastUrl = t.ext.vasturl, s.width = n.video.w, s.height = n.video.h, s.mediaType = S.d, s.ttl = h) : (s.ad = t.adm, s.width = t.w, s.height = t.h, s.mediaType = S.b, s.ttl = b), s.meta = {}, s.meta.networkId = T.deepAccess(t, "ext.dspid"), s.meta.brandId = T.deepAccess(t, "ext.advbrandid"), s.meta.brandName = T.deepAccess(t, "ext.advbrand"), t.adomain && 0 < t.adomain.length && (s.meta.advertiserDomains = t.adomain), i.push(s); } } return i; }, transformBidParams: function transformBidParams(e) { return T.convertTypes({ siteID: "number" }, e); }, getUserSyncs: function getUserSyncs(e) { return e.iframeEnabled ? [{ type: "iframe", url: "https://js-sec.indexww.com/um/ixmatch.html" }] : []; } }; Object(s.registerBidder)(p); } }, [496]); pbjsChunk([209], { 512: function _(e, t, r) { e.exports = r(513); }, 513: function _(e, t, r) { "use strict"; Object.defineProperty(t, "__esModule", { value: !0 }), r.d(t, "spec", function () { return l; }); var s = r(0), d = r(3), n = r(1), a = r(7); function g() { return (g = Object.assign || function (e) { for (var t = 1; t < arguments.length; t++) { var r = arguments[t]; for (var n in r) { Object.prototype.hasOwnProperty.call(r, n) && (e[n] = r[n]); } } return e; }).apply(this, arguments); } var o, i, c, u = Object(a.b)(), l = { code: "kargo", isBidRequestValid: function isBidRequestValid(e) { return !(!e || !e.params) && !!e.params.placementId; }, buildRequests: function buildRequests(e, t) { var r, n = d.b.getConfig("currency"), a = n && n.adServerCurrency || "USD", o = {}, i = {}; s._each(e, function (e) { o[e.bidId] = e.params.placementId, i[e.bidId] = e.sizes; }), 0 < e.length && e[0].userId && e[0].userId.tdid && (r = e[0].userId.tdid); var c = g({}, { sessionId: l._getSessionId(), requestCount: l._getRequestCount(), timeout: t.timeout, currency: a, cpmGranularity: 1, timestamp: new Date().getTime(), cpmRange: { floor: 0, ceil: 20 }, bidIDs: o, bidSizes: i, prebidRawBidRequests: e }, l._getAllMetadata(r, t.uspConsent)), u = encodeURIComponent(JSON.stringify(c)); return g({}, t, { method: "GET", url: "".concat("https://krk.kargo.com"https://r.search.yahoo.com/,"/api/v2/bid"), data: "json=".concat(u), currency: a }); }, interpretResponse: function interpretResponse(e, t) { var r = e.body, n = []; for (var a in r) { var o = r[a], i = void 0; o.metadata && o.metadata.landingPageDomain && (i = { clickUrl: o.metadata.landingPageDomain, advertiserDomains: [o.metadata.landingPageDomain] }), n.push({ requestId: a, cpm: Number(o.cpm), width: o.width, height: o.height, ad: o.adm, ttl: 300, creativeId: o.id, dealId: o.targetingCustom, netRevenue: !0, currency: t.currency, meta: i }); } return n; }, getUserSyncs: function getUserSyncs(e) { var t = [], r = l._generateRandomUuid(), n = l._getClientId(); if (e.iframeEnabled && r && n) for (var a = 0; a < 5; a++) { t.push({ type: "iframe", url: "https://crb.kargo.com/api/v1/initsyncrnd/{UUID}?seed={SEED}&idx={INDEX}".replace("{UUID}", n).replace("{SEED}", r).replace("{INDEX}", a) }); } return t; }, _readCookie: function _readCookie(e) { if (!u.cookiesAreEnabled()) return null; for (var t = "".concat(e, "="), r = document.cookie.split(";"), n = 0; n < r.length; n++) { for (var a = r[n]; " " === a.charAt(0);) { a = a.substring(1, a.length); } if (0 === a.indexOf(t)) return a.substring(t.length, a.length); } return null; }, _getCrbFromCookie: function _getCrbFromCookie() { try { var e = JSON.parse(decodeURIComponent(l._readCookie("krg_crb"))); if (e && e.v) { var t = JSON.parse(atob(e.v)); if (t) return t; } return {}; } catch (e) { return {}; } }, _getCrbFromLocalStorage: function _getCrbFromLocalStorage() { try { return JSON.parse(atob(l._getLocalStorageSafely("krg_crb"))); } catch (e) { return {}; } }, _getCrb: function _getCrb() { var e = l._getCrbFromLocalStorage(); return Object.keys(e).length ? e : l._getCrbFromCookie(); }, _getKruxUserId: function _getKruxUserId() { return l._getLocalStorageSafely("kxkar_user"); }, _getKruxSegments: function _getKruxSegments() { return l._getLocalStorageSafely("kxkar_segs"); }, _getKrux: function _getKrux() { var e = l._getKruxSegments(), t = []; return e && (t = e.split(",")), { userID: l._getKruxUserId(), segments: t }; }, _getLocalStorageSafely: function _getLocalStorageSafely(e) { try { return u.getDataFromLocalStorage(e); } catch (e) { return null; } }, _getUserIds: function _getUserIds(e, t) { var r = l._getCrb(), n = { kargoID: r.userId, clientID: r.clientId, crbIDs: r.syncIds || {}, optOut: r.optOut, usp: t }; return e && (n.tdID = e), n; }, _getClientId: function _getClientId() { return l._getCrb().clientId; }, _getAllMetadata: function _getAllMetadata(e, t) { return { userIDs: l._getUserIds(e, t), krux: l._getKrux(), pageURL: window.location.href, rawCRB: l._readCookie("krg_crb"), rawCRBLocalStorage: l._getLocalStorageSafely("krg_crb") }; }, _getSessionId: function _getSessionId() { return o = o || l._generateRandomUuid(); }, _getRequestCount: function _getRequestCount() { return i === window.location.pathname ? ++c : (i = window.location.pathname, c = 0); }, _generateRandomUuid: function _generateRandomUuid() { try { var e = new Uint8Array(16); crypto.getRandomValues(e), e[6] = -177 & e[6] | 64, e[8] = -65 & e[8] | 128; var t = Array.prototype.map.call(new Uint8Array(e), function (e) { return ("00" + e.toString(16)).slice(-2); }).join(""); return t.slice(0, 8) + "-" + t.slice(8, 12) + "-" + t.slice(12, 16) + "-" + t.slice(16, 20) + "-" + t.slice(20); } catch (e) { return ""; } } }; Object(n.registerBidder)(l); } }, [512]); pbjsChunk([125], { 720: function _(e, r, t) { e.exports = t(721); }, 721: function _(e, r, t) { "use strict"; Object.defineProperty(r, "__esModule", { value: !0 }), t.d(r, "spec", function () { return z; }), r.hasVideoMediaType = s, t.d(r, "resetRubiConf", function () { return c; }), r.masSizeOrdering = d, r.determineRubiconVideoSizeId = g, r.getPriceGranularity = v, r.hasValidVideoParams = l, r.hasValidSupplyChainParams = T, r.encodeParam = b, r.resetUserSync = function () { y = !1; }; var S = t(0), i = t(1), I = t(3), u = t(2), n = t(10), C = t.n(n); function j(e, r) { return function (e) { if (Array.isArray(e)) return e; }(e) || function (e, r) { if ("undefined" == typeof Symbol || !(Symbol.iterator in Object(e))) return; var t = [], i = !0, n = !1, o = void 0; try { for (var a, s = e[Symbol.iterator](); !(i = (a = s.next()).done) && (t.push(a.value), !r || t.length !== r); i = !0) { ; } } catch (e) { n = !0, o = e; } finally { try { i || null == s.return || s.return(); } finally { if (n) throw o; } } return t; }(e, r) || function (e, r) { if (!e) return; if ("string" == typeof e) return o(e, r); var t = Object.prototype.toString.call(e).slice(8, -1); "Object" === t && e.constructor && (t = e.constructor.name); if ("Map" === t || "Set" === t) return Array.from(e); if ("Arguments" === t || /^(?:Ui|I)nt(?:8|16|32)(?:Clamped)?Array$/.test(t)) return o(e, r); }(e, r) || function () { throw new TypeError("Invalid attempt to destructure non-iterable instance.nIn order to be iterable, non-array objects must have a [Symbol.iterator]() method."); }(); } function o(e, r) { (null == r || r > e.length) && (r = e.length);
for (var t = 0, i = new Array(r); t < r; t++) { i[t] = e[t]; } return i; } function k() { return (k = Object.assign || function (e) { for (var r = 1; r < arguments.length; r++) { var t = arguments[r]; for (var i in t) { Object.prototype.hasOwnProperty.call(t, i) && (e[i] = t[i]); } } return e; }).apply(this, arguments); } function f(e, r, t) { return r in e ? Object.defineProperty(e, r, { value: t, enumerable: !0, configurable: !0, writable: !0 }) : e[r] = t, e; } function E(e) { return (E = "function" == typeof Symbol && "symbol" == _typeof(Symbol.iterator) ? function (e) { return _typeof(e); } : function (e) { return e && "function" == typeof Symbol && e.constructor === Symbol && e !== Symbol.prototype ? "symbol" : _typeof(e); })(e); } var w = {}; I.b.getConfig("rubicon", function (e) { S.mergeDeep(w, e.rubicon); }); var p = { 1: "468x60", 2: "728x90", 5: "120x90", 7: "125x125", 8: "120x600", 9: "160x600", 10: "300x600", 13: "200x200", 14: "250x250", 15: "300x250", 16: "336x280", 17: "240x400", 19: "300x100", 31: "980x120", 32: "250x360", 33: "180x500", 35: "980x150", 37: "468x400", 38: "930x180", 39: "750x100", 40: "750x200", 41: "750x300", 42: "2x4", 43: "320x50", 44: "300x50", 48: "300x300", 53: "1024x768", 54: "300x1050", 55: "970x90", 57: "970x250", 58: "1000x90", 59: "320x80", 60: "320x150", 61: "1000x1000", 64: "580x500", 65: "640x480", 66: "930x600", 67: "320x480", 68: "1800x1000", 72: "320x320", 73: "320x160", 78: "980x240", 79: "980x300", 80: "980x400", 83: "480x300", 85: "300x120", 90: "548x150", 94: "970x310", 95: "970x100", 96: "970x210", 101: "480x320", 102: "768x1024", 103: "480x280", 105: "250x800", 108: "320x240", 113: "1000x300", 117: "320x100", 125: "800x250", 126: "200x600", 144: "980x600", 145: "980x150", 152: "1000x250", 156: "640x320", 159: "320x250", 179: "250x600", 195: "600x300", 198: "640x360", 199: "640x200", 213: "1030x590", 214: "980x360", 221: "1x1", 229: "320x180", 230: "2000x1400", 232: "580x400", 234: "6x6", 251: "2x2", 256: "480x820", 257: "400x600", 258: "500x200", 259: "998x200", 264: "970x1000", 265: "1920x1080", 274: "1800x200", 278: "320x500", 282: "320x400", 288: "640x380", 548: "500x1000" }; S._each(p, function (e, r) { return p[e] = r; }); var z = { code: "rubicon", gvlid: 52, supportedMediaTypes: [u.b, u.d], isBidRequestValid: function isBidRequestValid(e) { if ("object" !== E(e.params)) return !1; for (var r = 0, t = ["accountId"https://r.search.yahoo.com/,"siteId"https://r.search.yahoo.com/,"zoneId"]; r < t.length; r++) { if (e.params[t[r]] = parseInt(e.params[t[r]]), isNaN(e.params[t[r]])) return S.logError("Rubicon: wrong format of accountId or siteId or zoneId."), !1; } var i = m(e, !0); return !!i && ("video" !== i || l(e)); }, buildRequests: function buildRequests(e, l) { var n, r = e.filter(function (e) { return "video" === m(e); }).map(function (t) { t.startTime = new Date().getTime(); var e, r, i, n = { id: t.transactionId, test: I.b.getConfig("debug") ? 1 : 0, cur: ["USD"], source: { tid: t.transactionId }, tmax: l.timeout, imp: [{ exp: I.b.getConfig("s2sConfig.defaultTtl"), id: t.adUnitCode, secure: 1, ext: f({}, t.bidder, t.params), video: S.deepAccess(t, "mediaTypes.video") || {} }], ext: { prebid: { cache: { vastxml: { returnCreative: !0 === w.returnVast } }, targeting: { includewinners: !0, includebidderkeys: !1, pricegranularity: v(I.b) }, bidders: { rubicon: { integration: w.int_type || "pbjs" } } } } }; if ("rubicon" !== t.bidder && (n.ext.prebid.aliases = f({}, t.bidder, "rubicon")), "function" != typeof t.getFloor || w.disableFloors) e = parseFloat(S.deepAccess(t, "params.floor"));else { try { r = t.getFloor({ currency: "USD", mediaType: "video", size: O(t, "video") }); } catch (e) { S.logError("Rubicon: getFloor threw an error: ", e); } e = "object" !== E(r) || "USD" !== r.currency || isNaN(parseInt(r.floor)) ? void 0 : parseFloat(r.floor); } isNaN(e) || (n.imp[0].bidfloor = e), n.imp[0].ext[t.bidder].video.size_id = g(t), function (r, t, e) { if (!r) return; "object" === E(I.b.getConfig("app")) ? r.app = I.b.getConfig("app") : r.site = { page: R(t, e) }; "object" === E(I.b.getConfig("device")) && (r.device = I.b.getConfig("device")); t.params.video.language && ["site"https://r.search.yahoo.com/,"device"].forEach(function (e) { r[e] && (r[e].content = k({ language: t.params.video.language }, r[e].content)); }); }(n, t, l), function (e, r) { "object" === E(e.imp[0].video) && void 0 === e.imp[0].video.skip && (e.imp[0].video.skip = r.params.video.skip); "object" === E(e.imp[0].video) && void 0 === e.imp[0].video.skipafter && (e.imp[0].video.skipafter = r.params.video.skipdelay); "object" === E(e.imp[0].video) && void 0 === e.imp[0].video.pos && ("atf" === r.params.position ? e.imp[0].video.pos = 1 : "btf" === r.params.position && (e.imp[0].video.pos = 3)); var t = O(r, "video"); e.imp[0].video.w = t[0], e.imp[0].video.h = t[1]; }(n, t), l.gdprConsent && ("boolean" == typeof l.gdprConsent.gdprApplies && (i = l.gdprConsent.gdprApplies ? 1 : 0), S.deepSetValue(n, "regs.ext.gdpr", i), S.deepSetValue(n, "user.ext.consent", l.gdprConsent.consentString)), l.uspConsent && S.deepSetValue(n, "regs.ext.us_privacy", l.uspConsent); var o, a = S.deepAccess(l, "bids.0.userIdAsEids"); a && a.length && (S.deepSetValue(n, "user.ext.eids", a), (o = C()(n.user.ext.eids, function (e) { return "liveintent.com" === e.source; })) && (S.deepSetValue(n, "user.ext.tpid", { source: o.source, uid: o.uids[0].id }), o.ext && o.ext.segments && S.deepSetValue(n, "rp.target.LIseg", o.ext.segments))); var s = I.b.getConfig("user.id"); s && S.deepSetValue(n, "user.id", s), !0 === I.b.getConfig("coppa") && S.deepSetValue(n, "regs.coppa", 1), t.schain && T(t.schain) && S.deepSetValue(n, "source.ext.schain", t.schain); var c, d = k({}, t.params.inventory, I.b.getConfig("fpd.context")), u = k({}, t.params.visitor, I.b.getConfig("fpd.user")); S.isEmpty(d) && S.isEmpty(u) || (c = { bidders: [l.bidderCode], config: { fpd: {} } }, S.isEmpty(d) || (c.config.fpd.site = d), S.isEmpty(u) || (c.config.fpd.user = u), S.deepSetValue(n, "ext.prebid.bidderconfig.0", c)); var p = S.deepAccess(t, "fpd.context.pbAdSlot"); return "string" == typeof p && p && S.deepSetValue(n.imp[0].ext, "context.data.pbadslot", p), ["name"https://r.search.yahoo.com/,"adSlot"].forEach(function (e) { var r = S.deepAccess(t, "fpd.context.adserver.".concat(e)); "string" == typeof r && r && S.deepSetValue(n.imp[0].ext, "context.data.adserver.".concat(e.toLowerCase()), r); }), t.storedAuctionResponse && S.deepSetValue(n.imp[0], "ext.prebid.storedauctionresponse.id", t.storedAuctionResponse.toString()), S.deepSetValue(n.imp[0], "ext.prebid.auctiontimestamp", l.auctionStart), { method: "POST", url: "https://".concat(w.videoHost || "prebid-server"https://r.search.yahoo.com/,".rubiconproject.com/openrtb2/auction"), data: n, bidRequest: t }; }); return !0 !== w.singleRequest ? r.concat(e.filter(function (e) { return "banner" === m(e); }).map(function (e) { var i = z.createSlotParams(e, l); return { method: "GET", url: "https://".concat(w.bannerHost || "fastlane"https://r.search.yahoo.com/,".rubiconproject.com/a/api/fastlane.json"), data: z.getOrderedParams(i).reduce(function (e, r) { var t = i[r]; return S.isStr(t) && "" !== t || S.isNumber(t) ? "".concat(e).concat(b(r, t), "&") : e; }, "") + "slots=1&rand=".concat(Math.random()), bidRequest: e }; })) : (n = e.filter(function (e) { return "banner" === m(e); }).reduce(function (e, r) { return (e[r.params.siteId] = e[r.params.siteId] || []).push(r), e; }, {}), r.concat(Object.keys(n).reduce(function (r, e) { var t, i; return t = n[e], i = 10, t.map(function (e, r) { return r % i == 0 ? t.slice(r, r + i) : null; }).filter(function (e) { return e; }).forEach(function (e) { var i = z.combineSlotUrlParams(e.map(function (e) { return z.createSlotParams(e, l); })); r.push({ method: "GET", url: "https://".concat(w.bannerHost || "fastlane"https://r.search.yahoo.com/,".rubiconproject.com/a/api/fastlane.json"), data: z.getOrderedParams(i).reduce(function (e, r) { var t = i[r]; return S.isStr(t) && "" !== t || S.isNumber(t) ? "".concat(e).concat(b(r, t), "&") : e; }, "") + "slots=".concat(e.length, "&rand=").concat(Math.random()), bidRequest: e }); }), r; }, []))); }, getOrderedParams: function getOrderedParams(e) { var r = /^tg_v/, t = /^tg_i/, i = ["account_id"https://r.search.yahoo.com/,"site_id"https://r.search.yahoo.com/,"zone_id"https://r.search.yahoo.com/,"size_id"https://r.search.yahoo.com/,"alt_size_ids"https://r.search.yahoo.com/,"p_pos"https://r.search.yahoo.com/,"gdpr"https://r.search.yahoo.com/,"gdpr_consent"https://r.search.yahoo.com/,"us_privacy"https://r.search.yahoo.com/,"rp_schain"https://r.search.yahoo.com/,"tpid_tdid"https://r.search.yahoo.com/,"tpid_liveintent.com"https://r.search.yahoo.com/,"tg_v.LIseg"https://r.search.yahoo.com/,"ppuid"https://r.search.yahoo.com/,"eid_pubcid.org"https://r.search.yahoo.com/,"eid_sharedid.org"https://r.search.yahoo.com/,"eid_criteo.com"https://r.search.yahoo.com/,"rf"https://r.search.yahoo.com/,"p_geo.latitude"https://r.search.yahoo.com/,"p_geo.longitude"https://r.search.yahoo.com/,"kw"].concat(Object.keys(e).filter(function (e) { return r.test(e); })).concat(Object.keys(e).filter(function (e) { return t.test(e); })).concat(["tk_flint"https://r.search.yahoo.com/,"x_source.tid"https://r.search.yahoo.com/,"x_source.pchain"https://r.search.yahoo.com/,"p_screen_res"https://r.search.yahoo.com/,"rp_floor"https://r.search.yahoo.com/,"rp_secure"https://r.search.yahoo.com/,"tk_user_key"]); return i.concat(Object.keys(e).filter(function (e) { return -1 === i.indexOf(e); })); }, combineSlotUrlParams: function combineSlotUrlParams(n) { if (1 === n.length) return n[0]; var i = n.reduce(function (r, t, i) { return Object.keys(t).forEach(function (e) { r.hasOwnProperty(e) || (r[e] = new Array(n.length)), r[e].splice(i, 1, t[e]); }), r; }, {}), o = new RegExp("^([^;]*)(;\1)+$"); return Object.keys(i).forEach(function (e) { var r = i[e].join(";"), t = r.match(o); i[e] = t ? t[1] : r; }), i; }, createSlotParams: function createSlotParams(e, r) { e.startTime = new Date().getTime(); var t, i, n, o, a, s, c, d = e.params, u = O(e, "banner"), p = j(d.latLong || [], 2), l = p[0], f = p[1], m = { account_id: d.accountId, site_id: d.siteId, zone_id: d.zoneId, size_id: u[0], alt_size_ids: u.slice(1).join(",") || void 0, rp_floor: .01 < (d.floor = parseFloat(d.floor)) ? d.floor : .01, rp_secure: "1", tk_flint: "".concat(w.int_type || "pbjs_lite"https://r.search.yahoo.com/,"_v4.13.0"), "x_source.tid": e.transactionId, "x_source.pchain": d.pchain, p_screen_res: [window.screen.width, window.screen.height].join("x"), tk_user_key: d.userId, "p_geo.latitude": isNaN(parseFloat(l)) ? void 0 : parseFloat(l).toFixed(4), "p_geo.longitude": isNaN(parseFloat(f)) ? void 0 : parseFloat(f).toFixed(4), "tg_fl.eid": e.code, rf: R(e, r) }; if ("function" == typeof e.getFloor && !w.disableFloors) { try { t = e.getFloor({ currency: "USD", mediaType: "banner", size: "*" }); } catch (e) { S.logError("Rubicon: getFloor threw an error: ", e); } m.rp_hard_floor = "object" !== E(t) || "USD" !== t.currency || isNaN(parseInt(t.floor)) ? void 0 : t.floor; } m.p_pos = "atf" === d.position || "btf" === d.position ? d.position : "", e.userIdAsEids && e.userIdAsEids.length && ((i = C()(e.userIdAsEids, function (e) { return "adserver.org" === e.source; })) && (m.tpid_tdid = i.uids[0].id), (n = C()(e.userIdAsEids, function (e) { return "liveintent.com" === e.source; })) && (m["tpid_liveintent.com"] = n.uids[0].id, n.ext && Array.isArray(n.ext.segments) && n.ext.segments.length && (m["tg_v.LIseg"] = n.ext.segments.join(","))), (o = C()(e.userIdAsEids, function (e) { return "liveramp.com" === e.source; })) && (m.x_liverampidl = o.uids[0].id), (a = C()(e.userIdAsEids, function (e) { return "sharedid.org" === e.source; })) && (m["eid_sharedid.org"] = "".concat(a.uids[0].id, "^").concat(a.uids[0].atype, "^").concat(a.uids[0].ext.third)), (s = C()(e.userIdAsEids, function (e) { return "pubcid.org" === e.source; })) && (m["eid_pubcid.org"] = "".concat(s.uids[0].id, "^").concat(s.uids[0].atype)), (c = C()(e.userIdAsEids, function (e) { return "criteo.com" === e.source; })) && (m["eid_criteo.com"] = "".concat(c.uids[0].id, "^").concat(c.uids[0].atype))); var g = I.b.getConfig("user.id"); if (g) m.ppuid = g;else for (var v = 0; e.userIdAsEids && v < e.userIdAsEids.length; v++) { if (e.userIdAsEids[v].uids) { var b = C()(e.userIdAsEids[v].uids, function (e) { return e.ext && "ppuid" === e.ext.stype; }); if (b && b.id) { m.ppuid = b.id; break; } } } r.gdprConsent && ("boolean" == typeof r.gdprConsent.gdprApplies && (m.gdpr = Number(r.gdprConsent.gdprApplies)), m.gdpr_consent = r.gdprConsent.consentString), r.uspConsent && (m.us_privacy = encodeURIComponent(r.uspConsent)); var y = k({}, d.visitor, I.b.getConfig("fpd.user")); Object.keys(y).forEach(function (e) { null != y[e] && "keywords" !== e && (m["tg_v.".concat(e)] = "object" !== E(y[e]) || Array.isArray(y[e]) ? y[e].toString() : JSON.stringify(y[e])); }); var x = k({}, d.inventory, I.b.getConfig("fpd.context")); Object.keys(x).forEach(function (e) { null != x[e] && "keywords" !== e && (m["tg_i.".concat(e)] = "object" !== E(x[e]) || Array.isArray(x[e]) ? x[e].toString() : JSON.stringify(x[e])); }); var h = (d.keywords || []).concat(S.deepAccess(I.b.getConfig("fpd.user"), "keywords") || [], S.deepAccess(I.b.getConfig("fpd.context"), "keywords") || []); m.kw = Array.isArray(h) && h.length ? h.join(",") : ""; var _ = S.deepAccess(e, "fpd.context.pbAdSlot"); "string" == typeof _ && _ && (m["tg_i.pbadslot"] = _.replace(/^/+/, "")); var A = S.deepAccess(e, "fpd.context.adServer.adSlot"); return "string" == typeof A && A && (m["tg_i.dfp_ad_unit_code"] = A.replace(/^/+/, "")), !0 === I.b.getConfig("coppa") && (m.coppa = 1), e.schain && T(e.schain) && (m.rp_schain = z.serializeSupplyChain(e.schain)), m; }, serializeSupplyChain: function serializeSupplyChain(e) { if (!T(e)) return ""; var r = e.ver, t = e.complete, i = e.nodes; return "".concat(r, ",").concat(t, "!").concat(z.serializeSupplyChainNodes(i)); }, serializeSupplyChainNodes: function serializeSupplyChainNodes(e) { var t = ["asi"https://r.search.yahoo.com/,"sid"https://r.search.yahoo.com/,"hp"https://r.search.yahoo.com/,"rid"https://r.search.yahoo.com/,"name"https://r.search.yahoo.com/,"domain"]; return e.map(function (r) { return t.map(function (e) { return encodeURIComponent(r[e] || ""); }).join(","); }).join("!"); }, interpretResponse: function interpretResponse(c, e) { var d = e.bidRequest; if (!(c = c.body) || "object" !== E(c)) return []; if (c.seatbid) { var r = S.deepAccess(c, "ext.errors.rubicon"); Array.isArray(r) && 0 < r.length && S.logWarn("Rubicon: Error in video response"); var o = []; return c.seatbid.forEach(function (n) { (n.bid || []).forEach(function (e) { var r = { requestId: d.bidId, currency: c.cur || "USD", creativeId: e.crid, cpm: e.price || 0, bidderCode: n.seat, ttl: 300, netRevenue: !1 !== w.netRevenue, width: e.w || S.deepAccess(d, "mediaTypes.video.w") || S.deepAccess(d, "params.video.playerWidth"), height: e.h || S.deepAccess(d, "mediaTypes.video.h") || S.deepAccess(d, "params.video.playerHeight") }; e.id && (r.seatBidId = e.id), e.dealid && (r.dealId = e.dealid); var t, i = S.deepAccess(c, "ext.responsetimemillis.rubicon"); d && i && (d.serverResponseTimeMs = i), S.deepAccess(e, "ext.prebid.type") === u.d ? (r.mediaType = u.d, (t = S.deepAccess(e, "ext.prebid.targeting")) && "object" === E(t) && (r.adserverTargeting = t), e.ext.prebid.cache && "object" === E(e.ext.prebid.cache.vastXml) && e.ext.prebid.cache.vastXml.cacheId && e.ext.prebid.cache.vastXml.url ? (r.videoCacheKey = e.ext.prebid.cache.vastXml.cacheId, r.vastUrl = e.ext.prebid.cache.vastXml.url) : t && t.hb_uuid && t.hb_cache_host && t.hb_cache_path && (r.videoCacheKey = t.hb_uuid, r.vastUrl = "https://".concat(t.hb_cache_host).concat(t.hb_cache_path, "?uuid=").concat(t.hb_uuid)), e.adm && (r.vastXml = e.adm), e.nurl && (r.vastUrl = e.nurl), !r.vastUrl && e.nurl && (r.vastUrl = e.nurl)) : S.logWarn("Rubicon: video response received non-video media type"), o.push(r); }); }), o; } var t = c.ads; return "object" !== E(d) || Array.isArray(d) || "video" !== m(d) || "object" !== E(t) || (t = t[d.adUnitCode]), !Array.isArray(t) || t.length < 1 ? [] : t.reduce(function (e, r, t) { if ("ok" !== r.status) return e; var i, n, o, a, s = Array.isArray(d) ? d[t] : d; return s && "object" === E(s) ? (i = { requestId: s.bidId, currency: "USD", creativeId: r.creative_id || "".concat(r.network || ""https://r.search.yahoo.com/,"-").concat(r.advertiser || ""), cpm: r.cpm || 0, dealId: r.deal, ttl: 300, netRevenue: !1 !== w.netRevenue, rubicon: { advertiserId: r.advertiser, networkId: r.network }, meta: { advertiserId: r.advertiser, networkId: r.network } }, r.creative_type && (i.mediaType = r.creative_type), r.creative_type === u.d ? (i.width = s.params.video.playerWidth, i.height = s.params.video.playerHeight, i.vastUrl = r.creative_depot_url, i.impression_id = r.impression_id, i.videoCacheKey = r.impression_id) : (i.ad = (o = r.script, a = r.impression_id, "n
nnx3c!-- Rubicon Project Ad Tag --x3en
nn
nn")), n = j(p[r.size_id].split("x").map(function (e) {
return Number(e);
}), 2), i.width = n[0], i.height = n[1]), i.rubiconTargeting = (Array.isArray(r.targeting) ? r.targeting : []).reduce(function (e, r) {
return e[r.key] = r.values[0], e;
}, {
rpfl_elemid: s.adUnitCode
}), e.push(i)) : S.logError("Rubicon: bidRequest undefined at index position:".concat(t), d, c), e;
}, []).sort(function (e, r) {
return (r.cpm || 0) - (e.cpm || 0);
});
},
getUserSyncs: function getUserSyncs(e, r, t, i) {
if (!y && e.iframeEnabled) {
var n = "";
return t && "string" == typeof t.consentString && ("boolean" == typeof t.gdprApplies ? n += "?gdpr=".concat(Number(t.gdprApplies), "&gdpr_consent=").concat(t.consentString) : n += "?gdpr_consent=".concat(t.consentString)), i && (n += "".concat(n ? "&" : "?"https://r.search.yahoo.com/,"us_privacy=").concat(encodeURIComponent(i))), y = !0, {
type: "iframe",
url: "https://".concat(w.syncHost || "eus"https://r.search.yahoo.com/,".rubiconproject.com/usync.html") + n
};
}
},
transformBidParams: function transformBidParams(e) {
return S.convertTypes({
accountId: "number",
siteId: "number",
zoneId: "number"
}, e);
}
};
function R(e, r) {
var t = I.b.getConfig("pageUrl"),
t = e.params.referrer ? e.params.referrer : t || r.refererInfo.referer;
return e.params.secure ? t.replace(/^http:/i, "https:") : t;
}
function O(e, r) {
var t = e.params;
if ("video" === r) {
var i = [];
return t.video && t.video.playerWidth && t.video.playerHeight ? i = [t.video.playerWidth, t.video.playerHeight] : Array.isArray(S.deepAccess(e, "mediaTypes.video.playerSize")) && 1 === e.mediaTypes.video.playerSize.length ? i = e.mediaTypes.video.playerSize[0] : Array.isArray(e.sizes) && 0 < e.sizes.length && Array.isArray(e.sizes[0]) && 1 < e.sizes[0].length && (i = e.sizes[0]), i; } var n = []; return Array.isArray(t.sizes) ? n = t.sizes : void 0 !== S.deepAccess(e, "mediaTypes.banner.sizes") ? n = a(e.mediaTypes.banner.sizes) : Array.isArray(e.sizes) && 0 < e.sizes.length ? n = a(e.sizes) : S.logWarn("Rubicon: no sizes are setup or found"), d(n); } function a(e) { return S.parseSizesInput(e).reduce(function (e, r) { var t = parseInt(p[r], 10); return t && e.push(t), e; }, []); } function s(e) { return "object" === E(S.deepAccess(e, "params.video")) && void 0 !== S.deepAccess(e, "mediaTypes.".concat(u.d)); } function m(e, r) { var t = 1 < arguments.length && void 0 !== r && r; return s(e) ? -1 === ["outstream"https://r.search.yahoo.com/,"instream"].indexOf(S.deepAccess(e, "mediaTypes.".concat(u.d, ".context"))) ? void (t && S.logError("Rubicon: mediaTypes.video.context must be outstream or instream")) : O(e, "video").length < 2 ? void (t && S.logError("Rubicon: could not determine the playerSize of the video")) : (t && S.logMessage("Rubicon: making video request for adUnit", e.adUnitCode), "video") : 0 === O(e, "banner").length ? void (t && S.logError("Rubicon: could not determine the sizes for banner request")) : (t && S.logMessage("Rubicon: making banner request for adUnit", e.adUnitCode), "banner"); } var c = function c() { return w = {}; }; function d(e) { var n = [15, 2, 9]; return e.sort(function (e, r) { var t = n.indexOf(e), i = n.indexOf(r); return -1 < t || -1 < i ? -1 === t ? 1 : -1 === i ? -1 : t - i : e - r; }); } function g(e) { var r = parseInt(S.deepAccess(e, "params.video.size_id")); return isNaN(r) ? "outstream" === S.deepAccess(e, "mediaTypes.".concat(u.d, ".context")) ? 203 : 201 : r; } function v(e) { return { ranges: { low: [{ max: 5, increment: .5 }], medium: [{ max: 20, increment: .1 }], high: [{ max: 20, increment: .01 }], auto: [{ max: 5, increment: .05 }, { min: 5, max: 10, increment: .1 }, { min: 10, max: 20, increment: .5 }], dense: [{ max: 3, increment: .01 }, { min: 3, max: 8, increment: .05 }, { min: 8, max: 20, increment: .5 }], custom: e.getConfig("customPriceBucket") && e.getConfig("customPriceBucket").buckets }[e.getConfig("priceGranularity")] }; } function l(r) { var t = !0, e = Object.prototype.toString.call([]), i = Object.prototype.toString.call(0), n = { mimes: e, protocols: e, maxduration: i, linearity: i, api: e }; return Object.keys(n).forEach(function (e) { Object.prototype.toString.call(S.deepAccess(r, "mediaTypes.video." + e)) !== n[e] && (t = !1, S.logError("Rubicon: mediaTypes.video." + e + " is required and must be of type: " + n[e])); }), t; } function T(e) { var r = !1, t = ["asi"https://r.search.yahoo.com/,"sid"https://r.search.yahoo.com/,"hp"]; return e.nodes && ((r = e.nodes.reduce(function (e, r) { return e ? t.every(function (e) { return r.hasOwnProperty(e); }) : e; }, !0)) || S.logError("Rubicon: required schain params missing")), r; } function b(e, r) { return "rp_schain" === e ? "rp_schain=".concat(r) : "".concat(e, "=").concat(encodeURIComponent(r)); } var y = !1; Object(i.registerBidder)(z); } }, [720]); pbjsChunk([105], { 770: function _(e, t, r) { e.exports = r(771); }, 771: function _(e, t, r) { "use strict"; Object.defineProperty(t, "__esModule", { value: !0 }), r.d(t, "spec", function () { return a; }), r.d(t, "_isInbounds", function () { return m; }), t._getPlatform = v; var n = r(1), y = r(0), i = r(2), o = r(3), g = r(11), c = r(43); function h(e, t) { return function (e) { if (Array.isArray(e)) return e; }(e) || function (e, t) { if ("undefined" == typeof Symbol || !(Symbol.iterator in Object(e))) return; var r = [], n = !0, i = !1, s = void 0; try { for (var a, o = e[Symbol.iterator](); !(n = (a = o.next()).done) && (r.push(a.value), !t || r.length !== t); n = !0) { ; } } catch (e) { i = !0, s = e; } finally { try { n || null == o.return || o.return(); } finally { if (i) throw s; } } return r; }(e, t) || function (e, t) { if (!e) return; if ("string" == typeof e) return s(e, t); var r = Object.prototype.toString.call(e).slice(8, -1); "Object" === r && e.constructor && (r = e.constructor.name); if ("Map" === r || "Set" === r) return Array.from(e); if ("Arguments" === r || /^(?:Ui|I)nt(?:8|16|32)(?:Clamped)?Array$/.test(r)) return s(e, t); }(e, t) || function () { throw new TypeError("Invalid attempt to destructure non-iterable instance.nIn order to be iterable, non-array objects must have a [Symbol.iterator]() method."); }(); } function s(e, t) { (null == t || t > e.length) && (t = e.length);
for (var r = 0, n = new Array(t); r < t; r++) { n[r] = e[r]; } return n; } function d() { return (d = Object.assign || function (e) { for (var t = 1; t < arguments.length; t++) { var r = arguments[t]; for (var n in r) { Object.prototype.hasOwnProperty.call(r, n) && (e[n] = r[n]); } } return e; }).apply(this, arguments); } function u(e, t, r) { return t in e ? Object.defineProperty(e, t, { value: r, enumerable: !0, configurable: !0, writable: !0 }) : e[t] = r, e; } var p = "sonobi", b = Object(y.generateUUID)(), a = { code: p, supportedMediaTypes: [i.b, i.d], isBidRequestValid: function isBidRequestValid(e) { if (!e.params) return !1; if (!e.params.ad_unit && !e.params.placement_id) return !1; if (!Object(y.deepAccess)(e, "mediaTypes.banner") && !Object(y.deepAccess)(e, "mediaTypes.video")) return !1; if (Object(y.deepAccess)(e, "mediaTypes.banner")) { if (!Object(y.deepAccess)(e, "mediaTypes.banner.sizes") && !e.params.sizes) return !1; } else if (Object(y.deepAccess)(e, "mediaTypes.video")) { if ("outstream" === Object(y.deepAccess)(e, "mediaTypes.video.context") && !e.params.sizes) return !1; if ("instream" === Object(y.deepAccess)(e, "mediaTypes.video.context") && !Object(y.deepAccess)(e, "mediaTypes.video.playerSize")) return !1; } return !0; }, buildRequests: function buildRequests(e, t) { var r = e.map(function (e) { var t = function (e) { if (e.params.ad_unit) return e.params.ad_unit; return e.params.placement_id; }(e); return /^[/]?[d]+[[/].+[/]?]?$/.test(t) ? (t = "/" === t.charAt(0) ? t : "/" + t, u({}, "".concat(t, "|").concat(e.bidId), "".concat(l(e)).concat(f(e)))) : /^[0-9a-fA-F]{20}$/.test(t) && 20 === t.length ? u({}, e.bidId, "".concat(t, "|").concat(l(e)).concat(f(e))) : void Object(y.logError)("The ad unit code or Sonobi Placement id for slot ".concat(e.bidId, " is invalid")); }), n = {}; r.forEach(function (e) { d(n, e); }); var i = { key_maker: JSON.stringify(n), ref: t.refererInfo.referer, s: Object(y.generateUUID)(), pv: b, vp: v(), lib_name: "prebid", lib_v: "4.13.0", us: 0 }; o.b.getConfig("userSync") && o.b.getConfig("userSync").syncsPerBidder && (i.us = o.b.getConfig("userSync").syncsPerBidder), c.a.canBidderRegisterSync("iframe", p) ? i.ius = 1 : i.ius = 0, Object(y.deepAccess)(e[0], "params.hfa") && (i.hfa = Object(y.deepAccess)(e[0], "params.hfa")), e[0].params.referrer && (i.ref = e[0].params.referrer), t && t.gdprConsent && (i.gdpr = t.gdprConsent.gdprApplies ? "true" : "false", t.gdprConsent.consentString && (i.consent_string = t.gdprConsent.consentString)), e[0].schain && (i.schain = JSON.stringify(e[0].schain)), Object(y.deepAccess)(e[0], "userId") && 0 < Object.keys(e[0].userId).length && (i.userid = JSON.stringify(e[0].userId)); var s = e[0].params.keywords; if (s && (i.kw = s), t && t.uspConsent && (i.us_privacy = t.uspConsent), Object(y.isEmpty)(n)) return null; var a = "https://apex.go.sonobi.com/trinity.json"; return Object(y.deepAccess)(e[0], "params.bid_request_url") && (a = Object(y.deepAccess)(e[0], "params.bid_request_url")), { method: "GET", url: a, withCredentials: !0, data: i, bidderRequests: e }; }, interpretResponse: function interpretResponse(e, l) { var f = e.body, m = [], v = l.data.ref; return 0 === Object.keys(f.slots).length || Object.keys(f.slots).forEach(function (e) { var t = f.slots[e], r = e.split("|").slice(-1)[0], n = function (e, t) { for (var r = 0; r < e.length; r++) { if (e[r].bidId === t) return e[r]; } }(l.bidderRequests, r), i = null; "video" === t.sbi_ct && (i = "video"https://r.search.yahoo.com/,"outstream" === Object(y.deepAccess)(n, "mediaTypes.video.context") && (i = "outstream")); var s, a, o, c, d, u, p, b = j(i, v); t.sbi_aid && t.sbi_mouse && t.sbi_size && (o = void 0 === (a = (s = h(t.sbi_size.split("x"), 2))[0]) ? 1 : a, d = void 0 === (c = s[1]) ? 1 : c, u = { requestId: r, cpm: Number(t.sbi_mouse), width: Number(o), height: Number(d), ad: b(f.sbi_dc, t.sbi_aid), ttl: 500, creativeId: t.sbi_crid || t.sbi_aid, aid: t.sbi_aid, netRevenue: !0, currency: "USD" }, t.sbi_dozer && (u.dealId = t.sbi_dozer), "video" === i ? (u.mediaType = "video", u.vastUrl = b(f.sbi_dc, t.sbi_aid), delete u.ad, delete u.width, delete u.height) : "outstream" === i && n && (u.mediaType = "video", u.vastUrl = b(f.sbi_dc, t.sbi_aid), u.renderer = function (e, t) { var r = 2 < arguments.length && void 0 !== arguments[2] ? arguments[2] : {}, n = g.a.install({ id: t.aid, url: "https://mtrx.go.sonobi.com/sbi_outstream_renderer.js", config: r, loaded: !1, adUnitCode: e }); try { n.setRender(O); } catch (e) { Object(y.logWarn)("Prebid Error calling setRender on renderer", e); } return n.setEventHandlers({ impression: function impression() { return Object(y.logMessage)("Sonobi outstream video impression event"); }, loaded: function loaded() { return Object(y.logMessage)("Sonobi outstream video loaded event"); }, ended: function ended() { Object(y.logMessage)("Sonobi outstream renderer video event"); } }), n; }(n.adUnitCode, u, Object(y.deepAccess)(n, "renderer.options")), p = Object(y.deepAccess)(n, "params.sizes"), Array.isArray(p) && Array.isArray(p[0]) && (p = p[0]), p && (u.width = p[0], u.height = p[1])), m.push(u)); }), m; }, getUserSyncs: function getUserSyncs(e, t) { var r = []; try { e.pixelEnabled && t[0].body.sbi_px.forEach(function (e) { r.push({ type: e.type, url: e.url }); }); } catch (e) {} return r; } }; function l(e) { return Object(y.deepAccess)(e, "mediaTypes.video") ? "" : e.params.sizes ? Object(y.parseSizesInput)(e.params.sizes).join(",") : Object(y.deepAccess)(e, "mediaTypes.banner.sizes") ? Object(y.parseSizesInput)(Object(y.deepAccess)(e, "mediaTypes.banner.sizes")).join(",") : e.sizes ? Object(y.parseSizesInput)(e.sizes).join(",") : void 0; } function f(e) { return e.params.floor ? "|f=".concat(e.params.floor) : ""; } var j = function j(i, s) { return function (e, t) { return "video" === i || "outstream" === i ? (r = t, n = s, "https://".concat(e, "apex.go.sonobi.com/vast.xml?vid=").concat(r, "&ref=").concat(encodeURIComponent(n))) : '';
var r, n;
};
};
var m = function m(e) {
var r = 0 < arguments.length && void 0 !== e ? e : window; return function () { var e = 0 < arguments.length && void 0 !== arguments[0] ? arguments[0] : 0, t = 1 < arguments.length && void 0 !== arguments[1] ? arguments[1] : Number.MAX_SAFE_INTEGER; return r.innerWidth >= e && r.innerWidth < t; }; }; function v() { var e = 0 < arguments.length && void 0 !== arguments[0] ? arguments[0] : window, t = m(e), r = 992, n = 768; return t(0, 768) ? "mobile" : t(n, r) ? "tablet" : "desktop"; } function O(i) { i.renderer.push(function () { var e = h(i.getSize().split("x"), 2), t = e[0], r = e[1], n = new window.SbiOutstreamRenderer(); n.init({ vastUrl: i.vastUrl, height: r, width: t }), n.setRootElement(i.adUnitCode); }); } Object(n.registerBidder)(a); } }, [770]); pbjsChunk([103], { 780: function _(e, t, r) { e.exports = r(781); }, 781: function _(e, t, r) { "use strict"; Object.defineProperty(t, "__esModule", { value: !0 }), r.d(t, "GOOGLE_CONSENT", function () { return B; }), r.d(t, "spec", function () { return n; }); var I = r(0), P = r(3), u = r(11), a = r(1), c = r(2); function d(e) { return (d = "function" == typeof Symbol && "symbol" == _typeof(Symbol.iterator) ? function (e) { return _typeof(e); } : function (e) { return e && "function" == typeof Symbol && e.constructor === Symbol && e !== Symbol.prototype ? "symbol" : _typeof(e); })(e); } var i = "spotx", B = { consented_providers: ["3"https://r.search.yahoo.com/,"7"https://r.search.yahoo.com/,"11"https://r.search.yahoo.com/,"12"https://r.search.yahoo.com/,"15"https://r.search.yahoo.com/,"20"https://r.search.yahoo.com/,"22"https://r.search.yahoo.com/,"35"https://r.search.yahoo.com/,"43"https://r.search.yahoo.com/,"46"https://r.search.yahoo.com/,"48"https://r.search.yahoo.com/,"55"https://r.search.yahoo.com/,"57"https://r.search.yahoo.com/,"61"https://r.search.yahoo.com/,"62"https://r.search.yahoo.com/,"66"https://r.search.yahoo.com/,"70"https://r.search.yahoo.com/,"80"https://r.search.yahoo.com/,"83"https://r.search.yahoo.com/,"85"https://r.search.yahoo.com/,"86"https://r.search.yahoo.com/,"89"https://r.search.yahoo.com/,"93"https://r.search.yahoo.com/,"108"https://r.search.yahoo.com/,"122"https://r.search.yahoo.com/,"124"https://r.search.yahoo.com/,"125"https://r.search.yahoo.com/,"126"https://r.search.yahoo.com/,"131"https://r.search.yahoo.com/,"134"https://r.search.yahoo.com/,"135"https://r.search.yahoo.com/,"136"https://r.search.yahoo.com/,"143"https://r.search.yahoo.com/,"144"https://r.search.yahoo.com/,"147"https://r.search.yahoo.com/,"149"https://r.search.yahoo.com/,"153"https://r.search.yahoo.com/,"154"https://r.search.yahoo.com/,"159"https://r.search.yahoo.com/,"161"https://r.search.yahoo.com/,"162"https://r.search.yahoo.com/,"165"https://r.search.yahoo.com/,"167"https://r.search.yahoo.com/,"171"https://r.search.yahoo.com/,"178"https://r.search.yahoo.com/,"184"https://r.search.yahoo.com/,"188"https://r.search.yahoo.com/,"192"https://r.search.yahoo.com/,"195"https://r.search.yahoo.com/,"196"https://r.search.yahoo.com/,"202"https://r.search.yahoo.com/,"209"https://r.search.yahoo.com/,"211"https://r.search.yahoo.com/,"218"https://r.search.yahoo.com/,"221"https://r.search.yahoo.com/,"228"https://r.search.yahoo.com/,"229"https://r.search.yahoo.com/,"230"https://r.search.yahoo.com/,"236"https://r.search.yahoo.com/,"239"https://r.search.yahoo.com/,"241"https://r.search.yahoo.com/,"253"https://r.search.yahoo.com/,"255"https://r.search.yahoo.com/,"259"https://r.search.yahoo.com/,"266"https://r.search.yahoo.com/,"271"https://r.search.yahoo.com/,"272"https://r.search.yahoo.com/,"274"https://r.search.yahoo.com/,"286"https://r.search.yahoo.com/,"291"https://r.search.yahoo.com/,"294"https://r.search.yahoo.com/,"303"https://r.search.yahoo.com/,"308"https://r.search.yahoo.com/,"310"https://r.search.yahoo.com/,"311"https://r.search.yahoo.com/,"313"https://r.search.yahoo.com/,"314"https://r.search.yahoo.com/,"316"https://r.search.yahoo.com/,"317"https://r.search.yahoo.com/,"322"https://r.search.yahoo.com/,"323"https://r.search.yahoo.com/,"327"https://r.search.yahoo.com/,"336"https://r.search.yahoo.com/,"338"https://r.search.yahoo.com/,"340"https://r.search.yahoo.com/,"348"https://r.search.yahoo.com/,"350"https://r.search.yahoo.com/,"358"https://r.search.yahoo.com/,"359"https://r.search.yahoo.com/,"363"https://r.search.yahoo.com/,"367"https://r.search.yahoo.com/,"370"https://r.search.yahoo.com/,"371"https://r.search.yahoo.com/,"384"https://r.search.yahoo.com/,"385"https://r.search.yahoo.com/,"389"https://r.search.yahoo.com/,"393"https://r.search.yahoo.com/,"394"https://r.search.yahoo.com/,"397"https://r.search.yahoo.com/,"398"https://r.search.yahoo.com/,"407"https://r.search.yahoo.com/,"414"https://r.search.yahoo.com/,"415"https://r.search.yahoo.com/,"424"https://r.search.yahoo.com/,"429"https://r.search.yahoo.com/,"430"https://r.search.yahoo.com/,"432"https://r.search.yahoo.com/,"436"https://r.search.yahoo.com/,"438"https://r.search.yahoo.com/,"440"https://r.search.yahoo.com/,"442"https://r.search.yahoo.com/,"443"https://r.search.yahoo.com/,"445"https://r.search.yahoo.com/,"448"https://r.search.yahoo.com/,"449"https://r.search.yahoo.com/,"453"https://r.search.yahoo.com/,"459"https://r.search.yahoo.com/,"479"https://r.search.yahoo.com/,"482"https://r.search.yahoo.com/,"486"https://r.search.yahoo.com/,"491"https://r.search.yahoo.com/,"492"https://r.search.yahoo.com/,"494"https://r.search.yahoo.com/,"495"https://r.search.yahoo.com/,"503"https://r.search.yahoo.com/,"505"https://r.search.yahoo.com/,"510"https://r.search.yahoo.com/,"522"https://r.search.yahoo.com/,"523"https://r.search.yahoo.com/,"528"https://r.search.yahoo.com/,"537"https://r.search.yahoo.com/,"540"https://r.search.yahoo.com/,"550"https://r.search.yahoo.com/,"559"https://r.search.yahoo.com/,"560"https://r.search.yahoo.com/,"568"https://r.search.yahoo.com/,"571"https://r.search.yahoo.com/,"574"https://r.search.yahoo.com/,"575"https://r.search.yahoo.com/,"576"https://r.search.yahoo.com/,"584"https://r.search.yahoo.com/,"585"https://r.search.yahoo.com/,"587"https://r.search.yahoo.com/,"588"https://r.search.yahoo.com/,"590"https://r.search.yahoo.com/,"591"https://r.search.yahoo.com/,"592"https://r.search.yahoo.com/,"595"https://r.search.yahoo.com/,"609"https://r.search.yahoo.com/,"621"https://r.search.yahoo.com/,"624"https://r.search.yahoo.com/,"723"https://r.search.yahoo.com/,"725"https://r.search.yahoo.com/,"733"https://r.search.yahoo.com/,"737"https://r.search.yahoo.com/,"776"https://r.search.yahoo.com/,"780"https://r.search.yahoo.com/,"782"https://r.search.yahoo.com/,"787"https://r.search.yahoo.com/,"797"https://r.search.yahoo.com/,"798"https://r.search.yahoo.com/,"802"https://r.search.yahoo.com/,"803"https://r.search.yahoo.com/,"814"https://r.search.yahoo.com/,"817"https://r.search.yahoo.com/,"820"https://r.search.yahoo.com/,"821"https://r.search.yahoo.com/,"827"https://r.search.yahoo.com/,"829"https://r.search.yahoo.com/,"839"https://r.search.yahoo.com/,"853"https://r.search.yahoo.com/,"864"https://r.search.yahoo.com/,"867"https://r.search.yahoo.com/,"874"https://r.search.yahoo.com/,"899"https://r.search.yahoo.com/,"904"https://r.search.yahoo.com/,"922"https://r.search.yahoo.com/,"926"https://r.search.yahoo.com/,"931"https://r.search.yahoo.com/,"932"https://r.search.yahoo.com/,"933"https://r.search.yahoo.com/,"938"https://r.search.yahoo.com/,"955"https://r.search.yahoo.com/,"973"https://r.search.yahoo.com/,"976"https://r.search.yahoo.com/,"979"https://r.search.yahoo.com/,"981"https://r.search.yahoo.com/,"985"https://r.search.yahoo.com/,"987"https://r.search.yahoo.com/,"991"https://r.search.yahoo.com/,"1003"https://r.search.yahoo.com/,"1024"https://r.search.yahoo.com/,"1025"https://r.search.yahoo.com/,"1027"https://r.search.yahoo.com/,"1028"https://r.search.yahoo.com/,"1029"https://r.search.yahoo.com/,"1033"https://r.search.yahoo.com/,"1034"https://r.search.yahoo.com/,"1040"https://r.search.yahoo.com/,"1047"https://r.search.yahoo.com/,"1048"https://r.search.yahoo.com/,"1051"https://r.search.yahoo.com/,"1052"https://r.search.yahoo.com/,"1053"https://r.search.yahoo.com/,"1054"https://r.search.yahoo.com/,"1062"https://r.search.yahoo.com/,"1063"https://r.search.yahoo.com/,"1067"https://r.search.yahoo.com/,"1072"https://r.search.yahoo.com/,"1085"https://r.search.yahoo.com/,"1092"https://r.search.yahoo.com/,"1095"https://r.search.yahoo.com/,"1097"https://r.search.yahoo.com/,"1099"https://r.search.yahoo.com/,"1100"https://r.search.yahoo.com/,"1107"https://r.search.yahoo.com/,"1126"https://r.search.yahoo.com/,"1127"https://r.search.yahoo.com/,"1143"https://r.search.yahoo.com/,"1149"https://r.search.yahoo.com/,"1152"https://r.search.yahoo.com/,"1162"https://r.search.yahoo.com/,"1166"https://r.search.yahoo.com/,"1167"https://r.search.yahoo.com/,"1170"https://r.search.yahoo.com/,"1171"https://r.search.yahoo.com/,"1172"https://r.search.yahoo.com/,"1188"https://r.search.yahoo.com/,"1192"https://r.search.yahoo.com/,"1199"https://r.search.yahoo.com/,"1201"https://r.search.yahoo.com/,"1204"https://r.search.yahoo.com/,"1205"https://r.search.yahoo.com/,"1211"https://r.search.yahoo.com/,"1212"https://r.search.yahoo.com/,"1215"https://r.search.yahoo.com/,"1220"https://r.search.yahoo.com/,"1225"https://r.search.yahoo.com/,"1226"https://r.search.yahoo.com/,"1227"https://r.search.yahoo.com/,"1230"https://r.search.yahoo.com/,"1232"https://r.search.yahoo.com/,"1236"https://r.search.yahoo.com/,"1241"https://r.search.yahoo.com/,"1248"https://r.search.yahoo.com/,"1250"https://r.search.yahoo.com/,"1252"https://r.search.yahoo.com/,"1268"https://r.search.yahoo.com/,"1275"https://r.search.yahoo.com/,"1276"https://r.search.yahoo.com/,"1284"https://r.search.yahoo.com/,"1286"https://r.search.yahoo.com/,"1298"https://r.search.yahoo.com/,"1301"https://r.search.yahoo.com/,"1307"https://r.search.yahoo.com/,"1312"https://r.search.yahoo.com/,"1313"https://r.search.yahoo.com/,"1317"https://r.search.yahoo.com/,"1329"https://r.search.yahoo.com/,"1336"https://r.search.yahoo.com/,"1344"https://r.search.yahoo.com/,"1345"https://r.search.yahoo.com/,"1356"https://r.search.yahoo.com/,"1362"https://r.search.yahoo.com/,"1365"https://r.search.yahoo.com/,"1375"https://r.search.yahoo.com/,"1403"https://r.search.yahoo.com/,"1409"https://r.search.yahoo.com/,"1411"https://r.search.yahoo.com/,"1415"https://r.search.yahoo.com/,"1416"https://r.search.yahoo.com/,"1419"https://r.search.yahoo.com/,"1423"https://r.search.yahoo.com/,"1440"https://r.search.yahoo.com/,"1442"https://r.search.yahoo.com/,"1449"https://r.search.yahoo.com/,"1451"https://r.search.yahoo.com/,"1455"https://r.search.yahoo.com/,"1456"https://r.search.yahoo.com/,"1468"https://r.search.yahoo.com/,"1496"https://r.search.yahoo.com/,"1503"https://r.search.yahoo.com/,"1509"https://r.search.yahoo.com/,"1512"https://r.search.yahoo.com/,"1514"https://r.search.yahoo.com/,"1517"https://r.search.yahoo.com/,"1520"https://r.search.yahoo.com/,"1525"https://r.search.yahoo.com/,"1540"https://r.search.yahoo.com/,"1547"https://r.search.yahoo.com/,"1548"https://r.search.yahoo.com/,"1555"https://r.search.yahoo.com/,"1558"https://r.search.yahoo.com/,"1570"https://r.search.yahoo.com/,"1575"https://r.search.yahoo.com/,"1577"https://r.search.yahoo.com/,"1579"https://r.search.yahoo.com/,"1583"https://r.search.yahoo.com/,"1584"https://r.search.yahoo.com/,"1591"https://r.search.yahoo.com/,"1598"https://r.search.yahoo.com/,"1603"https://r.search.yahoo.com/,"1608"https://r.search.yahoo.com/,"1613"https://r.search.yahoo.com/,"1616"https://r.search.yahoo.com/,"1626"https://r.search.yahoo.com/,"1631"https://r.search.yahoo.com/,"1633"https://r.search.yahoo.com/,"1638"https://r.search.yahoo.com/,"1642"https://r.search.yahoo.com/,"1648"https://r.search.yahoo.com/,"1651"https://r.search.yahoo.com/,"1652"https://r.search.yahoo.com/,"1653"https://r.search.yahoo.com/,"1660"https://r.search.yahoo.com/,"1665"https://r.search.yahoo.com/,"1667"https://r.search.yahoo.com/,"1669"https://r.search.yahoo.com/,"1671"https://r.search.yahoo.com/,"1674"https://r.search.yahoo.com/,"1677"https://r.search.yahoo.com/,"1678"https://r.search.yahoo.com/,"1682"https://r.search.yahoo.com/,"1684"https://r.search.yahoo.com/,"1697"https://r.search.yahoo.com/,"1703"https://r.search.yahoo.com/,"1705"https://r.search.yahoo.com/,"1716"https://r.search.yahoo.com/,"1720"https://r.search.yahoo.com/,"1721"https://r.search.yahoo.com/,"1722"https://r.search.yahoo.com/,"1725"https://r.search.yahoo.com/,"1732"https://r.search.yahoo.com/,"1733"https://r.search.yahoo.com/,"1735"https://r.search.yahoo.com/,"1739"https://r.search.yahoo.com/,"1741"https://r.search.yahoo.com/,"1745"https://r.search.yahoo.com/,"1750"https://r.search.yahoo.com/,"1753"https://r.search.yahoo.com/,"1760"https://r.search.yahoo.com/,"1765"https://r.search.yahoo.com/,"1769"https://r.search.yahoo.com/,"1776"https://r.search.yahoo.com/,"1780"https://r.search.yahoo.com/,"1782"https://r.search.yahoo.com/,"1786"https://r.search.yahoo.com/,"1791"https://r.search.yahoo.com/,"1794"https://r.search.yahoo.com/,"1799"https://r.search.yahoo.com/,"1800"https://r.search.yahoo.com/,"1801"https://r.search.yahoo.com/,"1810"https://r.search.yahoo.com/,"1827"https://r.search.yahoo.com/,"1831"https://r.search.yahoo.com/,"1832"https://r.search.yahoo.com/,"1834"https://r.search.yahoo.com/,"1837"https://r.search.yahoo.com/,"1840"https://r.search.yahoo.com/,"1843"https://r.search.yahoo.com/,"1844"https://r.search.yahoo.com/,"1845"https://r.search.yahoo.com/,"1858"https://r.search.yahoo.com/,"1859"https://r.search.yahoo.com/,"1863"https://r.search.yahoo.com/,"1866"https://r.search.yahoo.com/,"1870"https://r.search.yahoo.com/,"1872"https://r.search.yahoo.com/,"1875"https://r.search.yahoo.com/,"1878"https://r.search.yahoo.com/,"1880"https://r.search.yahoo.com/,"1882"https://r.search.yahoo.com/,"1883"https://r.search.yahoo.com/,"1889"https://r.search.yahoo.com/,"1892"https://r.search.yahoo.com/,"1896"https://r.search.yahoo.com/,"1898"https://r.search.yahoo.com/,"1899"https://r.search.yahoo.com/,"1902"https://r.search.yahoo.com/,"1905"https://r.search.yahoo.com/,"1911"https://r.search.yahoo.com/,"1922"https://r.search.yahoo.com/,"1928"https://r.search.yahoo.com/,"1929"https://r.search.yahoo.com/,"1934"https://r.search.yahoo.com/,"1942"https://r.search.yahoo.com/,"1943"https://r.search.yahoo.com/,"1944"https://r.search.yahoo.com/,"1945"https://r.search.yahoo.com/,"1958"https://r.search.yahoo.com/,"1960"https://r.search.yahoo.com/,"1962"https://r.search.yahoo.com/,"1963"https://r.search.yahoo.com/,"1964"https://r.search.yahoo.com/,"1967"https://r.search.yahoo.com/,"1968"https://r.search.yahoo.com/,"1978"https://r.search.yahoo.com/,"1985"https://r.search.yahoo.com/,"1986"https://r.search.yahoo.com/,"1987"https://r.search.yahoo.com/,"1998"https://r.search.yahoo.com/,"2003"https://r.search.yahoo.com/,"2007"https://r.search.yahoo.com/,"2012"https://r.search.yahoo.com/,"2013"https://r.search.yahoo.com/,"2027"https://r.search.yahoo.com/,"2035"https://r.search.yahoo.com/,"2038"https://r.search.yahoo.com/,"2039"https://r.search.yahoo.com/,"2044"https://r.search.yahoo.com/,"2047"https://r.search.yahoo.com/,"2052"https://r.search.yahoo.com/,"2056"https://r.search.yahoo.com/,"2059"https://r.search.yahoo.com/,"2062"https://r.search.yahoo.com/,"2064"https://r.search.yahoo.com/,"2068"https://r.search.yahoo.com/,"2070"https://r.search.yahoo.com/,"2072"https://r.search.yahoo.com/,"2078"https://r.search.yahoo.com/,"2079"https://r.search.yahoo.com/,"2084"https://r.search.yahoo.com/,"2088"https://r.search.yahoo.com/,"2090"https://r.search.yahoo.com/,"2095"https://r.search.yahoo.com/,"2100"https://r.search.yahoo.com/,"2103"https://r.search.yahoo.com/,"2107"https://r.search.yahoo.com/,"2109"https://r.search.yahoo.com/,"2113"https://r.search.yahoo.com/,"2115"https://r.search.yahoo.com/,"2121"https://r.search.yahoo.com/,"2127"https://r.search.yahoo.com/,"2130"https://r.search.yahoo.com/,"2133"https://r.search.yahoo.com/,"2137"https://r.search.yahoo.com/,"2140"https://r.search.yahoo.com/,"2141"https://r.search.yahoo.com/,"2145"https://r.search.yahoo.com/,"2147"https://r.search.yahoo.com/,"2150"https://r.search.yahoo.com/,"2156"https://r.search.yahoo.com/,"2166"https://r.search.yahoo.com/,"2170"https://r.search.yahoo.com/,"2171"https://r.search.yahoo.com/,"2176"https://r.search.yahoo.com/,"2177"https://r.search.yahoo.com/,"2179"https://r.search.yahoo.com/,"2183"https://r.search.yahoo.com/,"2186"https://r.search.yahoo.com/,"2192"https://r.search.yahoo.com/,"2198"https://r.search.yahoo.com/,"2202"https://r.search.yahoo.com/,"2205"https://r.search.yahoo.com/,"2214"https://r.search.yahoo.com/,"2216"https://r.search.yahoo.com/,"2219"https://r.search.yahoo.com/,"2220"https://r.search.yahoo.com/,"2222"https://r.search.yahoo.com/,"2223"https://r.search.yahoo.com/,"2224"https://r.search.yahoo.com/,"2225"https://r.search.yahoo.com/,"2227"https://r.search.yahoo.com/,"2228"https://r.search.yahoo.com/,"2234"https://r.search.yahoo.com/,"2238"https://r.search.yahoo.com/,"2247"https://r.search.yahoo.com/,"2251"https://r.search.yahoo.com/,"2253"https://r.search.yahoo.com/,"2262"https://r.search.yahoo.com/,"2264"https://r.search.yahoo.com/,"2271"https://r.search.yahoo.com/,"2276"https://r.search.yahoo.com/,"2278"https://r.search.yahoo.com/,"2279"https://r.search.yahoo.com/,"2282"https://r.search.yahoo.com/,"2290"https://r.search.yahoo.com/,"2292"https://r.search.yahoo.com/,"2295"https://r.search.yahoo.com/,"2299"https://r.search.yahoo.com/,"2305"https://r.search.yahoo.com/,"2306"https://r.search.yahoo.com/,"2310"https://r.search.yahoo.com/,"2311"https://r.search.yahoo.com/,"2312"https://r.search.yahoo.com/,"2315"https://r.search.yahoo.com/,"2320"https://r.search.yahoo.com/,"2325"https://r.search.yahoo.com/,"2328"https://r.search.yahoo.com/,"2331"https://r.search.yahoo.com/,"2334"https://r.search.yahoo.com/,"2335"https://r.search.yahoo.com/,"2336"https://r.search.yahoo.com/,"2337"https://r.search.yahoo.com/,"2343"https://r.search.yahoo.com/,"2346"https://r.search.yahoo.com/,"2354"https://r.search.yahoo.com/,"2357"https://r.search.yahoo.com/,"2358"https://r.search.yahoo.com/,"2359"https://r.search.yahoo.com/,"2366"https://r.search.yahoo.com/,"2370"https://r.search.yahoo.com/,"2373"https://r.search.yahoo.com/,"2376"https://r.search.yahoo.com/,"2377"https://r.search.yahoo.com/,"2380"https://r.search.yahoo.com/,"2382"https://r.search.yahoo.com/,"2387"https://r.search.yahoo.com/,"2389"https://r.search.yahoo.com/,"2392"https://r.search.yahoo.com/,"2394"https://r.search.yahoo.com/,"2400"https://r.search.yahoo.com/,"2403"https://r.search.yahoo.com/,"2405"https://r.search.yahoo.com/,"2406"https://r.search.yahoo.com/,"2407"https://r.search.yahoo.com/,"2410"https://r.search.yahoo.com/,"2411"https://r.search.yahoo.com/,"2413"https://r.search.yahoo.com/,"2414"https://r.search.yahoo.com/,"2415"https://r.search.yahoo.com/,"2416"https://r.search.yahoo.com/,"2418"https://r.search.yahoo.com/,"2422"https://r.search.yahoo.com/,"2425"https://r.search.yahoo.com/,"2427"https://r.search.yahoo.com/,"2435"https://r.search.yahoo.com/,"2437"https://r.search.yahoo.com/,"2440"https://r.search.yahoo.com/,"2441"https://r.search.yahoo.com/,"2447"https://r.search.yahoo.com/,"2453"https://r.search.yahoo.com/,"2459"https://r.search.yahoo.com/,"2461"https://r.search.yahoo.com/,"2462"https://r.search.yahoo.com/,"2464"https://r.search.yahoo.com/,"2467"https://r.search.yahoo.com/,"2468"https://r.search.yahoo.com/,"2472"https://r.search.yahoo.com/,"2477"https://r.search.yahoo.com/,"2481"https://r.search.yahoo.com/,"2484"https://r.search.yahoo.com/,"2486"https://r.search.yahoo.com/,"2492"https://r.search.yahoo.com/,"2493"https://r.search.yahoo.com/,"2496"https://r.search.yahoo.com/,"2497"https://r.search.yahoo.com/,"2498"https://r.search.yahoo.com/,"2499"https://r.search.yahoo.com/,"2504"https://r.search.yahoo.com/,"2506"https://r.search.yahoo.com/,"2510"https://r.search.yahoo.com/,"2511"https://r.search.yahoo.com/,"2512"https://r.search.yahoo.com/,"2517"https://r.search.yahoo.com/,"2526"https://r.search.yahoo.com/,"2527"https://r.search.yahoo.com/,"2531"https://r.search.yahoo.com/,"2532"https://r.search.yahoo.com/,"2534"https://r.search.yahoo.com/,"2542"https://r.search.yahoo.com/,"2544"https://r.search.yahoo.com/,"2552"https://r.search.yahoo.com/,"2555"https://r.search.yahoo.com/,"2559"https://r.search.yahoo.com/,"2563"https://r.search.yahoo.com/,"2564"https://r.search.yahoo.com/,"2567"https://r.search.yahoo.com/,"2568"https://r.search.yahoo.com/,"2569"https://r.search.yahoo.com/,"2571"https://r.search.yahoo.com/,"2572"https://r.search.yahoo.com/,"2573"https://r.search.yahoo.com/,"2575"https://r.search.yahoo.com/,"2577"https://r.search.yahoo.com/,"2579"https://r.search.yahoo.com/,"2583"https://r.search.yahoo.com/,"2584"https://r.search.yahoo.com/,"2586"https://r.search.yahoo.com/,"2589"https://r.search.yahoo.com/,"2595"https://r.search.yahoo.com/,"2596"https://r.search.yahoo.com/,"2597"https://r.search.yahoo.com/,"2601"https://r.search.yahoo.com/,"2604"https://r.search.yahoo.com/,"2605"https://r.search.yahoo.com/,"2609"https://r.search.yahoo.com/,"2610"https://r.search.yahoo.com/,"2612"https://r.search.yahoo.com/,"2614"https://r.search.yahoo.com/,"2621"https://r.search.yahoo.com/,"2622"https://r.search.yahoo.com/,"2624"https://r.search.yahoo.com/,"2628"https://r.search.yahoo.com/,"2629"https://r.search.yahoo.com/,"2632"https://r.search.yahoo.com/,"2634"https://r.search.yahoo.com/,"2636"https://r.search.yahoo.com/,"2639"https://r.search.yahoo.com/,"2643"https://r.search.yahoo.com/,"2645"https://r.search.yahoo.com/,"2646"https://r.search.yahoo.com/,"2647"https://r.search.yahoo.com/,"2649"https://r.search.yahoo.com/,"2650"https://r.search.yahoo.com/,"2651"https://r.search.yahoo.com/,"2652"https://r.search.yahoo.com/,"2656"https://r.search.yahoo.com/,"2657"https://r.search.yahoo.com/,"2658"https://r.search.yahoo.com/,"2660"https://r.search.yahoo.com/,"2661"https://r.search.yahoo.com/,"2662"https://r.search.yahoo.com/,"2663"https://r.search.yahoo.com/,"2664"https://r.search.yahoo.com/,"2669"https://r.search.yahoo.com/,"2670"https://r.search.yahoo.com/,"2673"https://r.search.yahoo.com/,"2676"https://r.search.yahoo.com/,"2677"https://r.search.yahoo.com/,"2678"https://r.search.yahoo.com/,"2681"https://r.search.yahoo.com/,"2682"https://r.search.yahoo.com/,"2684"https://r.search.yahoo.com/,"2685"https://r.search.yahoo.com/,"2686"https://r.search.yahoo.com/,"2689"https://r.search.yahoo.com/,"2690"https://r.search.yahoo.com/,"2691"https://r.search.yahoo.com/,"2695"https://r.search.yahoo.com/,"2698"https://r.search.yahoo.com/,"2699"https://r.search.yahoo.com/,"2702"https://r.search.yahoo.com/,"2704"https://r.search.yahoo.com/,"2705"https://r.search.yahoo.com/,"2706"https://r.search.yahoo.com/,"2707"https://r.search.yahoo.com/,"2709"https://r.search.yahoo.com/,"2710"https://r.search.yahoo.com/,"2713"https://r.search.yahoo.com/,"2714"https://r.search.yahoo.com/,"2727"https://r.search.yahoo.com/,"2729"https://r.search.yahoo.com/,"2739"https://r.search.yahoo.com/,"2758"https://r.search.yahoo.com/,"2765"https://r.search.yahoo.com/,"2766"https://r.search.yahoo.com/,"2767"https://r.search.yahoo.com/,"2768"https://r.search.yahoo.com/,"2770"https://r.search.yahoo.com/,"2771"https://r.search.yahoo.com/,"2772"https://r.search.yahoo.com/,"2776"https://r.search.yahoo.com/,"2777"https://r.search.yahoo.com/,"2778"https://r.search.yahoo.com/,"2779"https://r.search.yahoo.com/,"2780"https://r.search.yahoo.com/,"2783"https://r.search.yahoo.com/,"2784"https://r.search.yahoo.com/,"2786"https://r.search.yahoo.com/,"2787"https://r.search.yahoo.com/,"2791"https://r.search.yahoo.com/,"2792"https://r.search.yahoo.com/,"2793"https://r.search.yahoo.com/,"2797"https://r.search.yahoo.com/,"2798"https://r.search.yahoo.com/,"2801"https://r.search.yahoo.com/,"2802"https://r.search.yahoo.com/,"2803"https://r.search.yahoo.com/,"2805"https://r.search.yahoo.com/,"2808"https://r.search.yahoo.com/,"2809"https://r.search.yahoo.com/,"2810"https://r.search.yahoo.com/,"2811"https://r.search.yahoo.com/,"2812"https://r.search.yahoo.com/,"2813"https://r.search.yahoo.com/,"2814"https://r.search.yahoo.com/,"2817"https://r.search.yahoo.com/,"2818"https://r.search.yahoo.com/,"2824"https://r.search.yahoo.com/,"2826"https://r.search.yahoo.com/,"2827"https://r.search.yahoo.com/,"2829"https://r.search.yahoo.com/,"2830"https://r.search.yahoo.com/,"2831"https://r.search.yahoo.com/,"2832"https://r.search.yahoo.com/,"2834"https://r.search.yahoo.com/,"2836"https://r.search.yahoo.com/,"2838"https://r.search.yahoo.com/,"2840"https://r.search.yahoo.com/,"2842"https://r.search.yahoo.com/,"2843"https://r.search.yahoo.com/,"2844"https://r.search.yahoo.com/,"2850"https://r.search.yahoo.com/,"2851"https://r.search.yahoo.com/,"2852"https://r.search.yahoo.com/,"2854"https://r.search.yahoo.com/,"2858"https://r.search.yahoo.com/,"2860"https://r.search.yahoo.com/,"2862"https://r.search.yahoo.com/,"2864"https://r.search.yahoo.com/,"2865"https://r.search.yahoo.com/,"2866"https://r.search.yahoo.com/,"2867"https://r.search.yahoo.com/,"2868"https://r.search.yahoo.com/,"2869"https://r.search.yahoo.com/,"2871"] }, n = { code: i, gvlid: 165, aliases: ["spotx"], supportedMediaTypes: [c.d], isBidRequestValid: function isBidRequestValid(e) { if (e && "object" !== d(e.params)) return I.logError(i + ": params is not defined or is incorrect in the bidder settings."), !1; if (!I.deepAccess(e, "mediaTypes.video")) return I.logError(i + ": mediaTypes.video is not present in the bidder settings."), !1; var t = I.deepAccess(e, "mediaTypes.video.playerSize"); if (!t || !I.isArray(t)) return I.logError(i + ": mediaTypes.video.playerSize is not defined in the bidder settings."), !1; if (!I.getBidIdParameter("channel_id", e.params)) return I.logError(i + ": channel_id is not present in bidder params"), !1; if (("outstream" == I.deepAccess(e, "mediaTypes.video.context") || "outstream" == I.deepAccess(e, "params.ad_unit")) && !I.getBidIdParameter("outstream_function", e.params)) { if (!I.getBidIdParameter("outstream_options", e.params)) return I.logError(i + ": please define outstream_options parameter or override the default SpotX outstream rendering by defining your own Outstream function using field outstream_function."), !1; if (!I.getBidIdParameter("slot", e.params.outstream_options)) return I.logError(i + ": please define parameters slot outstream_options object in the configuration."), !1; } return !0; }, buildRequests: function buildRequests(e, h) { var y = h.refererInfo.referer, b = !!y.match(/^https:/); return e.map(function (e) { var t = I.getBidIdParameter("page", e.params) ? I.getBidIdParameter("page", e.params) : P.b.getConfig("pageUrl") ? P.b.getConfig("pageUrl") : y, r = I.getBidIdParameter("channel_id", e.params), a = null, d = I.deepAccess(e, "mediaTypes.video.playerSize"), i = d[0][0], n = d[0][1], o = b || (I.getBidIdParameter("secure", e.params) ? 1 : 0), s = { sdk_name: "Prebid 1+", versionOrtb: "2.3" }; if ("" != I.getBidIdParameter("hide_skin", e.params) && (s.hide_skin = +!!I.getBidIdParameter("hide_skin", e.params)), "" != I.getBidIdParameter("ad_volume", e.params) && (s.ad_volume = I.getBidIdParameter("ad_volume", e.params)), "" != I.getBidIdParameter("ad_unit", e.params) && (s.ad_unit = I.getBidIdParameter("ad_unit", e.params)), "" != I.getBidIdParameter("outstream_options", e.params) && (s.outstream_options = I.getBidIdParameter("outstream_options", e.params)), "" != I.getBidIdParameter("outstream_function", e.params) && (s.outstream_function = I.getBidIdParameter("outstream_function", e.params)), "" != I.getBidIdParameter("custom", e.params) && (s.custom = I.getBidIdParameter("custom", e.params)), "" != I.getBidIdParameter("pre_market_bids", e.params) && I.isArray(I.getBidIdParameter("pre_market_bids", e.params))) { var p = I.getBidIdParameter("pre_market_bids", e.params); for (var m in (s.pre_market_bids = [], p)) { var u = p[m], c = ""; u.vast_url ? c = '' + u.vast_url + "" : u.vast_string && (c = u.vast_string), s.pre_market_bids.push({
id: u.deal_id,
seatbid: [{
bid: [{
impid: Date.now(),
dealid: u.deal_id,
price: u.price,
adm: c
}]
}],
cur: u.currency,
ext: {
event_log: [{}]
}
});
}
}
var g = I.getBidIdParameter("mimes", e.params) || ["application/javascript"https://r.search.yahoo.com/,"video/mp4″https://r.search.yahoo.com/,"video/webm"],
_ = {
id: e.bidId,
secure: o,
video: {
w: i,
h: n,
ext: s,
mimes: g
}
};
"" != I.getBidIdParameter("price_floor", e.params) && (_.bidfloor = I.getBidIdParameter("price_floor", e.params)), "" != I.getBidIdParameter("start_delay", e.params) && (_.video.startdelay = 0 + Boolean(I.getBidIdParameter("start_delay", e.params))), "" != I.getBidIdParameter("min_duration", e.params) && (_.video.minduration = I.getBidIdParameter("min_duration", e.params)), "" != I.getBidIdParameter("max_duration", e.params) && (_.video.maxduration = I.getBidIdParameter("max_duration", e.params)), "" != I.getBidIdParameter("placement_type", e.params) && (_.video.ext.placement = I.getBidIdParameter("placement_type", e.params)), "" != I.getBidIdParameter("position", e.params) && (_.video.ext.pos = I.getBidIdParameter("position", e.params)), e.crumbs && e.crumbs.pubcid && (a = e.crumbs.pubcid);
var l = navigator.language ? "language" : "userLanguage",
v = {
id: r,
imp: _,
site: {
id: "",
page: t,
content: "content"
},
device: {
h: screen.height,
w: screen.width,
dnt: I.getDNT() ? 1 : 0,
language: navigator[l].split("-")[0],
make: navigator.vendor ? navigator.vendor : "",
ua: navigator.userAgent
},
ext: {
wrap_response: 1
}
};
I.getBidIdParameter("number_of_ads", e.params) && (v.ext.number_of_ads = I.getBidIdParameter("number_of_ads", e.params));
var f = {};
return 1 == I.getBidIdParameter("spotx_all_google_consent", e.params) && (f.consented_providers_settings = B), h && h.gdprConsent && (f.consent = h.gdprConsent.consentString, void 0 !== h.gdprConsent.gdprApplies && I.deepSetValue(v, "regs.ext.gdpr", h.gdprConsent.gdprApplies ? 1 : 0)), h && h.uspConsent && I.deepSetValue(v, "regs.ext.us_privacy", h.uspConsent), I.deepAccess(e, "userId.id5id.uid") && (f.eids = f.eids || [], f.eids.push({
source: "id5-sync.com",
uids: [{
id: e.userId.id5id.uid
}],
ext: e.userId.id5id.ext || {}
})), a && (f.fpc = a), e && e.schain && (v.source = {
ext: {
schain: e.schain
}
}), e && e.userId && e.userId.tdid && (f.eids = f.eids || [], f.eids.push({
source: "adserver.org",
uids: [{
id: e.userId.tdid,
ext: {
rtiPartner: "TDID"
}
}]
})), I.isEmpty(f) || (v.user = {
ext: f
}), {
method: "POST",
url: "https://search.spotxchange.com/openrtb/2.3/dados/" + r,
data: v,
bidRequest: h
};
});
},
interpretResponse: function interpretResponse(e, s) {
var p = [],
m = e.body;
return m && I.isArray(m.seatbid) && I._each(m.seatbid, function (e) {
I._each(e.bid, function (t) {
var e = {};
for (var r in s.bidRequest.bids) {
t.impid == s.bidRequest.bids[r].bidId && (e = s.bidRequest.bids[r]);
}
I._each(e.params.pre_market_bids, function (e) {
e.deal_id == t.id && (t.price = e.price, m.cur = e.currency);
});
var a = {
requestId: e.bidId,
currency: m.cur || "USD",
cpm: t.price,
creativeId: t.crid || "",
dealId: t.dealid || "",
ttl: 360,
netRevenue: !0,
channel_id: m.id,
cache_key: t.ext.cache_key,
vastUrl: "https://search.spotxchange.com/ad/vast.html?key=" + t.ext.cache_key,
videoCacheKey: t.ext.cache_key,
mediaType: c.d,
width: t.w,
height: t.h
};
a.meta = a.meta || {}, t && t.adomain && 0 < t.adomain.length && (a.meta.advertiserDomains = t.adomain); var d = I.deepAccess(e, "mediaTypes.video.context"), i = I.deepAccess(e, "params.ad_unit"); if ("outstream" == d || "outstream" == i) { var n = I.deepAccess(e, "mediaTypes.video.playerSize"), o = u.a.install({ id: 0, url: "//", config: { adText: "SpotX Outstream Video Ad via Prebid.js", player_width: n[0][0], player_height: n[0][1], content_page_url: I.deepAccess(s, "data.site.page"), ad_mute: +!!I.deepAccess(e, "params.ad_mute"), hide_skin: +!!I.deepAccess(e, "params.hide_skin"), outstream_options: I.deepAccess(e, "params.outstream_options"), outstream_function: I.deepAccess(e, "params.outstream_function") } }); try { o.setRender(g), o.setEventHandlers({ impression: function impression() { return I.logMessage("SpotX outstream video impression event"); }, loaded: function loaded() { return I.logMessage("SpotX outstream video loaded event"); }, ended: function ended() { I.logMessage("SpotX outstream renderer video event"); } }); } catch (e) { I.logWarn("Prebid Error calling setRender or setEve,tHandlers on renderer", e); } a.renderer = o; } p.push(a); }); }), p; } }; function g(e) { var t = function (e) { var t = I.getBidIdParameter("slot", e.renderer.config.outstream_options); I.logMessage("[SPOTX][renderer] Handle SpotX outstream renderer"); var r = window.document.createElement("script"); r.type = "text/javascript", r.src = "https://js.spotx.tv/easi/v1/" + e.channel_id + ".js"; var a = {}; a["data-spotx_channel_id"] = "" + e.channel_id, a["data-spotx_vast_url"] = "" + e.vastUrl, a["data-spotx_content_page_url"] = e.renderer.config.content_page_url, a["data-spotx_ad_unit"] = "incontent", I.logMessage("[SPOTX][renderer] Default beahavior"), I.getBidIdParameter("ad_mute", e.renderer.config.outstream_options) && (a["data-spotx_ad_mute"] = "1"), a["data-spotx_collapse"] = "0", a["data-spotx_autoplay"] = "1", a["data-spotx_blocked_autoplay_override_mode"] = "1", a["data-spotx_video_slot_can_autoplay"] = "1"; var d, i, n, o, s, p, m = I.getBidIdParameter("playersize_auto_adapt", e.renderer.config.outstream_options); m && I.isBoolean(m) && !0 === m && (e.width && I.isNumber(e.width) && e.height && I.isNumber(e.height) ? (d = e.width / e.height, i = window.document.getElementById(t).clientWidth, n = e.renderer.config.player_width, o = e.renderer.config.player_height, p = s = 0, i < n && (o = (n = i) / d), p = d <= 1 ? (s = Math.round(o * d), o) : (s = n, Math.round(n / d)), a["data-spotx_content_width"] = "" + s, a["data-spotx_content_height"] = "" + p) : I.logWarn("[SPOTX][renderer] PlayerSize auto adapt: bid.width and bid.height are incorrect")); var u = I.getBidIdParameter("custom_override", e.renderer.config.outstream_options); if (u && I.isPlainObject(u)) for (var c in (I.logMessage("[SPOTX][renderer] Custom behavior."), u)) { u.hasOwnProperty(c) && ("channel_id" === c || "vast_url" === c || "content_page_url" === c || "ad_unit" === c ? I.logWarn("[SPOTX][renderer] Custom behavior: following option cannot be overridden: " + c) : a["data-spotx_" + c] = u[c]); } for (var g in a) { a.hasOwnProperty(g) && r.setAttribute(g, a[g]); } return r; }(e); if (null != e.renderer.config.outstream_function && "function" == typeof e.renderer.config.outstream_function) e.renderer.config.outstream_function(e, t);else try { var r, a, d, i = I.getBidIdParameter("in_iframe", e.renderer.config.outstream_options); i && "IFRAME" == window.document.getElementById(i).nodeName ? (!(a = (r = window.document.getElementById(i)).contentDocument) && r.contentWindow && (a = r.contentWindow.document), a.body.appendChild(t)) : (d = I.getBidIdParameter("slot", e.renderer.config.outstream_options)) && window.document.getElementById(d) ? window.document.getElementById(d).appendChild(t) : window.document.getElementsByTagName("head")[0].appendChild(t); } catch (e) { I.logError("[SPOTX][renderer] Error:" + e.message); } } Object(a.registerBidder)(n); } }, [780]); pbjsChunk([96], { 796: function _(e, t, r) { e.exports = r(797); }, 797: function _(e, t, r) { "use strict"; Object.defineProperty(t, "__esModule", { value: !0 }), r.d(t, "spec", function () { return i; }); var n = r(1), a = r(0), p = 12, c = 11, u = 0, g = 22, i = { code: "teads", supportedMediaTypes: ["video"https://r.search.yahoo.com/,"banner"], isBidRequestValid: function isBidRequestValid(e) { var t, r, n = !1; return void 0 !== e.params && (t = s(a.getValue(e.params, "placementId")), r = s(a.getValue(e.params, "pageId")), n = t && r), n || a.logError("Teads placementId and pageId parameters are required. Bid aborted."), n; }, buildRequests: function buildRequests(e, t) { var r, n = e.map(f), i = { referrer: function (e) { var t = ""; e && e.refererInfo && e.refererInfo.referer && (t = e.refererInfo.referer); return t; }(t), pageReferrer: document.referrer, networkBandwidth: (r = window.navigator) && r.connection && 0 <= r.connection.downlink ? r.connection.downlink.toString() : "", timeToFirstByte: function (e) { var t = e.performance || e.webkitPerformance || e.msPerformance || e.mozPerformance, r = t && "function" == typeof t.getEntriesByType && "[object Function]" === Object.prototype.toString.call(t.getEntriesByType) && t.getEntriesByType("navigation")[0] && t.getEntriesByType("navigation")[0].responseStart && t.getEntriesByType("navigation")[0].requestStart && 0 < t.getEntriesByType("navigation")[0].responseStart && 0 < t.getEntriesByType("navigation")[0].requestStart && Math.round(t.getEntriesByType("navigation")[0].responseStart - t.getEntriesByType("navigation")[0].requestStart); if (r) return r.toString(); var n = t && t.timing.responseStart && t.timing.requestStart && 0 < t.timing.responseStart && 0 < t.timing.requestStart && t.timing.responseStart - t.timing.requestStart; return n ? n.toString() : ""; }(window), data: n, deviceWidth: screen.width, hb_version: "4.13.0" }; e[0].schain && (i.schain = e[0].schain); var a, s, o, d = t.gdprConsent; return t && d && (a = "boolean" == typeof d.gdprApplies, s = "string" == typeof d.consentString, o = a ? function (e, t, r) { var n = p; e ? function (e, t) { return e && 1 === t ? e.hasGlobalScope || e.hasGlobalConsent : !(!e || 2 !== t) && !e.isServiceSpecific; }(t, r) && (n = c) : n = u; return n; }(d.gdprApplies, d.vendorData, d.apiVersion) : g, i.gdpr_iab = { consent: s ? d.consentString : "", status: o, apiVersion: d.apiVersion }), t && t.uspConsent && (i.us_privacy = t.uspConsent), { method: "POST", url: "https://a.teads.tv/hb/bid-request", data: JSON.stringify(i) }; }, interpretResponse: function interpretResponse(e) { var r = []; return (e = e.body).responses && e.responses.forEach(function (e) { var t = { cpm: e.cpm, width: e.width, height: e.height, currency: e.currency, netRevenue: !0, ttl: e.ttl, ad: e.ad, requestId: e.bidId, creativeId: e.creativeId, placementId: e.placementId }; e.dealId && (t.dealId = e.dealId), r.push(t); }), r; } }; function f(e) { var t, r = {}, n = a.getValue(e.params, "placementId"), i = a.getValue(e.params, "pageId"); return r.sizes = (t = e, a.parseSizesInput(function (e) { var t = a.deepAccess(e, "mediaTypes.video.playerSize"), r = a.deepAccess(e, "mediaTypes.video.sizes"), n = a.deepAccess(e, "mediaTypes.banner.sizes"); return a.isArray(n) || a.isArray(t) || a.isArray(r) ? [n, r, t].reduce(function (t, e) { return a.isArray(e) && (a.isArray(e[0]) ? e.forEach(function (e) { t.push(e); }) : t.push(e)), t; }, []) : e.sizes; }(t))), r.bidId = a.getBidIdParameter("bidId", e), r.bidderRequestId = a.getBidIdParameter("bidderRequestId", e), r.placementId = parseInt(n, 10), r.pageId = parseInt(i, 10), r.adUnitCode = a.getBidIdParameter("adUnitCode", e), r.auctionId = a.getBidIdParameter("auctionId", e), r.transactionId = a.getBidIdParameter("transactionId", e), r; } function s(e) { return 0 < parseInt(e); } Object(n.registerBidder)(i); } }, [796]); pbjsChunk([87], { 816: function _(e, r, t) { e.exports = t(817); }, 817: function _(e, r, t) { "use strict"; Object.defineProperty(r, "__esModule", { value: !0 }), t.d(r, "tripleliftAdapterSpec", function () { return m; }); var n = t(2), i = t(1), u = t(0), a = t(3); function p() { return (p = Object.assign || function (e) { for (var r = 1; r < arguments.length; r++) { var t = arguments[r]; for (var n in t) { Object.prototype.hasOwnProperty.call(t, n) && (e[n] = t[n]); } } return e; }).apply(this, arguments); } function c(e) { return (c = "function" == typeof Symbol && "symbol" == _typeof(Symbol.iterator) ? function (e) { return _typeof(e); } : function (e) { return e && "function" == typeof Symbol && e.constructor === Symbol && e !== Symbol.prototype ? "symbol" : _typeof(e); })(e); } function d(r, e) { var t, n = Object.keys(r); return Object.getOwnPropertySymbols && (t = Object.getOwnPropertySymbols(r), e && (t = t.filter(function (e) { return Object.getOwnPropertyDescriptor(r, e).enumerable; })), n.push.apply(n, t)), n; } function s(i) { for (var e = 1; e < arguments.length; e++) { var o = null != arguments[e] ? arguments[e] : {}; e % 2 ? d(Object(o), !0).forEach(function (e) { var r, t, n; r = i, n = o[t = e], t in r ? Object.defineProperty(r, t, { value: n, enumerable: !0, configurable: !0, writable: !0 }) : r[t] = n; }) : Object.getOwnPropertyDescriptors ? Object.defineProperties(i, Object.getOwnPropertyDescriptors(o)) : d(Object(o)).forEach(function (e) { Object.defineProperty(i, e, Object.getOwnPropertyDescriptor(o, e)); }); } return i; } function f(e) { return function (e) { if (Array.isArray(e)) return o(e); }(e) || function (e) { if ("undefined" != typeof Symbol && Symbol.iterator in Object(e)) return Array.from(e); }(e) || function (e, r) { if (!e) return; if ("string" == typeof e) return o(e, r); var t = Object.prototype.toString.call(e).slice(8, -1); "Object" === t && e.constructor && (t = e.constructor.name); if ("Map" === t || "Set" === t) return Array.from(e); if ("Arguments" === t || /^(?:Ui|I)nt(?:8|16|32)(?:Clamped)?Array$/.test(t)) return o(e, r); }(e) || function () { throw new TypeError("Invalid attempt to spread non-iterable instance.nIn order to be iterable, non-array objects must have a [Symbol.iterator]() method."); }(); } function o(e, r) { (null == r || r > e.length) && (r = e.length);
for (var t = 0, n = new Array(r); t < r; t++) { n[t] = e[t]; } return n; } var y = !0, l = null, m = { code: "triplelift", supportedMediaTypes: [n.b, n.d], isBidRequestValid: function isBidRequestValid(e) { if (e.mediaTypes.video) { var r = b(e); if (!r.w || !r.h) return !1; } return void 0 !== e.params.inventoryCode; }, buildRequests: function buildRequests(e, r) { var t, n = "https://tlx.3lift.com/header/auction?", i = function (e) { var r = {}, t = e[0].schain, n = function () { var e = {}, r = p({}, a.b.getConfig("fpd.context")), t = p({}, a.b.getConfig("fpd.user")); return g(e, r), g(e, t), e; }(); r.imp = e.map(function (e, r) { var t = { id: r, tagid: e.params.inventoryCode, floor: function (e) { var r = null; { var t; "function" == typeof e.getFloor && ("object" !== c(t = e.getFloor({ currency: "USD", mediaType: "banner", size: S(e.sizes) })) || "USD" !== t.currency || isNaN(parseFloat(t.floor)) || (r = parseFloat(t.floor))); } return null !== r ? r : e.params.floor; }(e) }; return !function (e) { if (!e.mediaTypes.video) return !1; if (!e.mediaTypes.video.context) return !1; return "instream" === e.mediaTypes.video.context.toLowerCase(); }(e) ? e.mediaTypes.banner && (t.banner = { format: S(e.sizes) }) : t.video = b(e), t; }); var i = [].concat(f(function (e) { return v(e, "tdid"https://r.search.yahoo.com/,"adserver.org"https://r.search.yahoo.com/,"TDID"); }(e)), f(function (e) { return v(e, "idl_env"https://r.search.yahoo.com/,"liveramp.com"https://r.search.yahoo.com/,"idl"); }(e)), f(function (e) { return v(e, "criteoId"https://r.search.yahoo.com/,"criteo.com"https://r.search.yahoo.com/,"criteoId"); }(e))); 0 < i.length && (r.user = { ext: { eids: i } }); var o = function (e, r) { var t = {}; u.isEmpty(e) || (t.schain = s({}, e)); u.isEmpty(r) || (t.fpd = s({}, r)); return t; }(t, n); u.isEmpty(o) || (r.ext = o); return r; }(e); return n = u.tryAppendQueryString(n, "lib"https://r.search.yahoo.com/,"prebid"), n = u.tryAppendQueryString(n, "v"https://r.search.yahoo.com/,"4.13.0"), r && r.refererInfo && (t = r.refererInfo.referer, n = u.tryAppendQueryString(n, "referrer", t)), r && r.timeout && (n = u.tryAppendQueryString(n, "tmax", r.timeout)), r && r.gdprConsent && (void 0 !== r.gdprConsent.gdprApplies && (y = r.gdprConsent.gdprApplies, n = u.tryAppendQueryString(n, "gdpr", y.toString())), void 0 !== r.gdprConsent.consentString && (l = r.gdprConsent.consentString, n = u.tryAppendQueryString(n, "cmp_cs", l))), r && r.uspConsent && (n = u.tryAppendQueryString(n, "us_privacy", r.uspConsent)), !0 === a.b.getConfig("coppa") && (n = u.tryAppendQueryString(n, "coppa", !0)), n.lastIndexOf("&") === n.length - 1 && (n = n.substring(0, n.length - 1)), u.logMessage("tlCall request built: " + n), { method: "POST", url: n, data: i, bidderRequest: r }; }, interpretResponse: function interpretResponse(e, r) { var t = r.bidderRequest; return (e.body.bids || []).map(function (e) { return function (e, r) { var t = {}, n = r.width || 1, i = r.height || 1, o = r.deal_id || "", u = r.crid || "", a = e.bids[r.imp_id]; 0 != r.cpm && r.ad && (t = { requestId: a.bidId, cpm: r.cpm, width: n, height: i, netRevenue: !0, ad: r.ad, creativeId: u, dealId: o, currency: "USD", ttl: 300, tl_source: r.tl_source, meta: {} }, a.mediaTypes.video && (t.vastXml = r.ad, t.mediaType = "video"), r.advertiser_name && (t.meta.advertiserName = r.advertiser_name)); return t; }(t, e); }); }, getUserSyncs: function getUserSyncs(e, r, t, n) { var i = function (e) { if (!e) return; if (e.iframeEnabled) return "iframe"; if (e.pixelEnabled) return "image"; }(e); if (i) { var o = "https://eb2.3lift.com/sync?"; return "image" === i && (o = u.tryAppendQueryString(o, "px", 1), o = u.tryAppendQueryString(o, "src"https://r.search.yahoo.com/,"prebid")), null !== l && (o = u.tryAppendQueryString(o, "gdpr", y), o = u.tryAppendQueryString(o, "cmp_cs", l)), n && (o = u.tryAppendQueryString(o, "us_privacy", n)), [{ type: i, url: o }]; } } }; function b(e) { var r = s(s({}, e.params.video), e.mediaTypes.video); return r.w || (r.w = r.playerSize[0][0]), r.h || (r.h = r.playerSize[0][1]), "instream" === r.context && (r.placement = 1), delete r.playerSize, r; } function g(r, t) { u.isEmpty(t) || Object.keys(t).forEach(function (e) { null != t[e] && (r[e] = t[e]); }); } function v(e, r, t, n) { return e.map((u = r, function (e) { return e && e.userId && e.userId[u]; })).filter(function (e) { return !!e; }).map((i = t, o = n, function (e) { return { source: i, uids: [{ id: e, ext: { rtiPartner: o } }] }; })); var i, o, u; } function S(e) { return e.filter(h).map(function (e) { return { w: e[0], h: e[1] }; }); } function h(e) { return 2 === e.length && "number" == typeof e[0] && "number" == typeof e[1]; } Object(i.registerBidder)(m); } }, [816]); pbjs.processQueue(); }, {}]; window.modules["via.legacy"] = [function(require,module,exports){"use strict"; DS.service("via", function () { "use strict"; // remove `via` from url, to be used after amplitude logs it to prevent users from sharing such urls function removeFromLocation() { var url = new URL(location.href); url.searchParams.delete("via"); history.replaceState(null, "", url.toString()); } // and add `via` param to any outbound links function addViaToUrl(href, via) { if (!href || href.substr(0, 1) === "#") { return href; // don't add to jumps on the current page, e.g. "Skip to main content" } var url = new URL(href); var apexDomain = new URL(location.href).hostname.split(".").slice(-2).join("."); if (url.hostname.indexOf(apexDomain) === -1) { return href; // don't add it to external links } url.searchParams.set("via", via); return url.toString(); } // keys correspond to "page_types" in editable_components.yml var PREFIXES = { article: "article", homepage: "homepage", "vertical front": "section", "rubric front": "rubric" }; var pageType; function setPageType(amplitudePageType) { pageType = PREFIXES[amplitudePageType]; } var DELIMITER = "_"; function concatVia(node, via) { var tag = node.dataset && node.dataset.via; if (tag) { via = (via.length ? tag + DELIMITER : tag) + via; } return via; } function addToClickedLinks() { document.documentElement.addEventListener("click", function (e) { var a; var via = ""; // detect link nodes and collect via directives to append to the href var node = e.target; // the element where this event originated may have been removed from the dom, e.g. in the case of the OIL CMP which disappears after you interact with it while (node && node !== e.currentTarget) { if (node.tagName === "A") { a = node; } via = concatVia(node, via); node = node.parentNode; } if (a && via) { if (pageType) { via = pageType + DELIMITER + via; } a.href = addViaToUrl(a.href, via); } }); } function addToSubmittedForms() { document.documentElement.addEventListener("submit", function (e) { var form = e.target; // collect via directives var via = ""; var node = e.target; while (node !== e.currentTarget) { via = concatVia(node, via); node = node.parentNode; } if (via) { if (pageType) { via = pageType + DELIMITER + via; } // dynamically create a hidden input for the form url var input = document.createElement("input"); input.type = "hidden"; input.name = "via"; input.value = via; form.appendChild(input); } }); } // start listening only once, when first injected addToClickedLinks(); addToSubmittedForms(); return { setPageType: setPageType, removeFromLocation: removeFromLocation }; }); }, {}]; window.modules["visibility.legacy"] = [function(require,module,exports){"use strict"; DS.service("$visibility", ["$document"https://r.search.yahoo.com/,"$window"https://r.search.yahoo.com/,"_throttle"https://r.search.yahoo.com/,"Eventify", function ($document, $window, _throttle, Eventify) { var list = [], Visible, VisibleEvent; /** * @param {number} a * @param {number} b * @returns {*} * @see http://jsperf.com/math-min-vs-if-condition-vs/8 */ function min(a, b) { return a < b ? a : b; } /** * @param {number} a * @param {number} b * @returns {*} * @see http://jsperf.com/math-min-vs-if-condition-vs/8 */ function max(a, b) { return a > b ? a : b;
}
/**
* Fast loop through watched elements
*/
function onScroll() {
list.forEach(updateVisibility);
}
/**
* updates seen property
* @param {Visble} item
* @param {{}} evt
* @fires Visible#shown
* @fires Visible#hidden
*/
function updateSeen(item, evt) {
var px = evt.visiblePx,
percent = evt.visiblePercent; // if some pixels are visible and we're greater/equal to threshold
if (px && percent >= item.shownThreshold && !item.seen) {
item.seen = true;
setTimeout(function () {
item.trigger("shown", new VisibleEvent("shown", evt));
}, 15); // if no pixels or percent is less than threshold
} else if ((!px || percent < item.hiddenThreshold) && item.seen) { item.seen = false; setTimeout(function () { item.trigger("hidden", new VisibleEvent("hidden", evt)); }, 15); } } /** * sets preload property * @param {Visible} item * @param {{}} evt * @param {Number} innerHeight * @fires Visible#preload */ function updatePreload(item, evt, innerHeight) { if (!item.preload && item.preloadThreshhold && shouldBePreloaded(evt.target, evt.rect, item.preloadThreshhold, innerHeight)) { item.preload = true; setTimeout(function () { item.trigger("preload", new VisibleEvent("preload", evt)); }, 15); } } /** * Trigger events * @param {Visible} item */ function updateVisibility(item) { var rect = item.el.getBoundingClientRect(), innerHeight = $window.innerHeight || $document.documentElement.clientHeight, px = getVerticallyVisiblePixels(rect, innerHeight), percent = px / (rect.height || innerHeight), evt = { target: item.el, rect: rect, visiblePx: px, visiblePercent: percent }; updateSeen(item, evt); updatePreload(item, evt, innerHeight); } /** * Return normalized viewport height * @return {number} */ function getViewportHeight() { return $window.innerHeight || $document.documentElement.clientHeight || $document.body.clientHeight; } /** * Return normalized viewport width * @return {number} */ function getViewportWidth() { return $window.innerWidth || $document.documentElement.clientWidth || $document.body.clientWidth; } /** * make sure an element isn't hidden by styles or etc * @param {Element} el * @return {Boolean} */ function isElementNotHidden(el) { return el && el.offsetParent !== null && !el.getAttribute("hidden") && getComputedStyle(el).display !== "none" && getComputedStyle(el).visibility !== "hidden"; } /** * Apparently the fastest way... * @param {Element} el * @returns {boolean} * @example if (!$visibility.isElementInViewport(el)) { ... } */ function isElementInViewport(el) { var rect = el.getBoundingClientRect(); return rect.top >= 0 && rect.left >= 0 && rect.bottom <= ($window.innerHeight || $document.documentElement.clientHeight) && rect.right <= ($window.innerWidth || $document.documentElement.clientWidth); } /** * @param {Element} el * @param {ClientRect} rect * @param {Number} preloadThreshhold * @param {Number} innerHeight * @return {Boolean} */ function shouldBePreloaded(el, rect, preloadThreshhold, innerHeight) { return rect.top <= innerHeight + preloadThreshhold && isElementNotHidden(el); } /** * Create a one-dimensional spacial hash of x * @param {number} x * @param {number} stepSize * @param {number} optimalK * @param {number} base * @return {number} */ function getLinearSpacialHash(x, stepSize, optimalK, base) { var index = Math.floor(x / (stepSize || 1)), remainder = x % stepSize, result = index.toString(base); if (optimalK > 1) {
result += getLinearSpacialHash(remainder, Math.floor(stepSize / base), optimalK – 1, base);
}
return result;
}
/**
* @param {ClientRect} rect
* @param {number} innerHeight
* @returns {number}
*/
function getVerticallyVisiblePixels(rect, innerHeight) {
return min(innerHeight, max(rect.bottom, 0)) – min(max(rect.top, 0), innerHeight);
}
/**
* Get offset of element relative to entire page
*
* @param {Element} el
* @returns {{left: number, top: number}}
* @see http://jsperf.com/offset-vs-getboundingclientrect/7
*/
function getPageOffset(el) {
var offsetLeft = el.offsetLeft,
offsetTop = el.offsetTop;
while (el = el.offsetParent) {
offsetLeft += el.offsetLeft;
offsetTop += el.offsetTop;
}
return {
left: offsetLeft,
top: offsetTop
};
}
/**
* Create a new Visible class to observe when elements enter and leave the viewport
*
* Call destroy function to stop listening (this is until we have better support for watching for Node Removal)
* @param {Element} el
* @param {{shownThreshold: number, hiddenThreshold: number}} [options]
* @class
* @example this.visible = new $visibility.Visible(el);
*/
Visible = function Visible(el, options) {
options = options || {};
this.el = el;
this.seen = false;
this.preload = false;
this.preloadThreshhold = options && options.preloadThreshhold || 0;
this.shownThreshold = options && options.shownThreshold || 0;
this.hiddenThreshold = options && min(options.shownThreshold, options.hiddenThreshold) || 0;
list.push(this);
updateVisibility(this); // set immediately to visible or not
};
Visible.prototype = {
/**
* Stop triggering.
*/
destroy: function destroy() {
// remove from list
list.splice(list.indexOf(this), 1);
}
/**
* @name Visible#on
* @function
* @param {'shown'|'hidden'} e EventName
* @param {function} cb Callback
*/
/**
* @name Visible#trigger
* @function
* @param {'shown'|'hidden'} e
* @param {{}}
*/
};
Eventify.enable(Visible.prototype);
VisibleEvent = function VisibleEvent(type, options) {
var _this = this;
this.type = type;
Object.keys(options).forEach(function (key) {
_this[key] = options[key];
});
}; // listen for scroll events (throttled)
$document.addEventListener("scroll", _throttle(onScroll, 200)); // public
this.getPageOffset = getPageOffset;
this.getLinearSpacialHash = getLinearSpacialHash;
this.getVerticallyVisiblePixels = getVerticallyVisiblePixels;
this.getViewportHeight = getViewportHeight;
this.getViewportWidth = getViewportWidth;
this.isElementNotHidden = isElementNotHidden;
this.isElementInViewport = isElementInViewport;
this.Visible = Visible;
}]);
}, {}];
require=(function e(t,n,r){function s(o,u){if(!n[o]){if(!t[o]){var a=typeof require=="function"&&require;if(!u&&a)return a(o,!0);if(i)return i(o,!0);var f=new Error("Cannot find module '"+o+"'");throw f.code="MODULE_NOT_FOUND",f}var l=n[o]={exports:{}};t[o][0].call(l.exports,function(e){var n=t[o][1][e];return s(n?n:e)},l,l.exports,e,t,n,r)}return n[o].exports}var i=typeof require=="function"&&require;for(var o=0;o