Recent statistics reveal that 40% of U.S. customers abandon companies with poor customer service. This shows how crucial customer support is to your e-commerce business. Outstanding customer service can take your business to greater heights, while the opposite has catastrophic consequences.
If providing exceptional customer support is among your biggest e-commerce challenges, then continue reading. This guide covers several customer service best practices, including a concrete example, which you can quickly implement in your online business.
---
Overview: What is e-commerce customer service?
E-commerce customer service is all about helping your online customers. This includes answering their most basic inquiries, guiding them on purchase decisions, and sending updates, all while building a smoother customer shopping experience.
Outstanding customer service establishes trust and spurs repeat purchases. In contrast, unpleasant shopping experiences can lead to profit loss, a tarnished brand image, and negative reviews.
---
4 best practices for a successful e-commerce customer service experience
Delight your customers and give them first-rate e-commerce support with these actionable tips:
1. Offer several customer service contact channels
Internet shoppers expect companies selling online to provide multiple contact options so it's easier for them to get in touch. This improves their shopping experience. Provide the right mix of communication channels for your customer care, such as:
Email: Use a simple, distinct, and memorable email address exclusively for your store's customer service correspondence.
Live chat: Install a live chat option on your website so you can respond to your visitors promptly. You can set your real-time chat to initiate the conversation, pop up upon triggers, and be operated by human-like speaking bots. Examples of software you can use are Zendesk and Pure Chat.
Phone: Offer 24/7 phone call support so you can accommodate shoppers outside office hours. Also, increase your hotline's visibility by adding it on your webpages, printed invoices, online and offline directories, etc.
Social media: Many buyers opt to communicate with brands on social media. Set up your social media accounts and check them regularly and reply quickly to increase your responsiveness rates. Facebook tells users how quickly you respond to customers, influencing their perception of your e-commerce store.
Be present on several channels relevant to your customers so they can easily reach out to your customer support team. Make your contact details noticeable and accessible for their convenience.
2. Use reliable customer service tools
To organize your support correspondence, optimize your e-commerce store by integrating robust customer service tools and customer relationship management (CRM) software.
These technologies are particularly beneficial if your business is steadily growing and handling hundreds of requests daily.
Look for customer service software with these helpful features:
Efficient ticketing systems: These help your agents classify and distribute customer requests accordingly, determine the best solutions to the problem, and avoid overlooking any cases.
Integration with your existing communication channels: Choose software with multiple communication platform integrations so you can quickly and easily respond through any channel your customers are using.
Personalized folders: Robust customer support technologies let you personalize virtual work folders by agent or team, create priority inboxes by the severity of the issue, categorize communications by channel and time periods, bookmark starred requests, and more.
HubSpot CRM, Zoho, and Groove are some of the airtight customer service solutions you can leverage. With the right software tool for your e-commerce business, you can streamline your support workflows and response time to shoppers' issues.
3. Provide self-service options
Equip your customers with the resources they need to find answers to their questions before reaching out to you for help. Self-service options enable your shoppers to make informed buying decisions through relevant product information displayed in your online store.
This practice also minimizes the number of support tickets your agents handle, which frees them up to resolve more complicated concerns. Build a self-service portal on your e-commerce site through a page for frequently asked questions (FAQs) and a knowledge base.
An FAQs page lists common queries about your store, products, policies, and other vital information. When creating that section, categorize the customer inquiries and display your answers neatly, whether you're showing them immediately or after visitors click preview buttons.
For example, Ryderwear presents FAQ categories on the left of its website and lists questions under each one on the right. To view answers to that question, you must click on the "+" button.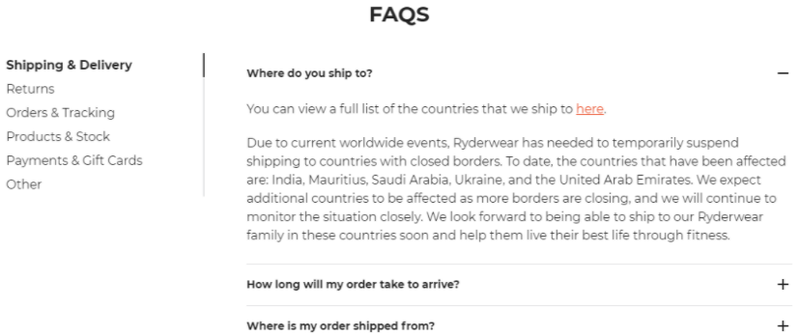 A knowledge base is a section on your e-commerce site that provides resource materials for customer concerns. These can include video tutorials, product safety guide e-books, and more.
For instance, Planet Organic provides several informational references, such as how-to guides, blog posts, interviews, recipes, and bestsellers, to name just a few.

Although self-service options sound counterintuitive, they are powerful tools to engage your visitors and effectively improve the customer experience.
4. Evaluate customer satisfaction
Assessing shoppers' satisfaction with your support services helps to determine the things you're doing right and those you still need to improve on.
Measure your customer satisfaction with these metrics and methods:
Net promoter score: Measure your customers' loyalty by asking them, "On a scale of 1 to 10 (10 as the highest), how likely are you to recommend our e-commerce store?"
Customer satisfaction score: This is one of the essential customer service metrics you should consistently track. Ask your shoppers, "How would you rate your experience with our customer service representatives?" Scales for their answers can be numerical or narrative (e.g., satisfactory, unsatisfactory, etc.).
Surveys: Your surveys can be in-app, post-purchase, voluntary, or requested via email. Adjust your survey format and timing when asking customers to provide valuable feedback. Always remember to keep your questions brief and your channels convenient for your shoppers.
Customer satisfaction evaluations help you learn a lot about customer perception. They set the right benchmarks for your support services, marketing campaigns, and other business activities.
---
An example of effective e-commerce customer service
FatFace is a British brand based on the south coast of the U.K. It produces stylish, high-quality clothing and accessories for men, women, and kids who treat every day as an adventure. FatFace uses superior fabrics and materials for comfortable, long-lasting apparel.
For more than 30 years, the company has expanded its shop to a successful multi-channel retailer with more than 200 stores, award-winning store design, and a booming e-commerce site.
One of FatFace's strategies to create the optimal customer service experience was by collaborating closely with its contact center and its creative, design, marketing, and other internal teams. These departments are situated in one building to regularly discuss and collaborate about customer concerns that overlap each other's work.
For instance, a customer shared with FatFace how she loved the blouse she previously bought from the store but admitted being self-conscious when wearing it due to her recent mastectomy. Wanting to go a step further, the service agent contacted the design team. The latter then assembled specialized scarves the customer can pair with her blouse to hide any sign of her surgery.
This touched and delighted the customer so much she sent this thank-you card to the contact center: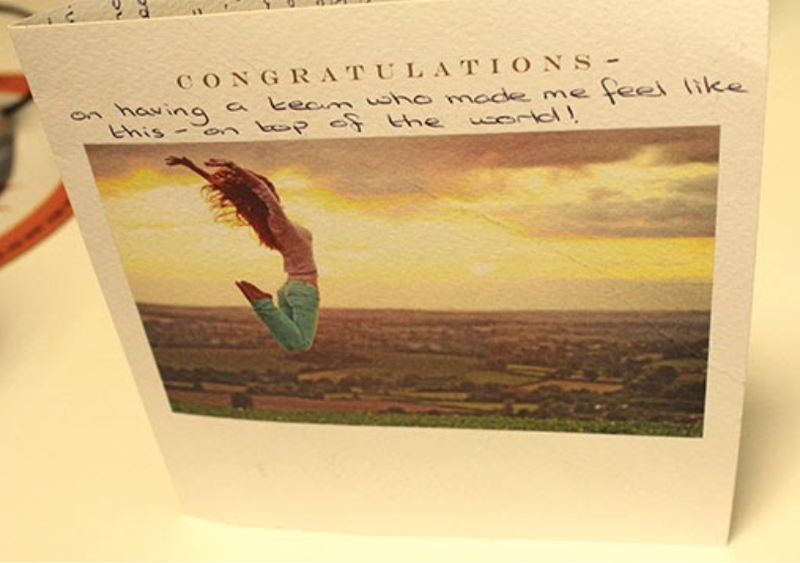 ---
Create a better e-commerce customer service experience
Excellent customer service is essential if you want your online business to flourish in the fiercely competitive e-commerce industry. Recreate your online shopping journey by using the tips in this guide. As your e-commerce customer service improves, so will your customer loyalty, lifetime value, and profit.