"Things work out best for those who make the best of the way things work out." — John Wooden, former UCLA head men's basketball coach, 10-time NCAA champion
• • •
Aaron Mercadel recognized the look in his best friend's face. He turned to his buddies inside a hotel in Minneapolis and pointed at the LSU football game on the television.
Jabril Cox stood on the sideline during a timeout. The linebacker's hands were on his hips. He was nodding his head sharply at Bo Pelini, LSU's defensive coordinator, who was inches away, thrusting his arms in exasperation.
Mercadel recognized Pelini's look, too. He and Cox had both seen Pelini prowl the Youngstown State sideline as tandem linebackers at North Dakota State, back when the FCS programs squared off in Missouri Valley Football Conference showdowns every year.
Cox earned Pelini's respect as a three-time FCS All-American, a three-time national champion who helped the Bison beat his Youngstown State teams in each of Cox's three seasons in Fargo, North Dakota.
Pelini expected more, demanded more, than the 35 yards LSU had just surrendered to Missouri in three consecutive plays.
The timeout ended. Pelini walked away. Mercadel watched his friend.
Cox never puts his head down in these moments, Mercadel said. He never looks defeated. He never shouts at teammates. He hardly says a word. It's just that look, that OK, I'll show you something look.
"I guarantee," Mercadel told his buddies in the hotel, "this next series he's in, he makes a big play."
Two plays later, Cox sniffed out a developing Missouri screen pass, swept past blockers and lowered his shoulder into the running back for a thumping 2-yard loss.
Two plays later, Missouri was held to a field goal. Two possessions later, Cox recovered a fumble near the goal line. Two plays after that, LSU's Ty Davis-Price rushed for a 1-yard score that set LSU ahead 31-24.
This is the type of impact Cox hoped to make as a graduate transfer at LSU, those close to him say. It's what a struggling Tigers defense needs as LSU (1-2) hosts South Carolina (2-2) at 6 p.m. Saturday in Tiger Stadium. They're the types of plays Cox wanted to prove he can make at the college game's highest level.
He's long known he could, but something always seemed to get in the way.
Back at Raytown South High in Kansas City, Missouri, the obstruction was a torn ACL. For two years, Division I schools showed interest in the Cardinals' two-way star whom friends called "Brillo," who was named an all-conference linebacker as a sophomore and earned the same honor at quarterback as a junior.
When Cox suffered the knee injury in October of his junior year, the interest waned. It didn't matter that he played the entirety of his senior season, compiling 3,107 total yards and 31 touchdowns as a dual-threat quarterback while pitching in at linebacker, safety and cornerback.
"It was like he had the plague," said Cox's father, James.
Then, after a dominant three seasons at North Dakota State, a shoulder injury complicated Cox's future. He played the final third of the 2019 season with a torn labrum, Bison coach Matt Entz and former teammates said, and Cox's postseason surgery dampened his chances of leaving early for the NFL.
James said the injury wasn't an ultimate factor in his son's decision not to declare for the draft. Cox had graduated a year early, and they'd spoken during the season about entering the NCAA transfer portal and proving he could play at the FBS level that once ignored him.
There's a shared state of mind for people who've played at North Dakota State, Mercadel said. Even after winning eight FCS titles in nine years — even after a decade of wins over FBS programs such as Kansas State and Iowa State and Iowa — there's still a sense that the general public doesn't think they've done enough.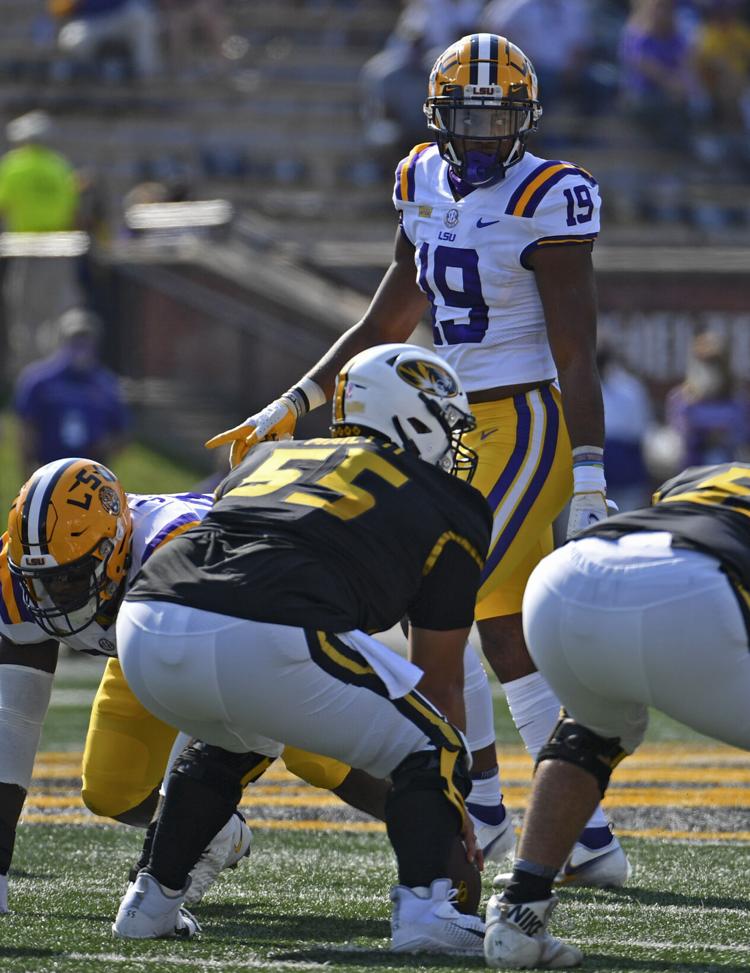 Proof is an interesting concept. It demands evidence. And if Cox didn't transfer, there'd always be some sort of naysayer, an echoing question standing in the way of his legacy.
So Cox entered his name into the NCAA transfer portal. Over 65 schools reached out with interest, his father said. The pandemic prevented any campus visits. From his home, Cox chose the reigning FBS national champions, a program that lost every starting linebacker to the NFL, a coaching staff that connected with his mother, Lotu, and her Samoan culture.
He broke the news to North Dakota State coaches and teammates who already figured their star player wasn't returning for his senior season.
"I wasn't even worried about it," said Mercadel, now an assistant defensive ends coach at NDSU. "I knew he'd be successful wherever he ended up."
• • •
James Cox spent the first chapter of his life finding his way around dead ends.
Born in Salina, Kansas, he was one of seven children his mother raised alone. The town's population of about 45,000 hasn't changed much since then, and neither have its industrious roots. The family wasn't rich by any means, James said, and his mother gave her children a singular mandate: "Use your God-given talent to get your education."
All seven now have a college degree. James used football. First, as a defensive back at Pratt Community College, then as a running back at Cameron University in Lawton, Oklahoma.
He was a man with a degree, but still he rambled across the country looking for work. He recognizes now he was still trying to find himself. At 27, he enlisted as a medic in the Army. He did his basic training in San Antonio, received his orders and was shipped to Hawaii.
Somehow it would all work out, James believed.
Lotu Cox was born and raised on the Tutuila Island of American Samoa, in a village called Aūa, filled with beautiful fruits and flowers and scenery.
Lotu was the oldest of four siblings, a star volleyball and cricket player on the island. She left for Hawaii on an athletic scholarship for volleyball, but, after one semester, she had to withdraw from school and work full time to take care of her parents, grandmother and siblings.
She became her family's main income producer as the assistant manager of a fast-food restaurant in Hawaii — a decision for which her sisters are still grateful.
Somehow it would all work out, Lotu believed.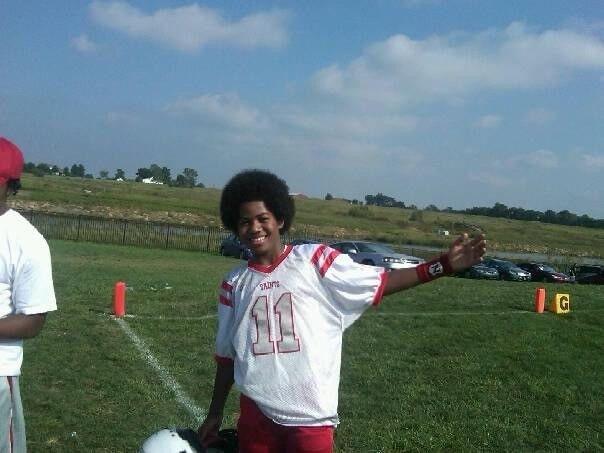 A strong faith will steer you through any journey, the parents taught their seven children. A belief in God, a higher power that knows the path ahead.
"He's going to put you where you're supposed to be," Lotu said.
Toward the end of James' military service, he and a friend went into a fast-food restaurant for a bite. He noticed a woman behind the counter, a manager hurriedly moving around the kitchen. James wrote his number on a slip of paper, handed it to an employee and said, "Can you give this to the manager to call me?"
Lotu never received the paper. On another day, James drove through. An employee told Lotu, "Hey, that's the guy I was telling you about." She decided to go to the window.
"Hi," Lotu told James. "I heard you gave one of my co-workers your number for me."
"Yeah," he grinned. "You never called."
They exchanged numbers. 
Within years, they married and began their family.
• • •
Mercadel prepared to host North Dakota State's newest recruit.
As a personable linebacker on the team, Mercadel was usually the player designated to show potential defensive signees around campus.
He decided to do some research on his visitor, Jabril Cox. Mercadel pulled up his high school game film online and was puzzled. This guy was coming to play linebacker? Most of his highlights were of him playing quarterback.
Indeed, a handful of FCS schools were interested in Cox at quarterback; but the NDSU coaching staff had noticed Cox's time as a linebacker during his sophomore year at Raytown South, and they believed his talent and knowledge as a dual-threat quarterback would be valuable on defense.
"He understood spacing," Entz said. "He understood route concepts. He understood field awareness. And some of those are intangibles… He was able to translate that into defensive football for us."
Cox was won over by a program that, at the time, had won five FCS national championships in a row.
When he arrived on campus, teammates were struck by how their program ended up with an athlete who, at 6-foot-4 and near 240 pounds, was built like a Power Five defensive star.
"When a guy like Jabril comes on and goes through the summer workouts," said James Hendricks, a Bison free safety from 2015-2019, "you're like, 'Holy crap, this dude doesn't belong here.' "
If you ask any of Cox's NDSU or LSU teammates about his personality, it has remained unchanged over the years: He's quiet and uncomplicated, a focused introvert who only opens up to a close-knit circle of friends.
His younger brother Jasir, a junior linebacker at NDSU, said he's a man of inside jokes. They'll toss movie quotes back and forth, often out of context, catching those around them off-guard.
Mercadel calls Cox "my twin." Their birthdays are one day apart. They were roommates on road games, friends whose shared understanding often bordered on a sort of telepathy.
But no one could match Cox's play on the field. He was a disruptive playmaker, a ball hawk who recorded 258 tackles, 32 tackles for loss, 14 sacks and six interceptions in three seasons.
If a statistician missed out on a tackle, Mercadel said, "you might as well just say it's Jabril's tackle."
Cox was deceptively fast, Entz and his teammates say. Watching him alone, you can never really tell how fast he's moving.
"He kind of just glides," Mercadel said.
Cox has long, smooth strides — a form, his father said, that was built during a youth career in track. Back in Kansas City, Cox was on a 4-by-100-meter relay team with former Clemson star linebacker Isaiah Simmons and Quincy Hall, an All-American track athlete at South Carolina.
James said his son doesn't give himself enough credit for his speed, and, according to James, Cox can run a 40-yard dash in the high 4.4s.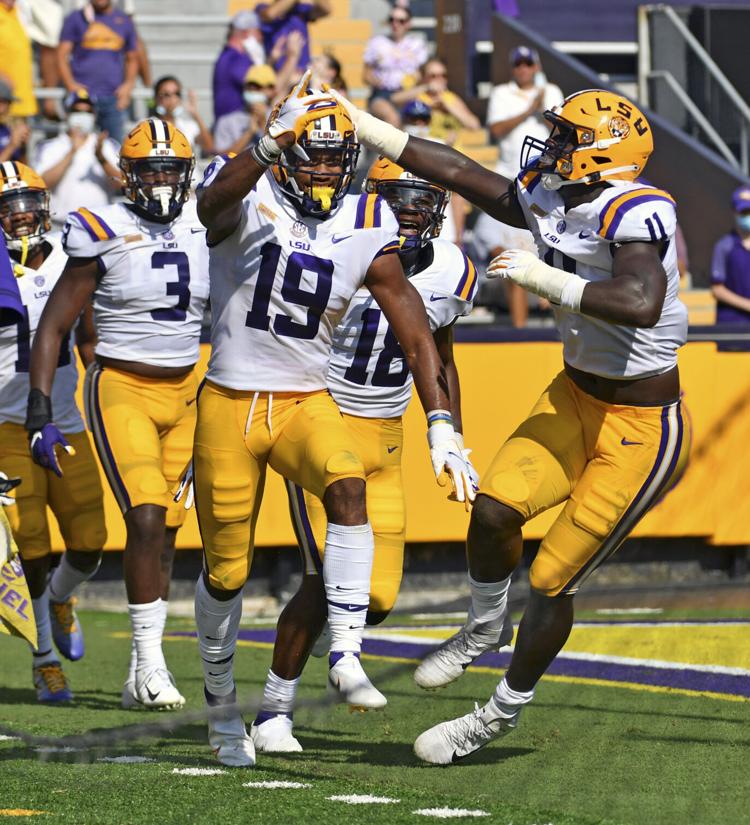 Cox showcased the speed in his LSU debut, when he undercut a crossing pattern and returned an interception for a 14-yard touchdown in the season opener against Mississippi State.
The speedy linebacker can sneak up on you easily, LSU left guard Ed Ingram said, and his connecting force can be powerful.
In one of LSU's preseason scrimmages, Ingram charged off the line on a designed screen pass, searching for a defender along the sideline. He didn't see Cox, who was streaking toward the running back.
Cox didn't see Ingram either, and they collided.
"For one second, I was looking at the sideline," Ingram said Tuesday. "The next second, I was looking up at the sky."
Cox has become one of the most disruptive players on LSU's defense. His 21 tackles rank third on the team, and, along with his pick-six, he's added four tackles for loss, a sack and a fumble recovery.
It's plays like these that confirm LSU coach Ed Orgeron's preseason feelings that Cox can be the best player on the field, an impact defender who can command the core of LSU's 4-3 front.
So far, Cox has been one of the bright spots on a defense that has had immense struggles. In two losses to unranked teams, LSU surrendered an average of 44.5 points. Many of the issues have fallen on the secondary, which gave up an SEC-record 623 yards passing in a 44-34 loss to Mississippi State in the season opener.
The linebackers have had their fair share of lapses, too. Running backs have been open too often on wheel routes, and Missouri averaged 5.5 yards per carry in LSU's 45-41 loss in Columbia, Missouri, two weeks ago.
That was supposed to be a quasi-homecoming game for Cox. He was LSU's only team captain for the coin toss. His whole immediate family, aside from Jasir, made the two-hour drive to watch the game inside a limited-capacity Memorial Stadium.
In the days since, he's had plenty of time to reflect on the losses and review the film. Orgeron has mandated Pelini to simplify the defensive schemes, and Cox will be at the center of LSU's reconstruction performance against South Carolina.
"I know there are a lot of naysayers out there," Cox said Tuesday. "A lot of people kicking us while we're down. But us staying together as a group, as a whole defense and continuing to get better each day is something that we worked on for the past week and a half after the 'L.' We're just trying to get better there and just show everybody that we are LSU and we can play to that standard."
Cox calls his parents every night. James said his son's "determined to get things turned around" and believes they can "run the table."
It's a familiar feeling in this family.
Somehow, Jabril believes, it will all work out.