This article was originally published on January 28, 2008
The following list of five challenging waves comes from the tenth anniversary edition of The Surfers Travel Guide. Scroll down for further details and point of purchase information.
Shipsterns Bluff – SW Coast, TAS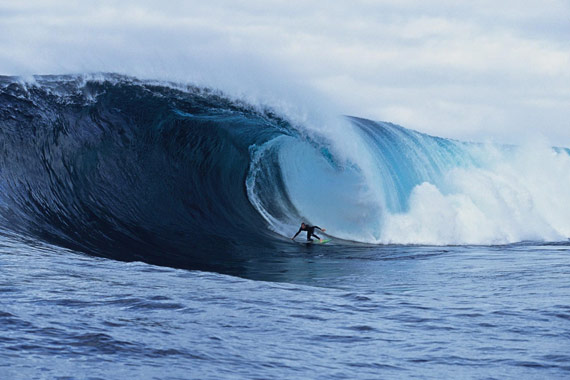 Now famous the world over, this scary as hell wave has hosted the best surfers in the world and all of them have been shitting bricks, well majority anyhow. Apart from the fact it's in one of the most remote areas in Australia, and the walk in will take you at least 3 hours, if you know where you're going, the wave is the devil himself. A warping, gaping hole that has fired the imagination of big wave surfers everywhere and it doesn't disappoint. The place still hasn't reached its height potential apparently, but when it does, you know that you will be a long way away, or will you?
'Ours' – Southern Beaches, NSW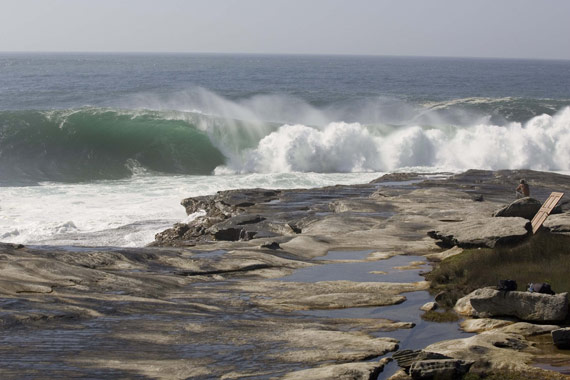 Made famous by the Bra Boys, this particularly treacherous wave has only been exposed recently. With it breaking virtually onto the rocks and some horrendous wipeouts occurring, only the most insane surf this wave. Aptly named, you will want to be Slater esque in your surfing talents to take it on and to get the respect from the locals. A mean barrel and a few heart stopping moments ensures this wave is a cracker to watch and think about what you would have to do to be standing tall in the pit.
2 Mile – Shipwreck Coast, VIC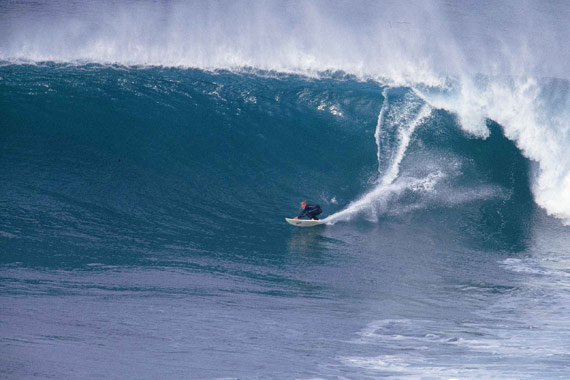 A fiercely guarded secret of the tow crew this wave off the coast of Port Campbell has become a mecca for the big wave riders in the country. T-Ray and RCJ are regularly on the look out for the conditions that will make this place fire. If you did want to try to paddle out to this place you would face strong currents a hellava long paddle over somewhat deep and threatening water only to be confronted by a monster wave. This place truly can get huge and hold the size. Locals may snarl at you, but the honest truth is unless you have cut your teeth at places like Jaws and Mavericks you will consider surfing this place as likely as winning on the pokies.
The Box – South Coast, WA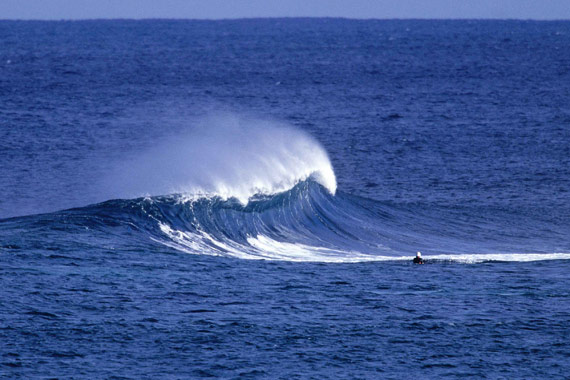 Ok, you might get to surf this one, it might be small and you might get lucky that there aren't too many crew on it. You might get into the lineup and think this isn't half as bad as you thought. You'll see a nice little three footer headed your way and start to stroke for it, you're on it and you go to stand, but there is no wave left, you'll be staring at virtually dry reef and you're headed right for it. You may repeat this several times until your board breaks or so does your body. It is an unforgiving reef wave, but such an incredible pit, if only you could get into it.
Blacks – Eyre Peninsula, SA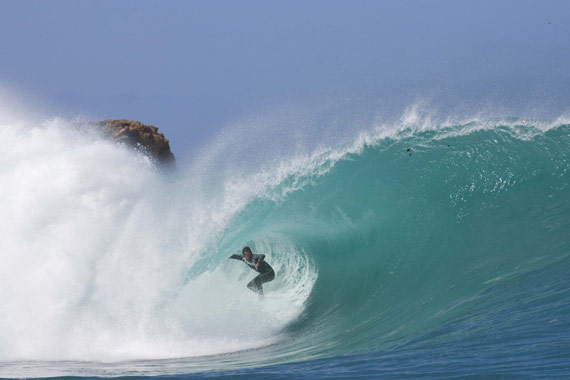 Another fiercely guarded secret, but again this place is not the sort of surf spot that looks fun. Memorial crosses adorn the cliff in memory of surfers who have been fatally attacked by great whites here, the walk down the goat track is dangerous at best, the paddle across deep water is heart-in-the-mouth stuff and then there's the wave. It's makeable, but you need to be in quick and up like lightning readying yourself for a monstrous barrel that is forming down the line. You don't want to fall either, as you'll be driven into a craggy reef that could catch your leggie and hold you down. But, it could also be the wave of your life, if you survive it. Don't expect any smiles from locals and say a prayer if you come back to your car, and its still there.
For waves that you can surf…
Check out The Surfer's Travel Guide. First published in 1998, it has consistently been a best seller since, with over 80,000 copies sold. It's unique blend of factual information, great imagery and that classic Australian sense of humour has made it a favourite among travelling surfers. Even guys like Ross Clarke Jones have used it to find some classic waves!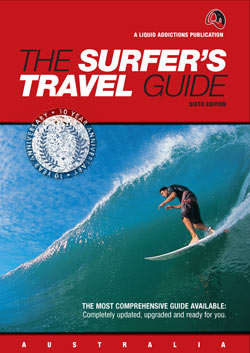 This special ten year anniversary is now in full colour and is completely updated
Written by a collection of Australian surfing identities, with stunning images from the best photographers in the country. With detailed content from lead authors at lonely planet, this book is the most comprehensive and up to date guide available
This guide will get you to all those places and provide you with plenty of essential information and a good laugh along the way. It's a real surfer's travel guide.
It includes:
• In-depth wave descriptions for every major surf break in Australia.
• A comprehensive accommodation, food and party guide, as well as flat day fun activities.
• Surf survival techniques, road-trip planning, 4wd tips, advice on buying
• second hand cars and weather forecasting.
• Detailed surf maps.
• It also has other essential information such as a beer guide (who knows what a Butcher
• or a Bobbie is?) and a complete healthy travel section to keep you fit for the surf.
• There's enough information to keep the most intrepid travellers satisfied.
"I've been surfing in Australia for the past 35 years and it got me to waves I've never heard of. Great beer guide too!"
Ross Clarke-Jones Australian big wave surfer, surf explorer, tow-in pioneer, lunatic.
"It's the ultimate travel guide, every surfer should have one"
Tracks Magazine
"It sends the right message to surfer's, exploration, adventure, care for the environment and to have a good time" Surfrider Foundation'
The book is available for $29.95 at all leading bookstores and surf outlets. It can also be purchased online at www.thesurferstravelguide.com.au