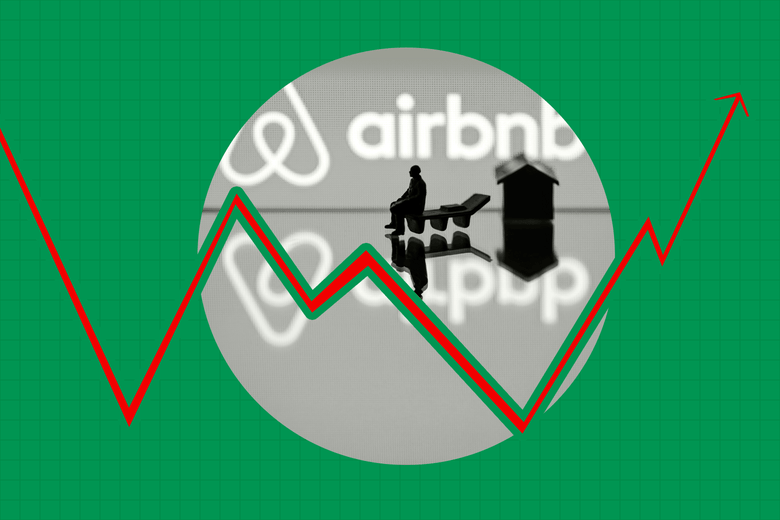 The following article is a written adaptation of an episode of Thrilling Tales of Modern Capitalism, Slate's new podcast about companies in the news and how they got there.
Kelly Berger lives in Tucson, Arizona. Tucson is home to Saguaro National Park, the University of Arizona, and, each February, the Tucson Gem and Mineral Show. It's a big deal in the world of precious stones. And it's a big deal in Tucson. The gem show is such a big deal, in fact, that there aren't enough hotel rooms in Tucson to accommodate everyone who comes to town for it, which makes the gem show a yearly windfall for people like Berger, who make money by renting out property on Airbnb. "People can pay six months of their mortgage in two weeks," she says. "It'd be like hosting the Super Bowl. That's what the rates are."
Berger has been an Airbnb host for a few years now. Before that, she was a traditional kind of landlord, leasing to long-term tenants. But she found that she could make more money from folks who are only in town for a few days or a week. At the beginning of 2020, Berger had three Airbnb properties in Tucson, all of them single-unit dwellings. And business was good enough that she decided to add a fourth house—Berger closed at the beginning of February. "We wanted to close and get it furnished right before the gem show," Berger says. "We just put everything into that."
A month later, America recorded what was then thought to be its first COVID-19 death, outside of Seattle. Then there was another death, and another, and another, and another. All at once it seemed like the virus was everywhere, including Tucson.
As the outbreak became a pandemic, global travel ground to a halt. The prospect of traveling to stay in someone else's home, where you'd have to touch things with your hands, all of a sudden became a clear and present health hazard. And by March 13, when President Donald Trump declared the COVID-19 crisis a full-fledged national emergency, Kelly Berger's Airbnb business had completely collapsed.
"My phone just wouldn't stop bing-ing," she says. "Just—cancellation, cancellation, cancellation, cancellation, cancellation, cancellation, cancellation. Four houses fully booked for months—every single one of them canceled. At one point I just sat on the floor in my kitchen and cried. I banked everything on this."
As Airbnb has grown to dominate the world of short-term vacation rentals, people have become more familiar with the platform and thus more demanding about what they expect from their rentals. For many travelers, it's no longer enough to stay for cheap in someone's actual apartment. They want a house that's a blank slate with hotel amenities and no trace that anyone has ever actually lived there. That's not something a person with a spare room can offer. These days, if you stick around as an Airbnb host, chances are you do so because you've chosen to make it your business. And if you've chosen to make short-term vacation rentals your business, you can't not be on Airbnb.
If you rely on one platform for the vast majority of opportunities you get, then you're not actually your own boss at all.
It isn't that there aren't other platforms that do the same thing. Other apps and companies like Vrbo have tried to contend with Airbnb over the years—and Vrbo is actually more than a decade older than Airbnb. But Airbnb remains the most popular platform for both hosts and guests.
The promise of Airbnb for travelers was that it would give them unique lodging experiences for less than they might pay at a hotel. The promise for hosts was that they could be their own boss by renting out their existing assets on this platform whenever they felt like it. But if you rely on one platform for the vast majority of opportunities you get, then you're not actually your own boss at all. In every meaningful respect, you're tied to that platform. And in times of crisis, in worst-case scenarios, it can be tough to rely on a platform that does not rely on you.
At the beginning of 2020, Airbnb was valued at roughly $31 billion and was readying itself for an initial public offering. But unlike some tech startups whose businesses exist almost exclusively in the cloud, Airbnb is tethered to the real world. And this spring, when the real world collapsed in a fit of coughing, Airbnb found itself in serious trouble.
"It was like I was a captain of a ship, and it was a nice ship and it was really sunny, and all of a sudden a torpedo hit the side of the ship, and we lost the vast majority of our business," Airbnb co-founder Brian Chesky said back in June. "It felt like it took me 12 years for my partners and I to build this business, and we lost most of it in four or five weeks."
He'd just seen his company's valuation drop by $13 billion. But in that same interview, Chesky said that the company was already starting to see signs of recovery and that the IPO might still be on track. Airbnb's hosts, though, dealing with lost income, unpaid bills, and mounting debt, were finding it a little bit harder to see the silver lining.
Many Airbnb hosts felt betrayed by a critical decision the platform made about its long-standing cancellation policy. Millions of travelers were canceling their trips. The ones who were staying in hotels for the most part could get their bookings refunded. The ones who'd booked on Airbnb found themselves subject to their hosts' individual policies. With certain exceptions for extenuating circumstances, Airbnb had always let its hosts set their own terms of cancellation. Some hosts allowed travelers to cancel with a full refund up until 24 hours before check-in. Others were more strict. But now Airbnb found itself in a real predicament. If travelers couldn't get their money back, they'd be furious with the platform—and they also might feel compelled to travel when it was unsafe to do so.
More than ever before, Airbnb had to choose between the hosts who list on its platform and the guests who book there. It chose its guests, rolling the pandemic into its extenuating circumstances policy, and allowing them to cancel for full refunds. "I was furious at the decision," says Berger. "I felt like I was worthless."
By making it easier for people to change or cancel their travel plans as a deadly virus began to spread all over the globe, needless deaths may well have been avoided. The decision prevented a PR disaster for the company, and it cost Airbnb a lot of money. But it may have cost the hosts more. "What are rules, if rules are nothing? Why even have a cancellation policy?" Berger remarked.
She went online to commiserate with other Airbnb hosts. The hosts were talking about filing a lawsuit. They considered starting their own platform. They complained about feeling so disposable. But, well, they were disposable. When a platform gets big enough, no single user is essential. Airbnb chose to look out for its guests rather than its hosts because the hosts have nowhere else to go.
"This is a corporation," Berger says. "At the end of the day, you're a minion to Airbnb."
Listen to the full episode using the player below, or subscribe to What Next on Apple Podcasts, Overcast, Spotify, Stitcher, or wherever you get your podcasts.
'));else {
if (!0 === d.b.getConfig("enableSendAllBids")) return;
p.native = {
title: (t = e.native).products[0].title,
body: t.products[0].description,
sponsoredBy: t.advertiser.description,
icon: t.advertiser.logo,
image: t.products[0].image,
clickUrl: t.products[0].click_url,
privacyLink: t.privacy.optout_click_url,
privacyIcon: t.privacy.optout_image_url,
cta: t.products[0].call_to_action,
price: t.products[0].price,
impressionTrackers: t.impression_pixels.map(function (t) {
return t.url;
})
}, p.mediaType = h.c;
}
} else e.video ? (p.vastUrl = e.displayurl, p.mediaType = h.d) : p.ad = e.creative;
c.push(p);
}), c;
},
onTimeout: function onTimeout(t) {
T() && Criteo.PubTag.Adapters.Prebid.GetAdapter(t.auctionId).handleBidTimeout();
},
onBidWon: function onBidWon(t) {
T() && Criteo.PubTag.Adapters.Prebid.GetAdapter(t.auctionId).handleBidWon(t);
},
onSetTargeting: function onSetTargeting(t) {
T() && Criteo.PubTag.Adapters.Prebid.GetAdapter(t.auctionId).handleSetTargeting(t);
}
};
function T() {
return "undefined" != typeof Criteo && Criteo.PubTag && Criteo.PubTag.Adapters && Criteo.PubTag.Adapters.Prebid;
}
function C(t) {
return f.deepAccess(t, "mediaTypes.banner.sizes") || t.sizes;
}
function A(t, e) {
return Array.isArray(t[0]) ? t.map(function (t) {
return e(t);
}) : [e(t)];
}
function S(t) {
return t[0] + "x" + t[1];
}
function I(t) {
return void 0 === t[0] && void 0 === t[1] ? "2x2" : t[0] + "x" + t[1];
}
function R(t) {
return void 0 !== f.deepAccess(t, "params.video") && void 0 !== f.deepAccess(t, "mediaTypes.video");
}
function x() {
try {
var t,
e,
r,
i,
o,
n = "criteo_fast_bid",
s = "// Hash: ",
a = y.getDataFromLocalStorage(n);
null !== a && (t = a.indexOf("n"), (e = a.substr(0, t).trim()).substr(0, s.length) !== s ? (f.logWarn("No hash found in FastBid"), y.removeDataFromLocalStorage(n)) : (r = e.substr(s.length), i = a.substr(t + 1), Object(p.verify)(i, r, g, b) ? (f.logInfo("Using Criteo FastBid"), (o = document.createElement("script")).type = "text/javascript", o.text = i, f.insertElement(o)) : (f.logWarn("Invalid Criteo FastBid found"), y.removeDataFromLocalStorage(n))));
} catch (t) {}
}
Object(i.registerBidder)(s);
},
382: function _(t, e, r) {
"use strict";
Object.defineProperty(e, "__esModule", {
value: !0
});
var a = r(383),
p = r(384);
e.verify = function (t, e, r, i) {
var o = new a.BigInteger(a.b64toHex(e)),
n = new a.BigInteger(a.b64toHex(r)),
s = o.modPowInt(i, n);
return a.removeExtraSymbols(s.toHexString()) === p.Sha256.hash(t);
};
},
383: function _(t, e, r) {
"use strict";
var i;
Object.defineProperty(e, "__esModule", {
value: !0
});
var o = (g.prototype.toHexString = function () {
if (this.s < 0) return "-" + this.negate().toHexString(); var t, e = !1, r = "", i = this.t, o = this.DB - i * this.DB % 4; if (0 < i--) for (o < this.DB && 0 < (t = this[i] >> o) && (e = !0, r = c(t)); 0 <= i;) { o < 4 ? (t = (this[i] & (1 << o) - 1) << 4 - o, t |= this[--i] >> (o += this.DB - 4)) : (t = this[i] >> (o -= 4) & 15, o <= 0 && (o += this.DB, --i)), 0 < t && (e = !0), e && (r += c(t)); } return e ? r : "0"; }, g.prototype.fromHexString = function (t) { if (null !== t) { this.t = 0, this.s = 0; for (var e = t.length, r = !1, i = 0; 0 <= --e;) { var o = p(t, e); o < 0 ? "-" == t.charAt(e) && (r = !0) : (r = !1, 0 == i ? this[this.t++] = o : i + 4 > this.DB ? (this[this.t - 1] |= (o & (1 << this.DB - i) - 1) << i, this[this.t++] = o >> this.DB - i) : this[this.t - 1] |= o << i, (i += 4) >= this.DB && (i -= this.DB));
}
this.clamp(), r && g.ZERO.subTo(this, this);
}
}, g.prototype.negate = function () {
var t = T();
return g.ZERO.subTo(this, t), t;
}, g.prototype.abs = function () {
return this.s < 0 ? this.negate() : this; }, g.prototype.mod = function (t) { var e = T(); return this.abs().divRemTo(t, null, e), this.s < 0 && 0 < e.compareTo(g.ZERO) && t.subTo(e, e), e; }, g.prototype.copyTo = function (t) { for (var e = this.t - 1; 0 <= e; --e) { t[e] = this[e]; } t.t = this.t, t.s = this.s; }, g.prototype.lShiftTo = function (t, e) { for (var r = t % this.DB, i = this.DB - r, o = (1 << i) - 1, n = Math.floor(t / this.DB), s = this.s << r & this.DM, a = this.t - 1; 0 <= a; --a) { e[a + n + 1] = this[a] >> i | s, s = (this[a] & o) << r; } for (a = n - 1; 0 <= a; --a) { e[a] = 0; } e[n] = s, e.t = this.t + n + 1, e.s = this.s, e.clamp(); }, g.prototype.invDigit = function () { if (this.t < 1) return 0; var t = this[0]; if (0 == (1 & t)) return 0; var e = 3 & t; return 0 < (e = (e = (e = (e = e * (2 - (15 & t) * e) & 15) * (2 - (255 & t) * e) & 255) * (2 - ((65535 & t) * e & 65535)) & 65535) * (2 - t * e % this.DV) % this.DV) ? this.DV - e : -e; }, g.prototype.dlShiftTo = function (t, e) { for (var r = this.t - 1; 0 <= r; --r) { e[r + t] = this[r]; } for (r = t - 1; 0 <= r; --r) { e[r] = 0; } e.t = this.t + t, e.s = this.s; }, g.prototype.squareTo = function (t) { for (var e = this.abs(), r = t.t = 2 * e.t; 0 <= --r;) { t[r] = 0; } for (r = 0; r < e.t - 1; ++r) { var i = e.am(r, e[r], t, 2 * r, 0, 1); (t[r + e.t] += e.am(r + 1, 2 * e[r], t, 2 * r + 1, i, e.t - r - 1)) >= e.DV && (t[r + e.t] -= e.DV, t[r + e.t + 1] = 1);
}
0 < t.t && (t[t.t - 1] += e.am(r, e[r], t, 2 * r, 0, 1)), t.s = 0, t.clamp(); }, g.prototype.multiplyTo = function (t, e) { var r = this.abs(), i = t.abs(), o = r.t; for (e.t = o + i.t; 0 <= --o;) { e[o] = 0; } for (o = 0; o < i.t; ++o) { e[o + r.t] = r.am(0, i[o], e, o, 0, r.t); } e.s = 0, e.clamp(), this.s != t.s && g.ZERO.subTo(e, e); }, g.prototype.divRemTo = function (t, e, r) { var i = t.abs(); if (!(i.t <= 0)) { var o = this.abs(); if (o.t < i.t) return null != e && e.fromHexString("0"), void (null != r && this.copyTo(r)); null == r && (r = T()); var n = T(), s = this.s, a = t.s, p = this.DB - C(i[i.t - 1]); 0 < p ? (i.lShiftTo(p, n), o.lShiftTo(p, r)) : (i.copyTo(n), o.copyTo(r)); var u = n.t, c = n[u - 1]; if (0 != c) { var d = c * (1 << this.F1) + (1 < u ? n[u - 2] >> this.F2 : 0),
h = this.FV / d,
f = (1 << this.F1) / d, l = 1 << this.F2, m = r.t, v = m - u, y = null == e ? T() : e; for (n.dlShiftTo(v, y), 0 <= r.compareTo(y) && (r[r.t++] = 1, r.subTo(y, r)), g.ONE.dlShiftTo(u, y), y.subTo(n, n); n.t < u;) { n[n.t++] = 0; } for (; 0 <= --v;) { var b = r[--m] == c ? this.DM : Math.floor(r[m] * h + (r[m - 1] + l) * f); if ((r[m] += n.am(0, b, r, v, 0, u)) < b) for (n.dlShiftTo(v, y), r.subTo(y, r); r[m] < --b;) { r.subTo(y, r); } } null != e && (r.drShiftTo(u, e), s != a && g.ZERO.subTo(e, e)), r.t = u, r.clamp(), 0 < p && r.rShiftTo(p, r), s < 0 && g.ZERO.subTo(r, r); } } }, g.prototype.rShiftTo = function (t, e) { e.s = this.s; var r = Math.floor(t / this.DB); if (r >= this.t) e.t = 0;else {
var i = t % this.DB,
o = this.DB - i,
n = (1 << i) - 1; e[0] = this[r] >> i;
for (var s = r + 1; s < this.t; ++s) { e[s - r - 1] |= (this[s] & n) << o, e[s - r] = this[s] >> i;
}
0 < i && (e[this.t - r - 1] |= (this.s & n) << o), e.t = this.t - r, e.clamp(); } }, g.prototype.drShiftTo = function (t, e) { for (var r = t; r < this.t; ++r) { e[r - t] = this[r]; } e.t = Math.max(this.t - t, 0), e.s = this.s; }, g.prototype.subTo = function (t, e) { for (var r = 0, i = 0, o = Math.min(t.t, this.t); r < o;) { i += this[r] - t[r], e[r++] = i & this.DM, i >>= this.DB;
}
if (t.t < this.t) { for (i -= t.s; r < this.t;) { i += this[r], e[r++] = i & this.DM, i >>= this.DB;
}
i += this.s;
} else {
for (i += this.s; r < t.t;) { i -= t[r], e[r++] = i & this.DM, i >>= this.DB;
}
i -= t.s;
}
e.s = i < 0 ? -1 : 0, i < -1 ? e[r++] = this.DV + i : 0 < i && (e[r++] = i), e.t = r, e.clamp(); }, g.prototype.clamp = function () { for (var t = this.s & this.DM; 0 < this.t && this[this.t - 1] == t;) { --this.t; } }, g.prototype.modPowInt = function (t, e) { var r = new (t < 256 || e.isEven() ? d : f)(e); return this.exp(t, r); }, g.prototype.exp = function (t, e) { if (4294967295 < t || t < 1) return g.ONE; var r, i = T(), o = T(), n = e.convert(this), s = C(t) - 1; for (n.copyTo(i); 0 <= --s;) { e.sqrTo(i, o), 0 < (t & 1 << s) ? e.mulTo(o, n, i) : (r = i, i = o, o = r); } return e.revert(i); }, g.prototype.isEven = function () { return 0 == (0 < this.t ? 1 & this[0] : this.s); }, g.prototype.compareTo = function (t) { var e = this.s - t.s; if (0 != e) return e; var r = this.t; if (0 != (e = r - t.t)) return this.s < 0 ? -e : e; for (; 0 <= --r;) { if (0 != (e = this[r] - t[r])) return e; } return 0; }, g.prototype.am1 = function (t, e, r, i, o, n) { for (; 0 <= --n;) { var s = e * this[t++] + r[i] + o; o = Math.floor(s / 67108864), r[i++] = 67108863 & s; } return o; }, g.prototype.am2 = function (t, e, r, i, o, n) { for (var s = 32767 & e, a = e >> 15; 0 <= --n;) { var p = 32767 & this[t], u = this[t++] >> 15,
c = a * p + u * s;
o = ((p = s * p + ((32767 & c) << 15) + r[i] + (1073741823 & o)) >>> 30) + (c >>> 15) + a * u + (o >>> 30), r[i++] = 1073741823 & p;
}
return o;
}, g.prototype.am3 = function (t, e, r, i, o, n) {
for (var s = 16383 & e, a = e >> 14; 0 <= --n;) { var p = 16383 & this[t], u = this[t++] >> 14,
c = a * p + u * s;
o = ((p = s * p + ((16383 & c) << 14) + r[i] + o) >> 28) + (c >> 14) + a * u, r[i++] = 268435455 & p;
}
return o;
}, g);
function g(t) {
null !== t && this.fromHexString(t);
}
function T() {
return new o(null);
}
function C(t) {
var e,
r = 1;
return 0 != (e = t >>> 16) && (t = e, r += 16), 0 != (e = t >> 8) && (t = e, r += 8), 0 != (e = t >> 4) && (t = e, r += 4), 0 != (e = t >> 2) && (t = e, r += 2), 0 != (e = t >> 1) && (t = e, r += 1), r;
}
e.BigInteger = o, e.nbi = T, e.nbits = C;
for (var n = [], s = "0".charCodeAt(0), a = 0; a <= 9; ++a) { n[s++] = a; } for (s = "a".charCodeAt(0), a = 10; a < 36; ++a) { n[s++] = a; } for (s = "A".charCodeAt(0), a = 10; a < 36; ++a) { n[s++] = a; } function p(t, e) { var r = n[t.charCodeAt(e)]; return null == r ? -1 : r; } e.intAt = p; var u = "0123456789abcdefghijklmnopqrstuvwxyz"; function c(t) { return u.charAt(t); } e.int2char = c; e.b64toHex = function (t) { for (var e = "", r = 0, i = 0, o = 0; o < t.length && "=" != t.charAt(o); ++o) { var n = "ABCDEFGHIJKLMNOPQRSTUVWXYZabcdefghijklmnopqrstuvwxyz0123456789+/".indexOf(t.charAt(o)); n < 0 || (r = 0 == r ? (e += c(n >> 2), i = 3 & n, 1) : 1 == r ? (e += c(i << 2 | n >> 4), i = 15 & n, 2) : 2 == r ? (e += c(i), e += c(n >> 2), i = 3 & n, 3) : (e += c(i << 2 | n >> 4), e += c(15 & n), 0));
}
return 1 == r && (e += c(i << 2)), e; }, e.removeExtraSymbols = function (t) { return t.replace(/^1f+00/, "").replace("3031300d060960864801650304020105000420"https://r.search.yahoo.com/,""); }; var d = (h.prototype.convert = function (t) { return t.s < 0 || 0 <= t.compareTo(this.m) ? t.mod(this.m) : t; }, h.prototype.revert = function (t) { return t; }, h.prototype.reduce = function (t) { t.divRemTo(this.m, null, t); }, h.prototype.mulTo = function (t, e, r) { t.multiplyTo(e, r), this.reduce(r); }, h.prototype.sqrTo = function (t, e) { t.squareTo(e), this.reduce(e); }, h); function h(t) { this.m = t; } var f = (l.prototype.convert = function (t) { var e = T(); return t.abs().dlShiftTo(this.m.t, e), e.divRemTo(this.m, null, e), t.s < 0 && 0 < e.compareTo(o.ZERO) && this.m.subTo(e, e), e; }, l.prototype.revert = function (t) { var e = T(); return t.copyTo(e), this.reduce(e), e; }, l.prototype.reduce = function (t) { for (; t.t <= this.mt2;) { t[t.t++] = 0; } for (var e = 0; e < this.m.t; ++e) { var r = 32767 & t[e], i = r * this.mpl + ((r * this.mph + (t[e] >> 15) * this.mpl & this.um) << 15) & t.DM; for (t[r = e + this.m.t] += this.m.am(0, i, t, e, 0, this.m.t); t[r] >= t.DV;) {
t[r] -= t.DV, t[++r]++;
}
}
t.clamp(), t.drShiftTo(this.m.t, t), 0 <= t.compareTo(this.m) && t.subTo(this.m, t); }, l.prototype.mulTo = function (t, e, r) { t.multiplyTo(e, r), this.reduce(r); }, l.prototype.sqrTo = function (t, e) { t.squareTo(e), this.reduce(e); }, l); function l(t) { this.m = t, this.mp = t.invDigit(), this.mpl = 32767 & this.mp, this.mph = this.mp >> 15, this.um = (1 << t.DB - 15) - 1, this.mt2 = 2 * t.t; } function m(t) { var e = T(); return e.fromHexString(t.toString()), e; } e.nbv = m, o.ZERO = m(0), o.ONE = m(1), i = "Microsoft Internet Explorer" == navigator.appName ? (o.prototype.am = o.prototype.am2, 30) : "Netscape" != navigator.appName ? (o.prototype.am = o.prototype.am1, 26) : (o.prototype.am = o.prototype.am3, 28), o.prototype.DB = i, o.prototype.DM = (1 << i) - 1, o.prototype.DV = 1 << i; o.prototype.FV = Math.pow(2, 52), o.prototype.F1 = 52 - i, o.prototype.F2 = 2 * i - 52; }, 384: function _(t, e, r) { "use strict"; Object.defineProperty(e, "__esModule", { value: !0 }); var i = (S.hash = function (t) { t = S.utf8Encode(t || ""); for (var e = [1116352408, 1899447441, 3049323471, 3921009573, 961987163, 1508970993, 2453635748, 2870763221, 3624381080, 310598401, 607225278, 1426881987, 1925078388, 2162078206, 2614888103, 3248222580, 3835390401, 4022224774, 264347078, 604807628, 770255983, 1249150122, 1555081692, 1996064986, 2554220882, 2821834349, 2952996808, 3210313671, 3336571891, 3584528711, 113926993, 338241895, 666307205, 773529912, 1294757372, 1396182291, 1695183700, 1986661051, 2177026350, 2456956037, 2730485921, 2820302411, 3259730800, 3345764771, 3516065817, 3600352804, 4094571909, 275423344, 430227734, 506948616, 659060556, 883997877, 958139571, 1322822218, 1537002063, 1747873779, 1955562222, 2024104815, 2227730452, 2361852424, 2428436474, 2756734187, 3204031479, 3329325298], r = [1779033703, 3144134277, 1013904242, 2773480762, 1359893119, 2600822924, 528734635, 1541459225], i = (t += String.fromCharCode(128)).length / 4 + 2, o = Math.ceil(i / 16), n = new Array(o), s = 0; s < o; s++) { n[s] = new Array(16); for (var a = 0; a < 16; a++) { n[s][a] = t.charCodeAt(64 * s + 4 * a) << 24 | t.charCodeAt(64 * s + 4 * a + 1) << 16 | t.charCodeAt(64 * s + 4 * a + 2) << 8 | t.charCodeAt(64 * s + 4 * a + 3) << 0; } } var p = 8 * (t.length - 1) / Math.pow(2, 32), u = 8 * (t.length - 1) >>> 0;
for (n[o - 1][14] = Math.floor(p), n[o - 1][15] = u, s = 0; s < o; s++) { for (var c = new Array(64), d = 0; d < 16; d++) { c[d] = n[s][d]; } for (d = 16; d < 64; d++) { c[d] = S.q1(c[d - 2]) + c[d - 7] + S.q0(c[d - 15]) + c[d - 16] >>> 0;
}
for (var h = r[0], f = r[1], l = r[2], m = r[3], v = r[4], y = r[5], b = r[6], g = r[7], d = 0; d < 64; d++) { var T = g + S.z1(v) + S.Ch(v, y, b) + e[d] + c[d], C = S.z0(h) + S.Maj(h, f, l); g = b, b = y, y = v, v = m + T >>> 0, m = l, l = f, f = h, h = T + C >>> 0;
}
r[0] = r[0] + h >>> 0, r[1] = r[1] + f >>> 0, r[2] = r[2] + l >>> 0, r[3] = r[3] + m >>> 0, r[4] = r[4] + v >>> 0, r[5] = r[5] + y >>> 0, r[6] = r[6] + b >>> 0, r[7] = r[7] + g >>> 0;
}
for (var A = new Array(r.length), g = 0; g < r.length; g++) { A[g] = ("00000000" + r[g].toString(16)).slice(-8); } return A.join(""); }, S.utf8Encode = function (e) { try { return new TextEncoder().encode(e).reduce(function (t, e) { return t + String.fromCharCode(e); }, ""); } catch (t) { return unescape(encodeURIComponent(e)); } }, S.ROTR = function (t, e) { return e >>> t | e << 32 - t; }, S.z0 = function (t) { return S.ROTR(2, t) ^ S.ROTR(13, t) ^ S.ROTR(22, t); }, S.z1 = function (t) { return S.ROTR(6, t) ^ S.ROTR(11, t) ^ S.ROTR(25, t); }, S.q0 = function (t) { return S.ROTR(7, t) ^ S.ROTR(18, t) ^ t >>> 3;
}, S.q1 = function (t) {
return S.ROTR(17, t) ^ S.ROTR(19, t) ^ t >>> 10;
}, S.Ch = function (t, e, r) {
return t & e ^ ~t & r;
}, S.Maj = function (t, e, r) {
return t & e ^ t & r ^ e & r;
}, S);
function S() {}
e.Sha256 = i;
}
}, [380]);
pbjsChunk([187], {
481: function _(e, r, t) {
e.exports = t(482);
},
482: function _(e, r, t) {
"use strict";
Object.defineProperty(r, "__esModule", {
value: !0
}), t.d(r, "spec", function () {
return m;
});
var b = t(0),
y = t(2),
h = t(3),
i = t(11),
l = t.n(i),
a = t(483),
n = t.n(a),
s = t(1);
function v(e) {
return (v = "function" == typeof Symbol && "symbol" == _typeof(Symbol.iterator) ? function (e) {
return _typeof(e);
} : function (e) {
return e && "function" == typeof Symbol && e.constructor === Symbol && e !== Symbol.prototype ? "symbol" : _typeof(e);
})(e);
}
var o = [y.b, y.d],
g = 100,
w = 300,
x = 3600,
I = !0,
P = {
JPY: 1
};
function p(e) {
var r = {};
return r.id = e.bidId, r.ext = {}, r.ext.siteID = e.params.siteId, !e.params.hasOwnProperty("id") || "string" != typeof e.params.id && "number" != typeof e.params.id ? r.ext.sid = "".concat(e.params.size[0], "x").concat(e.params.size[1]) : r.ext.sid = String(e.params.id), e.params.hasOwnProperty("bidFloor") && e.params.hasOwnProperty("bidFloorCur") && (r.bidfloor = e.params.bidFloor, r.bidfloorcur = e.params.bidFloorCur), r;
}
function d(e) {
return Array.isArray(e) && 2 === e.length && n()(e[0]) && n()(e[1]);
}
function c(e, r) {
if (d(e)) return e[0] === r[0] && e[1] === r[1];
for (var t = 0; t < e.length; t++) { if (e[t][0] === r[0] && e[t][1] === r[1]) return 1; } } function u(e, r, t, i) { var a = []; if (window.headertag && "function" == typeof window.headertag.getIdentityInfo) { var n, s = window.headertag.getIdentityInfo(); if (s && "object" === v(s)) for (var o in s) { !s.hasOwnProperty(o) || !(n = s[o]).responsePending && n.data && "object" === v(n.data) && Object.keys(n.data).length && a.push(n.data); } } var d, p = {}; p.id = e[0].bidderRequestId, p.imp = t, p.site = {}, p.ext = {}, p.ext.source = "prebid", e[0].schain && (p.source = { ext: { schain: e[0].schain } }), 0 < a.length && (p.user = {}, p.user.eids = a), document.referrer && "" !== document.referrer && (p.site.ref = document.referrer), r && (r.gdprConsent && ((d = r.gdprConsent).hasOwnProperty("gdprApplies") && (p.regs = { ext: { gdpr: d.gdprApplies ? 1 : 0 } }), d.hasOwnProperty("consentString") && (p.user = p.user || {}, p.user.ext = { consent: d.consentString || "" })), r.uspConsent && b.deepSetValue(p, "regs.ext.us_privacy", r.uspConsent), r.refererInfo && (p.site.page = r.refererInfo.referer)); var c = {}, u = r && r.bidderCode || "ix", m = h.b.getConfig(u); if (m) { if ("object" === v(m.firstPartyData)) { var f = m.firstPartyData, y = "?"; for (var l in f) { f.hasOwnProperty(l) && (y += "".concat(encodeURIComponent(l), "=").concat(encodeURIComponent(f[l]), "&")); } y = y.slice(0, -1), p.site.page += y; } "number" == typeof m.timeout && (c.t = m.timeout); } return c.s = e[0].params.siteId, c.v = i, c.r = JSON.stringify(p), c.ac = "j", c.sd = 1, 8.1 === i && (c.nf = 1), { method: "GET", url: "https://as-sec.casalemedia.com/cygnus", data: c }; } var m = { code: "ix", gvlid: 10, supportedMediaTypes: o, isBidRequestValid: function isBidRequestValid(e) { if (!d(e.params.size)) return b.logError("ix bidder params: bid size has invalid format."), !1; if (!c(e.sizes, e.params.size)) return b.logError("ix bidder params: bid size is not included in ad unit sizes."), !1; if (e.hasOwnProperty("mediaType") && !b.contains(o, e.mediaType)) return !1; if (e.hasOwnProperty("mediaTypes") && !b.deepAccess(e, "mediaTypes.banner.sizes") && !b.deepAccess(e, "mediaTypes.video.playerSize")) return !1; if ("string" != typeof e.params.siteId && "number" != typeof e.params.siteId) return b.logError("ix bidder params: siteId must be string or number value."), !1; var r, t, i = e.params.hasOwnProperty("bidFloor"), a = e.params.hasOwnProperty("bidFloorCur"); return !!(!i && !a || i && a && (r = e.params.bidFloor, t = e.params.bidFloorCur, Boolean("number" == typeof r && "string" == typeof t && t.match(/^[A-Z]{3}$/)))) || (b.logError("ix bidder params: bidFloor / bidFloorCur parameter has invalid format."), !1); }, buildRequests: function buildRequests(e, r) { for (var t, i, a = [], n = [], s = [], o = null, d = 0; d < e.length; d++) { (o = e[d]).mediaType !== y.d && !b.deepAccess(o, "mediaTypes.video") || (o.mediaType === y.d || c(o.mediaTypes.video.playerSize, o.params.size) ? s.push(function (e) { var r = p(e); r.video = b.deepClone(e.params.video), r.video.w = e.params.size[0], r.video.h = e.params.size[1]; var t = b.deepAccess(e, "mediaTypes.video.context"); return t && ("instream" === t ? r.video.placement = 1 : "outstream" === t ? r.video.placement = 4 : b.logWarn("ix bidder params: video context '".concat(t, "' is not supported"))), r; }(o)) : b.logError("Bid size is not included in video playerSize")), o.mediaType !== y.b && !b.deepAccess(o, "mediaTypes.banner") && (o.mediaType || o.mediaTypes) || n.push((i = void 0, (i = p(t = o)).banner = {}, i.banner.w = t.params.size[0], i.banner.h = t.params.size[1], i.banner.topframe = b.inIframe() ? 0 : 1, i)); } return 0 < n.length && a.push(u(e, r, n, 7.2)), 0 < s.length && a.push(u(e, r, s, 8.1)), a; }, interpretResponse: function interpretResponse(e, r) { var t = []; if (!e.hasOwnProperty("body") || !e.body.hasOwnProperty("seatbid")) return t; for (var i, a, n, s, o = e.body, d = o.seatbid, p = 0; p < d.length; p++) { if (d[p].hasOwnProperty("bid")) for (var c = d[p].bid, u = JSON.parse(r.data.r), m = 0; m < c.length; m++) { var f = function (r, e) { if (r) return l()(e, function (e) { return e.id === r; }); }(c[m].impid, u.imp); i = c[m], a = o.cur, n = f, s = void 0, s = {}, P.hasOwnProperty(a) ? s.cpm = i.price / P[a] : s.cpm = i.price / g, s.requestId = i.impid, s.dealId = b.deepAccess(i, "ext.dealid"), s.netRevenue = I, s.currency = a, s.creativeId = i.hasOwnProperty("crid") ? i.crid : "-", b.deepAccess(i, "ext.vasturl") ? (s.vastUrl = i.ext.vasturl, s.width = n.video.w, s.height = n.video.h, s.mediaType = y.d, s.ttl = x) : (s.ad = i.adm, s.width = i.w, s.height = i.h, s.mediaType = y.b, s.ttl = w), s.meta = {}, s.meta.networkId = b.deepAccess(i, "ext.dspid"), s.meta.brandId = b.deepAccess(i, "ext.advbrandid"), s.meta.brandName = b.deepAccess(i, "ext.advbrand"), t.push(s); } } return t; }, transformBidParams: function transformBidParams(e) { return b.convertTypes({ siteID: "number" }, e); }, getUserSyncs: function getUserSyncs(e) { return e.iframeEnabled ? [{ type: "iframe", url: "https://js-sec.indexww.com/um/ixmatch.html" }] : []; } }; Object(s.registerBidder)(m); } }, [481]); pbjsChunk([184], { 493: function _(e, t, r) { e.exports = r(494); }, 494: function _(e, t, r) { "use strict"; Object.defineProperty(t, "__esModule", { value: !0 }), r.d(t, "spec", function () { return l; }); var s = r(0), d = r(3), n = r(1), a = r(9); function g() { return (g = Object.assign || function (e) { for (var t = 1; t < arguments.length; t++) { var r = arguments[t]; for (var n in r) { Object.prototype.hasOwnProperty.call(r, n) && (e[n] = r[n]); } } return e; }).apply(this, arguments); } var o, i, c, u = Object(a.b)(), l = { code: "kargo", isBidRequestValid: function isBidRequestValid(e) { return !(!e || !e.params) && !!e.params.placementId; }, buildRequests: function buildRequests(e, t) { var r, n = d.b.getConfig("currency"), a = n && n.adServerCurrency || "USD", o = {}, i = {}; s._each(e, function (e) { o[e.bidId] = e.params.placementId, i[e.bidId] = e.sizes; }), 0 < e.length && e[0].userId && e[0].userId.tdid && (r = e[0].userId.tdid); var c = g({}, { sessionId: l._getSessionId(), requestCount: l._getRequestCount(), timeout: t.timeout, currency: a, cpmGranularity: 1, timestamp: new Date().getTime(), cpmRange: { floor: 0, ceil: 20 }, bidIDs: o, bidSizes: i, prebidRawBidRequests: e }, l._getAllMetadata(r, t.uspConsent)), u = encodeURIComponent(JSON.stringify(c)); return g({}, t, { method: "GET", url: "".concat("https://krk.kargo.com"https://r.search.yahoo.com/,"/api/v2/bid"), data: "json=".concat(u), currency: a }); }, interpretResponse: function interpretResponse(e, t) { var r = e.body, n = []; for (var a in r) { var o = r[a], i = void 0; o.metadata && o.metadata.landingPageDomain && (i = { clickUrl: o.metadata.landingPageDomain }), n.push({ requestId: a, cpm: Number(o.cpm), width: o.width, height: o.height, ad: o.adm, ttl: 300, creativeId: o.id, dealId: o.targetingCustom, netRevenue: !0, currency: t.currency, meta: i }); } return n; }, getUserSyncs: function getUserSyncs(e) { var t = [], r = l._generateRandomUuid(), n = l._getClientId(); if (e.iframeEnabled && r && n) for (var a = 0; a < 5; a++) { t.push({ type: "iframe", url: "https://crb.kargo.com/api/v1/initsyncrnd/{UUID}?seed={SEED}&idx={INDEX}".replace("{UUID}", n).replace("{SEED}", r).replace("{INDEX}", a) }); } return t; }, _readCookie: function _readCookie(e) { if (!u.cookiesAreEnabled()) return null; for (var t = "".concat(e, "="), r = document.cookie.split(";"), n = 0; n < r.length; n++) { for (var a = r[n]; " " === a.charAt(0);) { a = a.substring(1, a.length); } if (0 === a.indexOf(t)) return a.substring(t.length, a.length); } return null; }, _getCrbFromCookie: function _getCrbFromCookie() { try { var e = JSON.parse(decodeURIComponent(l._readCookie("krg_crb"))); if (e && e.v) { var t = JSON.parse(atob(e.v)); if (t) return t; } return {}; } catch (e) { return {}; } }, _getCrbFromLocalStorage: function _getCrbFromLocalStorage() { try { return JSON.parse(atob(l._getLocalStorageSafely("krg_crb"))); } catch (e) { return {}; } }, _getCrb: function _getCrb() { var e = l._getCrbFromLocalStorage(); return Object.keys(e).length ? e : l._getCrbFromCookie(); }, _getKruxUserId: function _getKruxUserId() { return l._getLocalStorageSafely("kxkar_user"); }, _getKruxSegments: function _getKruxSegments() { return l._getLocalStorageSafely("kxkar_segs"); }, _getKrux: function _getKrux() { var e = l._getKruxSegments(), t = []; return e && (t = e.split(",")), { userID: l._getKruxUserId(), segments: t }; }, _getLocalStorageSafely: function _getLocalStorageSafely(e) { try { return u.getDataFromLocalStorage(e); } catch (e) { return null; } }, _getUserIds: function _getUserIds(e, t) { var r = l._getCrb(), n = { kargoID: r.userId, clientID: r.clientId, crbIDs: r.syncIds || {}, optOut: r.optOut, usp: t }; return e && (n.tdID = e), n; }, _getClientId: function _getClientId() { return l._getCrb().clientId; }, _getAllMetadata: function _getAllMetadata(e, t) { return { userIDs: l._getUserIds(e, t), krux: l._getKrux(), pageURL: window.location.href, rawCRB: l._readCookie("krg_crb"), rawCRBLocalStorage: l._getLocalStorageSafely("krg_crb") }; }, _getSessionId: function _getSessionId() { return o = o || l._generateRandomUuid(); }, _getRequestCount: function _getRequestCount() { return i === window.location.pathname ? ++c : (i = window.location.pathname, c = 0); }, _generateRandomUuid: function _generateRandomUuid() { try { var e = new Uint8Array(16); crypto.getRandomValues(e), e[6] = -177 & e[6] | 64, e[8] = -65 & e[8] | 128; var t = Array.prototype.map.call(new Uint8Array(e), function (e) { return ("00" + e.toString(16)).slice(-2); }).join(""); return t.slice(0, 8) + "-" + t.slice(8, 12) + "-" + t.slice(12, 16) + "-" + t.slice(16, 20) + "-" + t.slice(20); } catch (e) { return ""; } } }; Object(n.registerBidder)(l); } }, [493]); pbjsChunk([110], { 677: function _(e, r, t) { e.exports = t(678); }, 678: function _(e, r, t) { "use strict"; Object.defineProperty(r, "__esModule", { value: !0 }), t.d(r, "FASTLANE_ENDPOINT", function () { return o; }), t.d(r, "VIDEO_ENDPOINT", function () { return l; }), t.d(r, "SYNC_ENDPOINT", function () { return a; }), t.d(r, "spec", function () { return h; }), r.hasVideoMediaType = c, r.masSizeOrdering = S, r.determineRubiconVideoSizeId = C, r.getPriceGranularity = j, r.hasValidVideoParams = k, r.hasValidSupplyChainParams = T, r.encodeParam = w, r.resetUserSync = function () { R = !1; }; var g = t(0), i = t(1), b = t(3), u = t(2); function v(e, r) { return function (e) { if (Array.isArray(e)) return e; }(e) || function (e, r) { if ("undefined" == typeof Symbol || !(Symbol.iterator in Object(e))) return; var t = [], i = !0, n = !1, o = void 0; try { for (var a, s = e[Symbol.iterator](); !(i = (a = s.next()).done) && (t.push(a.value), !r || t.length !== r); i = !0) { ; } } catch (e) { n = !0, o = e; } finally { try { i || null == s.return || s.return(); } finally { if (n) throw o; } } return t; }(e, r) || function (e, r) { if (!e) return; if ("string" == typeof e) return n(e, r); var t = Object.prototype.toString.call(e).slice(8, -1); "Object" === t && e.constructor && (t = e.constructor.name); if ("Map" === t || "Set" === t) return Array.from(e); if ("Arguments" === t || /^(?:Ui|I)nt(?:8|16|32)(?:Clamped)?Array$/.test(t)) return n(e, r); }(e, r) || function () { throw new TypeError("Invalid attempt to destructure non-iterable instance.nIn order to be iterable, non-array objects must have a [Symbol.iterator]() method."); }(); } function n(e, r) { (null == r || r > e.length) && (r = e.length);
for (var t = 0, i = new Array(r); t < r; t++) { i[t] = e[t]; } return i; } function y() { return (y = Object.assign || function (e) { for (var r = 1; r < arguments.length; r++) { var t = arguments[r]; for (var i in t) { Object.prototype.hasOwnProperty.call(t, i) && (e[i] = t[i]); } } return e; }).apply(this, arguments); } function p(e, r, t) { return r in e ? Object.defineProperty(e, r, { value: t, enumerable: !0, configurable: !0, writable: !0 }) : e[r] = t, e; } function x(e) { return (x = "function" == typeof Symbol && "symbol" == _typeof(Symbol.iterator) ? function (e) { return _typeof(e); } : function (e) { return e && "function" == typeof Symbol && e.constructor === Symbol && e !== Symbol.prototype ? "symbol" : _typeof(e); })(e); } var o = "https://fastlane.rubiconproject.com/a/api/fastlane.json", l = "https://prebid-server.rubiconproject.com/openrtb2/auction", a = "https://eus.rubiconproject.com/usync.html", d = { FASTLANE: { id: "dt.id", keyv: "dt.keyv", pref: "dt.pref" }, PREBID_SERVER: { id: "id", keyv: "keyv" } }, f = { 1: "468x60", 2: "728x90", 5: "120x90", 8: "120x600", 9: "160x600", 10: "300x600", 13: "200x200", 14: "250x250", 15: "300x250", 16: "336x280", 17: "240x400", 19: "300x100", 31: "980x120", 32: "250x360", 33: "180x500", 35: "980x150", 37: "468x400", 38: "930x180", 39: "750x100", 40: "750x200", 41: "750x300", 42: "2x4", 43: "320x50", 44: "300x50", 48: "300x300", 53: "1024x768", 54: "300x1050", 55: "970x90", 57: "970x250", 58: "1000x90", 59: "320x80", 60: "320x150", 61: "1000x1000", 64: "580x500", 65: "640x480", 66: "930x600", 67: "320x480", 68: "1800x1000", 72: "320x320", 73: "320x160", 78: "980x240", 79: "980x300", 80: "980x400", 83: "480x300", 85: "300x120", 90: "548x150", 94: "970x310", 95: "970x100", 96: "970x210", 101: "480x320", 102: "768x1024", 103: "480x280", 105: "250x800", 108: "320x240", 113: "1000x300", 117: "320x100", 125: "800x250", 126: "200x600", 144: "980x600", 145: "980x150", 152: "1000x250", 156: "640x320", 159: "320x250", 179: "250x600", 195: "600x300", 198: "640x360", 199: "640x200", 213: "1030x590", 214: "980x360", 221: "1x1", 229: "320x180", 230: "2000x1400", 232: "580x400", 234: "6x6", 251: "2x2", 256: "480x820", 257: "400x600", 258: "500x200", 259: "998x200", 264: "970x1000", 265: "1920x1080", 274: "1800x200", 278: "320x500", 282: "320x400", 288: "640x380" }; g._each(f, function (e, r) { return f[e] = r; }); var h = { code: "rubicon", gvlid: 52, supportedMediaTypes: [u.b, u.d], isBidRequestValid: function isBidRequestValid(e) { if ("object" !== x(e.params)) return !1; for (var r = 0, t = ["accountId"https://r.search.yahoo.com/,"siteId"https://r.search.yahoo.com/,"zoneId"]; r < t.length; r++) { if (e.params[t[r]] = parseInt(e.params[t[r]]), isNaN(e.params[t[r]])) return g.logError("Rubicon: wrong format of accountId or siteId or zoneId."), !1; } var i = m(e, !0); return !!i && ("video" !== i || k(e)); }, buildRequests: function buildRequests(e, u) { var n, r = e.filter(function (e) { return "video" === m(e); }).map(function (e) { e.startTime = new Date().getTime(); var r, t, i = { id: e.transactionId, test: b.b.getConfig("debug") ? 1 : 0, cur: ["USD"], source: { tid: e.transactionId }, tmax: b.b.getConfig("TTL") || 1e3, imp: [{ exp: 300, id: e.adUnitCode, secure: 1, ext: p({}, e.bidder, e.params), video: g.deepAccess(e, "mediaTypes.video") || {} }], ext: { prebid: { cache: { vastxml: { returnCreative: !1 } }, targeting: { includewinners: !0, includebidderkeys: !1, pricegranularity: j(b.b) }, bidders: { rubicon: { integration: b.b.getConfig("rubicon.int_type") || "pbjs" } } } } }; "rubicon" !== e.bidder && (i.ext.prebid.aliases = p({}, e.bidder, "rubicon")), t = "function" != typeof e.getFloor || b.b.getConfig("rubicon.disableFloors") ? parseFloat(g.deepAccess(e, "params.floor")) : "object" !== x(r = e.getFloor({ currency: "USD", mediaType: "video", size: A(e, "video") })) || "USD" !== r.currency || isNaN(parseInt(r.floor)) ? void 0 : parseFloat(r.floor), isNaN(t) || (i.imp[0].bidfloor = t), i.imp[0].ext[e.bidder].video.size_id = C(e), function (r, t, e) { if (!r) return; "object" === x(b.b.getConfig("app")) ? r.app = b.b.getConfig("app") : r.site = { page: I(t, e) }; "object" === x(b.b.getConfig("device")) && (r.device = b.b.getConfig("device")); t.params.video.language && ["site"https://r.search.yahoo.com/,"device"].forEach(function (e) { r[e] && (r[e].content = y({ language: t.params.video.language }, r[e].content)); }); }(i, e, u), function (e, r) { "object" === x(e.imp[0].video) && void 0 === e.imp[0].video.skip && (e.imp[0].video.skip = r.params.video.skip); "object" === x(e.imp[0].video) && void 0 === e.imp[0].video.skipafter && (e.imp[0].video.skipafter = r.params.video.skipdelay); "object" === x(e.imp[0].video) && void 0 === e.imp[0].video.pos && ("atf" === r.params.position ? e.imp[0].video.pos = 1 : "btf" === r.params.position && (e.imp[0].video.pos = 3)); var t = A(r, "video"); e.imp[0].video.w = t[0], e.imp[0].video.h = t[1]; }(i, e); var n, o = _(e, "PREBID_SERVER"); o && g.deepSetValue(i, "user.ext.digitrust", o), u.gdprConsent && ("boolean" == typeof u.gdprConsent.gdprApplies && (n = u.gdprConsent.gdprApplies ? 1 : 0), g.deepSetValue(i, "regs.ext.gdpr", n), g.deepSetValue(i, "user.ext.consent", u.gdprConsent.consentString)), u.uspConsent && g.deepSetValue(i, "regs.ext.us_privacy", u.uspConsent), e.userId && "object" === x(e.userId) && (e.userId.tdid || e.userId.pubcid || e.userId.lipb || e.userId.idl_env) && (g.deepSetValue(i, "user.ext.eids", []), e.userId.tdid && i.user.ext.eids.push({ source: "adserver.org", uids: [{ id: e.userId.tdid, ext: { rtiPartner: "TDID" } }] }), e.userId.pubcid && i.user.ext.eids.push({ source: "pubcommon", uids: [{ id: e.userId.pubcid }] }), e.userId.lipb && e.userId.lipb.lipbid && (i.user.ext.eids.push({ source: "liveintent.com", uids: [{ id: e.userId.lipb.lipbid }] }), i.user.ext.tpid = { source: "liveintent.com", uid: e.userId.lipb.lipbid }, Array.isArray(e.userId.lipb.segments) && e.userId.lipb.segments.length && g.deepSetValue(i, "rp.target.LIseg", e.userId.lipb.segments)), e.userId.idl_env && i.user.ext.eids.push({ source: "liveramp.com", uids: [{ id: e.userId.idl_env }] })), !0 === b.b.getConfig("coppa") && g.deepSetValue(i, "regs.coppa", 1), e.schain && T(e.schain) && g.deepSetValue(i, "source.ext.schain", e.schain); var a, s = y({}, e.params.inventory, b.b.getConfig("fpd.context")), d = y({}, e.params.visitor, b.b.getConfig("fpd.user")); g.isEmpty(s) && g.isEmpty(d) || (a = { bidders: [u.bidderCode], config: { fpd: {} } }, g.isEmpty(s) || (a.config.fpd.site = s), g.isEmpty(d) || (a.config.fpd.user = d), g.deepSetValue(i, "ext.prebid.bidderconfig.0", a)); var c = g.deepAccess(e, "fpd.context.pbAdSlot"); return "string" == typeof c && c && g.deepSetValue(i.imp[0].ext, "context.data.adslot", c), e.storedAuctionResponse && g.deepSetValue(i.imp[0], "ext.prebid.storedauctionresponse.id", e.storedAuctionResponse.toString()), g.deepSetValue(i.imp[0], "ext.prebid.auctiontimestamp", u.auctionStart), { method: "POST", url: l, data: i, bidRequest: e }; }); return !0 !== b.b.getConfig("rubicon.singleRequest") ? r.concat(e.filter(function (e) { return "banner" === m(e); }).map(function (e) { var i = h.createSlotParams(e, u); return { method: "GET", url: o, data: h.getOrderedParams(i).reduce(function (e, r) { var t = i[r]; return g.isStr(t) && "" !== t || g.isNumber(t) ? "".concat(e).concat(w(r, t), "&") : e; }, "") + "slots=1&rand=".concat(Math.random()), bidRequest: e }; })) : (n = e.filter(function (e) { return "banner" === m(e); }).reduce(function (e, r) { return (e[r.params.siteId] = e[r.params.siteId] || []).push(r), e; }, {}), r.concat(Object.keys(n).reduce(function (r, e) { var t, i; return t = n[e], i = 10, t.map(function (e, r) { return r % i == 0 ? t.slice(r, r + i) : null; }).filter(function (e) { return e; }).forEach(function (e) { var i = h.combineSlotUrlParams(e.map(function (e) { return h.createSlotParams(e, u); })); r.push({ method: "GET", url: o, data: h.getOrderedParams(i).reduce(function (e, r) { var t = i[r]; return g.isStr(t) && "" !== t || g.isNumber(t) ? "".concat(e).concat(w(r, t), "&") : e; }, "") + "slots=".concat(e.length, "&rand=").concat(Math.random()), bidRequest: e }); }), r; }, []))); }, getOrderedParams: function getOrderedParams(e) { var r = /^tg_v/, t = /^tg_i/, i = ["account_id"https://r.search.yahoo.com/,"site_id"https://r.search.yahoo.com/,"zone_id"https://r.search.yahoo.com/,"size_id"https://r.search.yahoo.com/,"alt_size_ids"https://r.search.yahoo.com/,"p_pos"https://r.search.yahoo.com/,"gdpr"https://r.search.yahoo.com/,"gdpr_consent"https://r.search.yahoo.com/,"us_privacy"https://r.search.yahoo.com/,"rp_schain"https://r.search.yahoo.com/,"tpid_tdid"https://r.search.yahoo.com/,"tpid_liveintent.com"https://r.search.yahoo.com/,"tg_v.LIseg"https://r.search.yahoo.com/,"dt.id"https://r.search.yahoo.com/,"dt.keyv"https://r.search.yahoo.com/,"dt.pref"https://r.search.yahoo.com/,"rf"https://r.search.yahoo.com/,"p_geo.latitude"https://r.search.yahoo.com/,"p_geo.longitude"https://r.search.yahoo.com/,"kw"].concat(Object.keys(e).filter(function (e) { return r.test(e); })).concat(Object.keys(e).filter(function (e) { return t.test(e); })).concat(["tk_flint"https://r.search.yahoo.com/,"x_source.tid"https://r.search.yahoo.com/,"x_source.pchain"https://r.search.yahoo.com/,"p_screen_res"https://r.search.yahoo.com/,"rp_floor"https://r.search.yahoo.com/,"rp_secure"https://r.search.yahoo.com/,"tk_user_key"]); return i.concat(Object.keys(e).filter(function (e) { return -1 === i.indexOf(e); })); }, combineSlotUrlParams: function combineSlotUrlParams(n) { if (1 === n.length) return n[0]; var i = n.reduce(function (r, t, i) { return Object.keys(t).forEach(function (e) { r.hasOwnProperty(e) || (r[e] = new Array(n.length)), r[e].splice(i, 1, t[e]); }), r; }, {}), o = new RegExp("^([^;]*)(;\1)+$"); return Object.keys(i).forEach(function (e) { var r = i[e].join(";"), t = r.match(o); i[e] = t ? t[1] : r; }), i; }, createSlotParams: function createSlotParams(e, r) { e.startTime = new Date().getTime(); var t, i = e.params, n = A(e, "banner"), o = v(i.latLong || [], 2), a = o[0], s = o[1], d = b.b.getConfig("rubicon.int_type"), c = { account_id: i.accountId, site_id: i.siteId, zone_id: i.zoneId, size_id: n[0], alt_size_ids: n.slice(1).join(",") || void 0, rp_floor: .01 < (i.floor = parseFloat(i.floor)) ? i.floor : .01, rp_secure: "1", tk_flint: "".concat(d || "pbjs_lite"https://r.search.yahoo.com/,"_v3.23.0"), "x_source.tid": e.transactionId, "x_source.pchain": i.pchain, p_screen_res: [window.screen.width, window.screen.height].join("x"), tk_user_key: i.userId, "p_geo.latitude": isNaN(parseFloat(a)) ? void 0 : parseFloat(a).toFixed(4), "p_geo.longitude": isNaN(parseFloat(s)) ? void 0 : parseFloat(s).toFixed(4), "tg_fl.eid": e.code, rf: I(e, r) }; "function" != typeof e.getFloor || b.b.getConfig("rubicon.disableFloors") || (t = e.getFloor({ currency: "USD", mediaType: "banner", size: "*" }), c.rp_hard_floor = "object" !== x(t) || "USD" !== t.currency || isNaN(parseInt(t.floor)) ? void 0 : t.floor), c.p_pos = "atf" === i.position || "btf" === i.position ? i.position : "", e.userId && (e.userId.tdid && (c.tpid_tdid = e.userId.tdid), e.userId.lipb && e.userId.lipb.lipbid && (c["tpid_liveintent.com"] = e.userId.lipb.lipbid, Array.isArray(e.userId.lipb.segments) && e.userId.lipb.segments.length && (c["tg_v.LIseg"] = e.userId.lipb.segments.join(","))), e.userId.idl_env && (c["tpid_liveramp.com"] = e.userId.idl_env)), r.gdprConsent && ("boolean" == typeof r.gdprConsent.gdprApplies && (c.gdpr = Number(r.gdprConsent.gdprApplies)), c.gdpr_consent = r.gdprConsent.consentString), r.uspConsent && (c.us_privacy = encodeURIComponent(r.uspConsent)); var u = y({}, i.visitor, b.b.getConfig("fpd.user")); Object.keys(u).forEach(function (e) { null != u[e] && "keywords" !== e && (c["tg_v.".concat(e)] = "object" !== x(u[e]) || Array.isArray(u[e]) ? u[e].toString() : JSON.stringify(u[e])); }); var p = y({}, i.inventory, b.b.getConfig("fpd.context")); Object.keys(p).forEach(function (e) { null != p[e] && "keywords" !== e && (c["tg_i.".concat(e)] = "object" !== x(p[e]) || Array.isArray(p[e]) ? p[e].toString() : JSON.stringify(p[e])); }); var l = (i.keywords || []).concat(g.deepAccess(b.b.getConfig("fpd.user"), "keywords") || [], g.deepAccess(b.b.getConfig("fpd.context"), "keywords") || []); c.kw = Array.isArray(l) && l.length ? l.join(",") : ""; var f = g.deepAccess(e, "fpd.context.pbAdSlot"); "string" == typeof f && f && (c["tg_i.dfp_ad_unit_code"] = f.replace(/^/+/, "")); var m = _(e, "FASTLANE"); return y(c, m), !0 === b.b.getConfig("coppa") && (c.coppa = 1), e.schain && T(e.schain) && (c.rp_schain = h.serializeSupplyChain(e.schain)), c; }, serializeSupplyChain: function serializeSupplyChain(e) { if (!T(e)) return ""; var r = e.ver, t = e.complete, i = e.nodes; return "".concat(r, ",").concat(t, "!").concat(h.serializeSupplyChainNodes(i)); }, serializeSupplyChainNodes: function serializeSupplyChainNodes(e) { var t = ["asi"https://r.search.yahoo.com/,"sid"https://r.search.yahoo.com/,"hp"https://r.search.yahoo.com/,"rid"https://r.search.yahoo.com/,"name"https://r.search.yahoo.com/,"domain"]; return e.map(function (r) { return t.map(function (e) { return encodeURIComponent(r[e] || ""); }).join(","); }).join("!"); }, interpretResponse: function interpretResponse(d, e) { var c = e.bidRequest; if (!(d = d.body) || "object" !== x(d)) return []; if (d.seatbid) { var r = g.deepAccess(d, "ext.errors.rubicon"); Array.isArray(r) && 0 < r.length && g.logWarn("Rubicon: Error in video response"); var o = []; return d.seatbid.forEach(function (n) { (n.bid || []).forEach(function (e) { var r = { requestId: c.bidId, currency: d.cur || "USD", creativeId: e.crid, cpm: e.price || 0, bidderCode: n.seat, ttl: 300, netRevenue: !1 !== b.b.getConfig("rubicon.netRevenue"), width: e.w || g.deepAccess(c, "mediaTypes.video.w") || g.deepAccess(c, "params.video.playerWidth"), height: e.h || g.deepAccess(c, "mediaTypes.video.h") || g.deepAccess(c, "params.video.playerHeight") }; e.id && (r.seatBidId = e.id), e.dealid && (r.dealId = e.dealid); var t, i = g.deepAccess(d, "ext.responsetimemillis.rubicon"); c && i && (c.serverResponseTimeMs = i), g.deepAccess(e, "ext.prebid.type") === u.d ? (r.mediaType = u.d, (t = g.deepAccess(e, "ext.prebid.targeting")) && "object" === x(t) && (r.adserverTargeting = t), e.ext.prebid.cache && "object" === x(e.ext.prebid.cache.vastXml) && e.ext.prebid.cache.vastXml.cacheId && e.ext.prebid.cache.vastXml.url ? (r.videoCacheKey = e.ext.prebid.cache.vastXml.cacheId, r.vastUrl = e.ext.prebid.cache.vastXml.url) : t && t.hb_uuid && t.hb_cache_host && t.hb_cache_path && (r.videoCacheKey = t.hb_uuid, r.vastUrl = "https://".concat(t.hb_cache_host).concat(t.hb_cache_path, "?uuid=").concat(t.hb_uuid)), e.adm && (r.vastXml = e.adm), e.nurl && (r.vastUrl = e.nurl), !r.vastUrl && e.nurl && (r.vastUrl = e.nurl)) : g.logWarn("Rubicon: video response received non-video media type"), o.push(r); }); }), o; } var t = d.ads; return "object" !== x(c) || Array.isArray(c) || "video" !== m(c) || "object" !== x(t) || (t = t[c.adUnitCode]), !Array.isArray(t) || t.length < 1 ? [] : t.reduce(function (e, r, t) { if ("ok" !== r.status) return e; var i, n, o, a, s = Array.isArray(c) ? c[t] : c; return s && "object" === x(s) ? (i = { requestId: s.bidId, currency: "USD", creativeId: r.creative_id || "".concat(r.network || ""https://r.search.yahoo.com/,"-").concat(r.advertiser || ""), cpm: r.cpm || 0, dealId: r.deal, ttl: 300, netRevenue: !1 !== b.b.getConfig("rubicon.netRevenue"), rubicon: { advertiserId: r.advertiser, networkId: r.network }, meta: { advertiserId: r.advertiser, networkId: r.network } }, r.creative_type && (i.mediaType = r.creative_type), r.creative_type === u.d ? (i.width = s.params.video.playerWidth, i.height = s.params.video.playerHeight, i.vastUrl = r.creative_depot_url, i.impression_id = r.impression_id, i.videoCacheKey = r.impression_id) : (i.ad = (o = r.script, a = r.impression_id, "n
nnx3c!-- Rubicon Project Ad Tag --x3en
nn
nn")), n = v(f[r.size_id].split("x").map(function (e) {
return Number(e);
}), 2), i.width = n[0], i.height = n[1]), i.rubiconTargeting = (Array.isArray(r.targeting) ? r.targeting : []).reduce(function (e, r) {
return e[r.key] = r.values[0], e;
}, {
rpfl_elemid: s.adUnitCode
}), e.push(i)) : g.logError("Rubicon: bidRequest undefined at index position:".concat(t), c, d), e;
}, []).sort(function (e, r) {
return (r.cpm || 0) - (e.cpm || 0);
});
},
getUserSyncs: function getUserSyncs(e, r, t, i) {
if (!R && e.iframeEnabled) {
var n = "";
return t && "string" == typeof t.consentString && ("boolean" == typeof t.gdprApplies ? n += "?gdpr=".concat(Number(t.gdprApplies), "&gdpr_consent=").concat(t.consentString) : n += "?gdpr_consent=".concat(t.consentString)), i && (n += "".concat(n ? "&" : "?"https://r.search.yahoo.com/,"us_privacy=").concat(encodeURIComponent(i))), R = !0, {
type: "iframe",
url: a + n
};
}
},
transformBidParams: function transformBidParams(e) {
return g.convertTypes({
accountId: "number",
siteId: "number",
zoneId: "number"
}, e);
}
};
function _(e, r) {
var t,
i = 0 < arguments.length && void 0 !== e ? e : {}, n = 1 < arguments.length ? r : void 0; if (!n || !d[n]) return null; var o = d[n]; var a = function () { var e = g.deepAccess(i, "userId.digitrustid.data"); if (e) return e; var r = window.DigiTrust && (b.b.getConfig("digiTrustId") || window.DigiTrust.getUser({ member: "T9QSFKPDN9" })); return r && r.success && r.identity || null; }(); if (!a || a.privacy && a.privacy.optout) return null; var s = (p(t = {}, o.id, a.id), p(t, o.keyv, a.keyv), t); return o.pref && (s[o.pref] = 0), s; } function I(e, r) { var t = b.b.getConfig("pageUrl"), t = e.params.referrer ? e.params.referrer : t || r.refererInfo.referer; return e.params.secure ? t.replace(/^http:/i, "https:") : t; } function A(e, r) { var t = e.params; if ("video" === r) { var i = []; return t.video && t.video.playerWidth && t.video.playerHeight ? i = [t.video.playerWidth, t.video.playerHeight] : Array.isArray(g.deepAccess(e, "mediaTypes.video.playerSize")) && 1 === e.mediaTypes.video.playerSize.length ? i = e.mediaTypes.video.playerSize[0] : Array.isArray(e.sizes) && 0 < e.sizes.length && Array.isArray(e.sizes[0]) && 1 < e.sizes[0].length && (i = e.sizes[0]), i; } var n = []; return Array.isArray(t.sizes) ? n = t.sizes : void 0 !== g.deepAccess(e, "mediaTypes.banner.sizes") ? n = s(e.mediaTypes.banner.sizes) : Array.isArray(e.sizes) && 0 < e.sizes.length ? n = s(e.sizes) : g.logWarn("Rubicon: no sizes are setup or found"), S(n); } function s(e) { return g.parseSizesInput(e).reduce(function (e, r) { var t = parseInt(f[r], 10); return t && e.push(t), e; }, []); } function c(e) { return "object" === x(g.deepAccess(e, "params.video")) && void 0 !== g.deepAccess(e, "mediaTypes.".concat(u.d)); } function m(e, r) { var t = 1 < arguments.length && void 0 !== r && r; return c(e) ? -1 === ["outstream"https://r.search.yahoo.com/,"instream"].indexOf(g.deepAccess(e, "mediaTypes.".concat(u.d, ".context"))) ? void (t && g.logError("Rubicon: mediaTypes.video.context must be outstream or instream")) : A(e, "video").length < 2 ? void (t && g.logError("Rubicon: could not determine the playerSize of the video")) : (t && g.logMessage("Rubicon: making video request for adUnit", e.adUnitCode), "video") : 0 === A(e, "banner").length ? void (t && g.logError("Rubicon: could not determine the sizes for banner request")) : (t && g.logMessage("Rubicon: making banner request for adUnit", e.adUnitCode), "banner"); } function S(e) { var n = [15, 2, 9]; return e.sort(function (e, r) { var t = n.indexOf(e), i = n.indexOf(r); return -1 < t || -1 < i ? -1 === t ? 1 : -1 === i ? -1 : t - i : e - r; }); } function C(e) { var r = parseInt(g.deepAccess(e, "params.video.size_id")); return isNaN(r) ? "outstream" === g.deepAccess(e, "mediaTypes.".concat(u.d, ".context")) ? 203 : 201 : r; } function j(e) { return { ranges: { low: [{ max: 5, increment: .5 }], medium: [{ max: 20, increment: .1 }], high: [{ max: 20, increment: .01 }], auto: [{ max: 5, increment: .05 }, { min: 5, max: 10, increment: .1 }, { min: 10, max: 20, increment: .5 }], dense: [{ max: 3, increment: .01 }, { min: 3, max: 8, increment: .05 }, { min: 8, max: 20, increment: .5 }], custom: e.getConfig("customPriceBucket") && e.getConfig("customPriceBucket").buckets }[e.getConfig("priceGranularity")] }; } function k(r) { var t = !0, e = Object.prototype.toString.call([]), i = Object.prototype.toString.call(0), n = { mimes: e, protocols: e, maxduration: i, linearity: i, api: e }; return Object.keys(n).forEach(function (e) { Object.prototype.toString.call(g.deepAccess(r, "mediaTypes.video." + e)) !== n[e] && (t = !1, g.logError("Rubicon: mediaTypes.video." + e + " is required and must be of type: " + n[e])); }), t; } function T(e) { var r = !1, t = ["asi"https://r.search.yahoo.com/,"sid"https://r.search.yahoo.com/,"hp"]; return e.nodes && ((r = e.nodes.reduce(function (e, r) { return e ? t.every(function (e) { return r[e]; }) : e; }, !0)) || g.logError("Rubicon: required schain params missing")), r; } function w(e, r) { return "rp_schain" === e ? "rp_schain=".concat(r) : "".concat(e, "=").concat(encodeURIComponent(r)); } var R = !1; Object(i.registerBidder)(h); } }, [677]); pbjsChunk([93], { 719: function _(e, t, r) { e.exports = r(720); }, 720: function _(e, t, r) { "use strict"; Object.defineProperty(t, "__esModule", { value: !0 }), r.d(t, "spec", function () { return o; }), r.d(t, "_isInbounds", function () { return a; }), t._getPlatform = v; var n = r(1), y = r(0), i = r(2), c = r(3), g = r(10), d = r(44); function h(e, t) { return function (e) { if (Array.isArray(e)) return e; }(e) || function (e, t) { if ("undefined" == typeof Symbol || !(Symbol.iterator in Object(e))) return; var r = [], n = !0, i = !1, s = void 0; try { for (var o, a = e[Symbol.iterator](); !(n = (o = a.next()).done) && (r.push(o.value), !t || r.length !== t); n = !0) { ; } } catch (e) { i = !0, s = e; } finally { try { n || null == a.return || a.return(); } finally { if (i) throw s; } } return r; }(e, t) || function (e, t) { if (!e) return; if ("string" == typeof e) return s(e, t); var r = Object.prototype.toString.call(e).slice(8, -1); "Object" === r && e.constructor && (r = e.constructor.name); if ("Map" === r || "Set" === r) return Array.from(e); if ("Arguments" === r || /^(?:Ui|I)nt(?:8|16|32)(?:Clamped)?Array$/.test(r)) return s(e, t); }(e, t) || function () { throw new TypeError("Invalid attempt to destructure non-iterable instance.nIn order to be iterable, non-array objects must have a [Symbol.iterator]() method."); }(); } function s(e, t) { (null == t || t > e.length) && (t = e.length);
for (var r = 0, n = new Array(t); r < t; r++) { n[r] = e[r]; } return n; } function u() { return (u = Object.assign || function (e) { for (var t = 1; t < arguments.length; t++) { var r = arguments[t]; for (var n in r) { Object.prototype.hasOwnProperty.call(r, n) && (e[n] = r[n]); } } return e; }).apply(this, arguments); } function p(e, t, r) { return t in e ? Object.defineProperty(e, t, { value: r, enumerable: !0, configurable: !0, writable: !0 }) : e[t] = r, e; } var b = "sonobi", l = Object(y.generateUUID)(), o = { code: b, supportedMediaTypes: [i.b, i.d], isBidRequestValid: function isBidRequestValid(e) { if (!e.params) return !1; if (!e.params.ad_unit && !e.params.placement_id) return !1; if (!Object(y.deepAccess)(e, "mediaTypes.banner") && !Object(y.deepAccess)(e, "mediaTypes.video")) return !1; if (Object(y.deepAccess)(e, "mediaTypes.banner")) { if (!Object(y.deepAccess)(e, "mediaTypes.banner.sizes") && !e.params.sizes) return !1; } else if (Object(y.deepAccess)(e, "mediaTypes.video")) { if ("outstream" === Object(y.deepAccess)(e, "mediaTypes.video.context") && !e.params.sizes) return !1; if ("instream" === Object(y.deepAccess)(e, "mediaTypes.video.context") && !Object(y.deepAccess)(e, "mediaTypes.video.playerSize")) return !1; } return !0; }, buildRequests: function buildRequests(e, t) { var r = e.map(function (e) { var t = function (e) { if (e.params.ad_unit) return e.params.ad_unit; return e.params.placement_id; }(e); return /^[/]?[d]+[[/].+[/]?]?$/.test(t) ? (t = "/" === t.charAt(0) ? t : "/" + t, p({}, "".concat(t, "|").concat(e.bidId), "".concat(f(e)).concat(m(e)))) : /^[0-9a-fA-F]{20}$/.test(t) && 20 === t.length ? p({}, e.bidId, "".concat(t, "|").concat(f(e)).concat(m(e))) : void Object(y.logError)("The ad unit code or Sonobi Placement id for slot ".concat(e.bidId, " is invalid")); }), n = {}; r.forEach(function (e) { u(n, e); }); var i = { key_maker: JSON.stringify(n), ref: t.refererInfo.referer, s: Object(y.generateUUID)(), pv: l, vp: v(), lib_name: "prebid", lib_v: "3.23.0", us: 0 }; c.b.getConfig("userSync") && c.b.getConfig("userSync").syncsPerBidder && (i.us = c.b.getConfig("userSync").syncsPerBidder), d.a.canBidderRegisterSync("iframe", b) ? i.ius = 1 : i.ius = 0, Object(y.deepAccess)(e[0], "params.hfa") && (i.hfa = Object(y.deepAccess)(e[0], "params.hfa")), e[0].params.referrer && (i.ref = e[0].params.referrer), t && t.gdprConsent && (i.gdpr = t.gdprConsent.gdprApplies ? "true" : "false", t.gdprConsent.consentString && (i.consent_string = t.gdprConsent.consentString)); var s = function (t) { var e = function () { var e = window.DigiTrust && (c.b.getConfig("digiTrustId") || window.DigiTrust.getUser({ member: t })); return e && e.success && e.identity || null; }(); if (!e || e.privacy && e.privacy.optout) return null; return e; }("fhnS5drwmH"); s && (i.digid = s.id, i.digkeyv = s.keyv), e[0].schain && (i.schain = JSON.stringify(e[0].schain)), Object(y.deepAccess)(e[0], "userId") && 0 < Object.keys(e[0].userId).length && (i.userid = JSON.stringify(e[0].userId)); var o = e[0].params.keywords; if (o && (i.kw = o), t && t.uspConsent && (i.us_privacy = t.uspConsent), Object(y.isEmpty)(n)) return null; var a = "https://apex.go.sonobi.com/trinity.json"; return Object(y.deepAccess)(e[0], "params.bid_request_url") && (a = Object(y.deepAccess)(e[0], "params.bid_request_url")), { method: "GET", url: a, withCredentials: !0, data: i, bidderRequests: e }; }, interpretResponse: function interpretResponse(e, l) { var f = e.body, m = [], v = l.data.ref; return 0 === Object.keys(f.slots).length || Object.keys(f.slots).forEach(function (e) { var t = f.slots[e], r = e.split("|").slice(-1)[0], n = function (e, t) { for (var r = 0; r < e.length; r++) { if (e[r].bidId === t) return e[r]; } }(l.bidderRequests, r), i = null; "video" === t.sbi_ct && (i = "video"https://r.search.yahoo.com/,"outstream" === Object(y.deepAccess)(n, "mediaTypes.video.context") && (i = "outstream")); var s, o, a, c, d, u, p, b = j(i, v); t.sbi_aid && t.sbi_mouse && t.sbi_size && (a = void 0 === (o = (s = h(t.sbi_size.split("x"), 2))[0]) ? 1 : o, d = void 0 === (c = s[1]) ? 1 : c, u = { requestId: r, cpm: Number(t.sbi_mouse), width: Number(a), height: Number(d), ad: b(f.sbi_dc, t.sbi_aid), ttl: 500, creativeId: t.sbi_crid || t.sbi_aid, aid: t.sbi_aid, netRevenue: !0, currency: "USD" }, t.sbi_dozer && (u.dealId = t.sbi_dozer), "video" === i ? (u.mediaType = "video", u.vastUrl = b(f.sbi_dc, t.sbi_aid), delete u.ad, delete u.width, delete u.height) : "outstream" === i && n && (u.mediaType = "video", u.vastUrl = b(f.sbi_dc, t.sbi_aid), u.renderer = function (e, t) { var r = 2 < arguments.length && void 0 !== arguments[2] ? arguments[2] : {}, n = g.a.install({ id: t.aid, url: "https://mtrx.go.sonobi.com/sbi_outstream_renderer.js", config: r, loaded: !1, adUnitCode: e }); try { n.setRender(O); } catch (e) { Object(y.logWarn)("Prebid Error calling setRender on renderer", e); } return n.setEventHandlers({ impression: function impression() { return Object(y.logMessage)("Sonobi outstream video impression event"); }, loaded: function loaded() { return Object(y.logMessage)("Sonobi outstream video loaded event"); }, ended: function ended() { Object(y.logMessage)("Sonobi outstream renderer video event"); } }), n; }(n.adUnitCode, u, Object(y.deepAccess)(n, "renderer.options")), p = Object(y.deepAccess)(n, "params.sizes"), Array.isArray(p) && Array.isArray(p[0]) && (p = p[0]), p && (u.width = p[0], u.height = p[1])), m.push(u)); }), m; }, getUserSyncs: function getUserSyncs(e, t) { var r = []; try { e.pixelEnabled && t[0].body.sbi_px.forEach(function (e) { r.push({ type: e.type, url: e.url }); }); } catch (e) {} return r; } }; function f(e) { return Object(y.deepAccess)(e, "mediaTypes.video") ? "" : e.params.sizes ? Object(y.parseSizesInput)(e.params.sizes).join(",") : Object(y.deepAccess)(e, "mediaTypes.banner.sizes") ? Object(y.parseSizesInput)(Object(y.deepAccess)(e, "mediaTypes.banner.sizes")).join(",") : e.sizes ? Object(y.parseSizesInput)(e.sizes).join(",") : void 0; } function m(e) { return e.params.floor ? "|f=".concat(e.params.floor) : ""; } var j = function j(i, s) { return function (e, t) { return "video" === i || "outstream" === i ? (r = t, n = s, "https://".concat(e, "apex.go.sonobi.com/vast.xml?vid=").concat(r, "&ref=").concat(encodeURIComponent(n))) : '';
var r, n;
};
};
var a = function a(e) {
var r = 0 < arguments.length && void 0 !== e ? e : window; return function () { var e = 0 < arguments.length && void 0 !== arguments[0] ? arguments[0] : 0, t = 1 < arguments.length && void 0 !== arguments[1] ? arguments[1] : Number.MAX_SAFE_INTEGER; return r.innerWidth >= e && r.innerWidth < t; }; }; function v() { var e = 0 < arguments.length && void 0 !== arguments[0] ? arguments[0] : window, t = a(e), r = 992, n = 768; return t(0, 768) ? "mobile" : t(n, r) ? "tablet" : "desktop"; } function O(i) { i.renderer.push(function () { var e = h(i.getSize().split("x"), 2), t = e[0], r = e[1], n = new window.SbiOutstreamRenderer(); n.init({ vastUrl: i.vastUrl, height: r, width: t }), n.setRootElement(i.adUnitCode); }); } Object(n.registerBidder)(o); } }, [719]); pbjsChunk([85], { 741: function _(e, r, t) { e.exports = t(742); }, 742: function _(e, r, t) { "use strict"; Object.defineProperty(r, "__esModule", { value: !0 }), t.d(r, "spec", function () { return n; }); var a = t(1), d = t(0), p = 12, o = 11, c = 0, u = 22, n = { code: "teads", supportedMediaTypes: ["video"https://r.search.yahoo.com/,"banner"], isBidRequestValid: function isBidRequestValid(e) { var r, t, a = !1; return void 0 !== e.params && (r = i(d.getValue(e.params, "placementId")), t = i(d.getValue(e.params, "pageId")), a = r && t), a || d.logError("Teads placementId and pageId parameters are required. Bid aborted."), a; }, buildRequests: function buildRequests(e, r) { var t = e.map(I), a = { referrer: function (e) { var r = ""; e && e.refererInfo && e.refererInfo.referer && (r = e.refererInfo.referer); return r; }(r), data: t, deviceWidth: screen.width, hb_version: "3.23.0" }; e[0].schain && (a.schain = e[0].schain); var n, d, i, s = r.gdprConsent; return r && s && (n = "boolean" == typeof s.gdprApplies, d = "string" == typeof s.consentString, i = n ? function (e, r, t) { var a = p; e ? function (e, r) { return e && 1 === r ? e.hasGlobalScope || e.hasGlobalConsent : !(!e || 2 !== r) && !e.isServiceSpecific; }(r, t) && (a = o) : a = c; return a; }(s.gdprApplies, s.vendorData, s.apiVersion) : u, a.gdpr_iab = { consent: d ? s.consentString : "", status: i, apiVersion: s.apiVersion }), r && r.uspConsent && (a.us_privacy = r.uspConsent), { method: "POST", url: "https://a.teads.tv/hb/bid-request", data: JSON.stringify(a) }; }, interpretResponse: function interpretResponse(e) { var t = []; return (e = e.body).responses && e.responses.forEach(function (e) { var r = { cpm: e.cpm, width: e.width, height: e.height, currency: e.currency, netRevenue: !0, ttl: e.ttl, ad: e.ad, requestId: e.bidId, creativeId: e.creativeId, placementId: e.placementId }; e.dealId && (r.dealId = e.dealId), t.push(r); }), t; } }; function I(e) { var r, t = {}, a = d.getValue(e.params, "placementId"), n = d.getValue(e.params, "pageId"); return t.sizes = (r = e, d.parseSizesInput(function (e) { var r = d.deepAccess(e, "mediaTypes.video.playerSize"), t = d.deepAccess(e, "mediaTypes.video.sizes"), a = d.deepAccess(e, "mediaTypes.banner.sizes"); return d.isArray(a) || d.isArray(r) || d.isArray(t) ? [a, t, r].reduce(function (r, e) { return d.isArray(e) && (d.isArray(e[0]) ? e.forEach(function (e) { r.push(e); }) : r.push(e)), r; }, []) : e.sizes; }(r))), t.bidId = d.getBidIdParameter("bidId", e), t.bidderRequestId = d.getBidIdParameter("bidderRequestId", e), t.placementId = parseInt(a, 10), t.pageId = parseInt(n, 10), t.adUnitCode = d.getBidIdParameter("adUnitCode", e), t.auctionId = d.getBidIdParameter("auctionId", e), t.transactionId = d.getBidIdParameter("transactionId", e), t; } function i(e) { return 0 < parseInt(e); } Object(a.registerBidder)(n); } }, [741]); pbjsChunk([76], { 761: function _(r, e, t) { r.exports = t(762); }, 762: function _(r, e, t) { "use strict"; Object.defineProperty(e, "__esModule", { value: !0 }), t.d(e, "tripleliftAdapterSpec", function () { return s; }); var n = t(2), i = t(1), o = t(0), u = t(3); function p(r) { return function (r) { if (Array.isArray(r)) return d(r); }(r) || function (r) { if ("undefined" != typeof Symbol && Symbol.iterator in Object(r)) return Array.from(r); }(r) || function (r, e) { if (!r) return; if ("string" == typeof r) return d(r, e); var t = Object.prototype.toString.call(r).slice(8, -1); "Object" === t && r.constructor && (t = r.constructor.name); if ("Map" === t || "Set" === t) return Array.from(r); if ("Arguments" === t || /^(?:Ui|I)nt(?:8|16|32)(?:Clamped)?Array$/.test(t)) return d(r, e); }(r) || function () { throw new TypeError("Invalid attempt to spread non-iterable instance.nIn order to be iterable, non-array objects must have a [Symbol.iterator]() method."); }(); } function d(r, e) { (null == e || e > r.length) && (e = r.length);
for (var t = 0, n = new Array(e); t < e; t++) { n[t] = r[t]; } return n; } var a = !0, c = null, s = { code: "triplelift", supportedMediaTypes: [n.b], isBidRequestValid: function isBidRequestValid(r) { return void 0 !== r.params.inventoryCode; }, buildRequests: function buildRequests(r, e) { var t, n = "https://tlx.3lift.com/header/auction?", i = function (r) { var e = {}, t = r[0].schain; e.imp = r.map(function (r, e) { return { id: e, tagid: r.params.inventoryCode, floor: r.params.floor, banner: { format: r.sizes.filter(l).map(function (r) { return { w: r[0], h: r[1] }; }) } }; }); var n = [].concat(p(function (r) { return f(r, "tdid"https://r.search.yahoo.com/,"adserver.org"https://r.search.yahoo.com/,"TDID"); }(r)), p(function (r) { return f(r, "idl_env"https://r.search.yahoo.com/,"liveramp.com"https://r.search.yahoo.com/,"idl"); }(r)), p(function (r) { return f(r, "criteoId"https://r.search.yahoo.com/,"criteo.com"https://r.search.yahoo.com/,"criteoId"); }(r))); 0 < n.length && (e.user = { ext: { eids: n } }); t && (e.ext = { schain: t }); return e; }(r); return n = o.tryAppendQueryString(n, "lib"https://r.search.yahoo.com/,"prebid"), n = o.tryAppendQueryString(n, "v"https://r.search.yahoo.com/,"3.23.0"), e && e.refererInfo && (t = e.refererInfo.referer, n = o.tryAppendQueryString(n, "referrer", t)), e && e.timeout && (n = o.tryAppendQueryString(n, "tmax", e.timeout)), e && e.gdprConsent && (void 0 !== e.gdprConsent.gdprApplies && (a = e.gdprConsent.gdprApplies, n = o.tryAppendQueryString(n, "gdpr", a.toString())), void 0 !== e.gdprConsent.consentString && (c = e.gdprConsent.consentString, n = o.tryAppendQueryString(n, "cmp_cs", c))), e && e.uspConsent && (n = o.tryAppendQueryString(n, "us_privacy", e.uspConsent)), !0 === u.b.getConfig("coppa") && (n = o.tryAppendQueryString(n, "coppa", !0)), n.lastIndexOf("&") === n.length - 1 && (n = n.substring(0, n.length - 1)), o.logMessage("tlCall request built: " + n), { method: "POST", url: n, data: i, bidderRequest: e }; }, interpretResponse: function interpretResponse(r, e) { var t = e.bidderRequest; return (r.body.bids || []).map(function (r) { return function (r, e) { var t = {}, n = e.width || 1, i = e.height || 1, u = e.deal_id || "", o = e.crid || ""; 0 != e.cpm && e.ad && (t = { requestId: r.bids[e.imp_id].bidId, cpm: e.cpm, width: n, height: i, netRevenue: !0, ad: e.ad, creativeId: o, dealId: u, currency: "USD", ttl: 300, tl_source: e.tl_source }); return t; }(t, r); }); }, getUserSyncs: function getUserSyncs(r, e, t, n) { var i = function (r) { if (!r) return; if (r.iframeEnabled) return "iframe"; if (r.pixelEnabled) return "image"; }(r); if (i) { var u = "https://eb2.3lift.com/sync?"; return "image" === i && (u = o.tryAppendQueryString(u, "px", 1), u = o.tryAppendQueryString(u, "src"https://r.search.yahoo.com/,"prebid")), null !== c && (u = o.tryAppendQueryString(u, "gdpr", a), u = o.tryAppendQueryString(u, "cmp_cs", c)), n && (u = o.tryAppendQueryString(u, "us_privacy", n)), [{ type: i, url: u }]; } } }; function f(r, e, t, n) { return r.map((o = e, function (r) { return r && r.userId && r.userId[o]; })).filter(function (r) { return !!r; }).map((i = t, u = n, function (r) { return { source: i, uids: [{ id: r, ext: { rtiPartner: u } }] }; })); var i, u, o; } function l(r) { return 2 === r.length && "number" == typeof r[0] && "number" == typeof r[1]; } Object(i.registerBidder)(s); } }, [761]); pbjsChunk([75], { 763: function _(e, r, t) { e.exports = t(764); }, 764: function _(e, r, t) { "use strict"; Object.defineProperty(r, "__esModule", { value: !0 }), t.d(r, "spec", function () { return v; }); var m = t(0), s = t(1), o = t(10), c = t(2), f = "Bid from response has no auid parameter - ", l = "Bid from response has no adm parameter - ", p = "Array of bid objects is empty", g = "Can't find in requested bids the bid with auid - ", u = "Seatbid array from response has empty item", y = "Response is empty", b = "Response has empty seatbid array", h = "Seatbid from response has no array of bid objects - ", v = { code: "trustx", supportedMediaTypes: [c.b, c.d], isBidRequestValid: function isBidRequestValid(e) { return !!e.params.uid; }, buildRequests: function buildRequests(e, r) { var a, o, p = [], u = {}, c = {}, f = {}, l = "net"; (e || []).forEach(function (e) { "gross" === e.params.priceType && (l = "gross"), o = e.bidderRequestId; var r = e.params.uid, t = e.adUnitCode; p.push(r); var s, n = m.parseSizesInput(e.sizes); a || m.isEmpty(e.params.keywords) || (0 < (s = m.transformBidderParamKeywords(e.params.keywords)).length && s.forEach(E), a = s), c[r] || (c[r] = {}); var d = c[r]; d[t] ? d[t].bids.push(e) : d[t] = { adUnitCode: t, bids: [e], parents: [] }; var i = d[t]; n.forEach(function (e) { f[e] = !0, u[r] || (u[r] = {}), u[r][e] ? u[r][e].push(i) : u[r][e] = [i], i.parents.push({ parent: u[r], key: e, uid: r }); }); }); var t = { pt: l, auids: p.join(","), sizes: m.getKeys(f).join(","), r: o, wrapperType: "Prebid_js", wrapperVersion: "3.23.0" }; return a && (t.keywords = JSON.stringify(a)), r && (r.refererInfo && r.refererInfo.referer && (t.u = r.refererInfo.referer), r.timeout && (t.wtimeout = r.timeout), r.gdprConsent && (r.gdprConsent.consentString && (t.gdpr_consent = r.gdprConsent.consentString), t.gdpr_applies = "boolean" == typeof r.gdprConsent.gdprApplies ? Number(r.gdprConsent.gdprApplies) : 1), r.uspConsent && (t.us_privacy = r.uspConsent)), { method: "GET", url: "https://sofia.trustx.org/hb", data: m.parseQueryStringParameters(t).replace(/&$/, ""), bidsMap: u }; }, interpretResponse: function interpretResponse(e, r, t) { var s = 2 < arguments.length && void 0 !== t ? t : o.a; e = e && e.body; var n, d = [], i = r.bidsMap, a = r.data.pt; return e ? e.seatbid && !e.seatbid.length && (n = b) : n = y, !n && e.seatbid && e.seatbid.forEach(function (e) { !function (e, d, r, t, s) { if (!e) return; var n; e.auid || (n = f + JSON.stringify(e)); { var i, a, o, p, u; e.adm ? (i = d[e.auid]) ? (a = "".concat(e.w, "x").concat(e.h), i[a] && (o = i[a][0], p = o.bids.shift(), u = { requestId: p.bidId, bidderCode: v.code, cpm: e.price, width: e.w, height: e.h, creativeId: e.auid, currency: "USD", netRevenue: "gross" !== r, ttl: 360, dealId: e.dealid }, "video" === e.content_type ? (u.vastXml = e.adm, u.mediaType = c.d, u.adResponse = { content: u.vastXml }, p.renderer || p.mediaTypes && p.mediaTypes.video && "outstream" !== p.mediaTypes.video.context || (u.renderer = function (e, r) { var t = r.install({ id: e.id, url: e.url, loaded: !1 }); try { t.setRender(w); } catch (e) { m.logWarn("Prebid Error calling setRender on renderer", e); } return t; }({ id: p.bidId, url: "https://acdn.adnxs.com/video/outstream/ANOutstreamVideo.js" }, s))) : (u.ad = e.adm, u.mediaType = c.b), t.push(u), o.bids.length || o.parents.forEach(function (e) { var r = e.parent, t = e.key, s = e.uid, n = r[t].indexOf(o); -1 < n && r[t].splice(n, 1), r[t].length || (delete r[t], m.getKeys(r).length || delete d[s]); }))) : n = g + e.auid : n = l + JSON.stringify(e); } n && m.logError(n); }(function (e) { e ? e.bid ? e.bid[0] || m.logError(p) : m.logError(h + JSON.stringify(e)) : m.logError(u); return e && e.bid && e.bid[0]; }(e), i, a, d, s); }), n && m.logError(n), d; }, getUserSyncs: function getUserSyncs(e) { if (e.pixelEnabled) return [{ type: "image", url: "https://sofia.trustx.org/push_sync" }]; } }; function E(e) { var r; r = e.value, m.isArray(r) && 0 < r.length && "" === e.value[0] && delete e.value; } function w(e) { e.renderer.push(function () { window.ANOutstreamVideo.renderAd({ targetId: e.adUnitCode, adResponse: e.adResponse }); }); } Object(s.registerBidder)(v); } }, [763]); pbjs.processQueue(); }, {}]; window.modules["via.legacy"] = [function(require,module,exports){"use strict"; DS.service("via", function () { "use strict"; // remove `via` from url, to be used after amplitude logs it to prevent users from sharing such urls function removeFromLocation() { var url = new URL(location.href); url.searchParams.delete("via"); history.replaceState(null, "", url.toString()); } // and add `via` param to any outbound links function addViaToUrl(href, via) { if (!href || href.substr(0, 1) === "#") { return href; // don't add to jumps on the current page, e.g. "Skip to main content" } var url = new URL(href); var apexDomain = new URL(location.href).hostname.split(".").slice(-2).join("."); if (url.hostname.indexOf(apexDomain) === -1) { return href; // don't add it to external links } url.searchParams.set("via", via); return url.toString(); } // keys correspond to "page_types" in editable_components.yml var PREFIXES = { article: "article", homepage: "homepage", "vertical front": "section", "rubric front": "rubric" }; var pageType; function setPageType(amplitudePageType) { pageType = PREFIXES[amplitudePageType]; } var DELIMITER = "_"; function concatVia(node, via) { var tag = node.dataset && node.dataset.via; if (tag) { via = (via.length ? tag + DELIMITER : tag) + via; } return via; } function addToClickedLinks() { document.documentElement.addEventListener("click", function (e) { var a; var via = ""; // detect link nodes and collect via directives to append to the href var node = e.target; // the element where this event originated may have been removed from the dom, e.g. in the case of the OIL CMP which disappears after you interact with it while (node && node !== e.currentTarget) { if (node.tagName === "A") { a = node; } via = concatVia(node, via); node = node.parentNode; } if (a && via) { if (pageType) { via = pageType + DELIMITER + via; } a.href = addViaToUrl(a.href, via); } }); } function addToSubmittedForms() { document.documentElement.addEventListener("submit", function (e) { var form = e.target; // collect via directives var via = ""; var node = e.target; while (node !== e.currentTarget) { via = concatVia(node, via); node = node.parentNode; } if (via) { if (pageType) { via = pageType + DELIMITER + via; } // dynamically create a hidden input for the form url var input = document.createElement("input"); input.type = "hidden"; input.name = "via"; input.value = via; form.appendChild(input); } }); } // start listening only once, when first injected addToClickedLinks(); addToSubmittedForms(); return { setPageType: setPageType, removeFromLocation: removeFromLocation }; }); }, {}]; window.modules["visibility.legacy"] = [function(require,module,exports){"use strict"; DS.service("$visibility", ["$document"https://r.search.yahoo.com/,"$window"https://r.search.yahoo.com/,"_throttle"https://r.search.yahoo.com/,"Eventify", function ($document, $window, _throttle, Eventify) { var list = [], Visible, VisibleEvent; /** * @param {number} a * @param {number} b * @returns {*} * @see http://jsperf.com/math-min-vs-if-condition-vs/8 */ function min(a, b) { return a < b ? a : b; } /** * @param {number} a * @param {number} b * @returns {*} * @see http://jsperf.com/math-min-vs-if-condition-vs/8 */ function max(a, b) { return a > b ? a : b;
}
/**
* Fast loop through watched elements
*/
function onScroll() {
list.forEach(updateVisibility);
}
/**
* updates seen property
* @param {Visble} item
* @param {{}} evt
* @fires Visible#shown
* @fires Visible#hidden
*/
function updateSeen(item, evt) {
var px = evt.visiblePx,
percent = evt.visiblePercent; // if some pixels are visible and we're greater/equal to threshold
if (px && percent >= item.shownThreshold && !item.seen) {
item.seen = true;
setTimeout(function () {
item.trigger("shown", new VisibleEvent("shown", evt));
}, 15); // if no pixels or percent is less than threshold
} else if ((!px || percent < item.hiddenThreshold) && item.seen) { item.seen = false; setTimeout(function () { item.trigger("hidden", new VisibleEvent("hidden", evt)); }, 15); } } /** * sets preload property * @param {Visible} item * @param {{}} evt * @param {Number} innerHeight * @fires Visible#preload */ function updatePreload(item, evt, innerHeight) { if (!item.preload && item.preloadThreshhold && shouldBePreloaded(evt.target, evt.rect, item.preloadThreshhold, innerHeight)) { item.preload = true; setTimeout(function () { item.trigger("preload", new VisibleEvent("preload", evt)); }, 15); } } /** * Trigger events * @param {Visible} item */ function updateVisibility(item) { var rect = item.el.getBoundingClientRect(), innerHeight = $window.innerHeight || $document.documentElement.clientHeight, px = getVerticallyVisiblePixels(rect, innerHeight), percent = px / (rect.height || innerHeight), evt = { target: item.el, rect: rect, visiblePx: px, visiblePercent: percent }; updateSeen(item, evt); updatePreload(item, evt, innerHeight); } /** * Return normalized viewport height * @return {number} */ function getViewportHeight() { return $window.innerHeight || $document.documentElement.clientHeight || $document.body.clientHeight; } /** * Return normalized viewport width * @return {number} */ function getViewportWidth() { return $window.innerWidth || $document.documentElement.clientWidth || $document.body.clientWidth; } /** * make sure an element isn't hidden by styles or etc * @param {Element} el * @return {Boolean} */ function isElementNotHidden(el) { return el && el.offsetParent !== null && !el.getAttribute("hidden") && getComputedStyle(el).display !== "none" && getComputedStyle(el).visibility !== "hidden"; } /** * Apparently the fastest way... * @param {Element} el * @returns {boolean} * @example if (!$visibility.isElementInViewport(el)) { ... } */ function isElementInViewport(el) { var rect = el.getBoundingClientRect(); return rect.top >= 0 && rect.left >= 0 && rect.bottom <= ($window.innerHeight || $document.documentElement.clientHeight) && rect.right <= ($window.innerWidth || $document.documentElement.clientWidth); } /** * @param {Element} el * @param {ClientRect} rect * @param {Number} preloadThreshhold * @param {Number} innerHeight * @return {Boolean} */ function shouldBePreloaded(el, rect, preloadThreshhold, innerHeight) { return rect.top <= innerHeight + preloadThreshhold && isElementNotHidden(el); } /** * Create a one-dimensional spacial hash of x * @param {number} x * @param {number} stepSize * @param {number} optimalK * @param {number} base * @return {number} */ function getLinearSpacialHash(x, stepSize, optimalK, base) { var index = Math.floor(x / (stepSize || 1)), remainder = x % stepSize, result = index.toString(base); if (optimalK > 1) {
result += getLinearSpacialHash(remainder, Math.floor(stepSize / base), optimalK – 1, base);
}
return result;
}
/**
* @param {ClientRect} rect
* @param {number} innerHeight
* @returns {number}
*/
function getVerticallyVisiblePixels(rect, innerHeight) {
return min(innerHeight, max(rect.bottom, 0)) – min(max(rect.top, 0), innerHeight);
}
/**
* Get offset of element relative to entire page
*
* @param {Element} el
* @returns {{left: number, top: number}}
* @see http://jsperf.com/offset-vs-getboundingclientrect/7
*/
function getPageOffset(el) {
var offsetLeft = el.offsetLeft,
offsetTop = el.offsetTop;
while (el = el.offsetParent) {
offsetLeft += el.offsetLeft;
offsetTop += el.offsetTop;
}
return {
left: offsetLeft,
top: offsetTop
};
}
/**
* Create a new Visible class to observe when elements enter and leave the viewport
*
* Call destroy function to stop listening (this is until we have better support for watching for Node Removal)
* @param {Element} el
* @param {{shownThreshold: number, hiddenThreshold: number}} [options]
* @class
* @example this.visible = new $visibility.Visible(el);
*/
Visible = function Visible(el, options) {
options = options || {};
this.el = el;
this.seen = false;
this.preload = false;
this.preloadThreshhold = options && options.preloadThreshhold || 0;
this.shownThreshold = options && options.shownThreshold || 0;
this.hiddenThreshold = options && min(options.shownThreshold, options.hiddenThreshold) || 0;
list.push(this);
updateVisibility(this); // set immediately to visible or not
};
Visible.prototype = {
/**
* Stop triggering.
*/
destroy: function destroy() {
// remove from list
list.splice(list.indexOf(this), 1);
}
/**
* @name Visible#on
* @function
* @param {'shown'|'hidden'} e EventName
* @param {function} cb Callback
*/
/**
* @name Visible#trigger
* @function
* @param {'shown'|'hidden'} e
* @param {{}}
*/
};
Eventify.enable(Visible.prototype);
VisibleEvent = function VisibleEvent(type, options) {
var _this = this;
this.type = type;
Object.keys(options).forEach(function (key) {
_this[key] = options[key];
});
}; // listen for scroll events (throttled)
$document.addEventListener("scroll", _throttle(onScroll, 200)); // public
this.getPageOffset = getPageOffset;
this.getLinearSpacialHash = getLinearSpacialHash;
this.getVerticallyVisiblePixels = getVerticallyVisiblePixels;
this.getViewportHeight = getViewportHeight;
this.getViewportWidth = getViewportWidth;
this.isElementNotHidden = isElementNotHidden;
this.isElementInViewport = isElementInViewport;
this.Visible = Visible;
}]);
}, {}];
require=(function e(t,n,r){function s(o,u){if(!n[o]){if(!t[o]){var a=typeof require=="function"&&require;if(!u&&a)return a(o,!0);if(i)return i(o,!0);var f=new Error("Cannot find module '"+o+"'");throw f.code="MODULE_NOT_FOUND",f}var l=n[o]={exports:{}};t[o][0].call(l.exports,function(e){var n=t[o][1][e];return s(n?n:e)},l,l.exports,e,t,n,r)}return n[o].exports}var i=typeof require=="function"&&require;for(var o=0;o