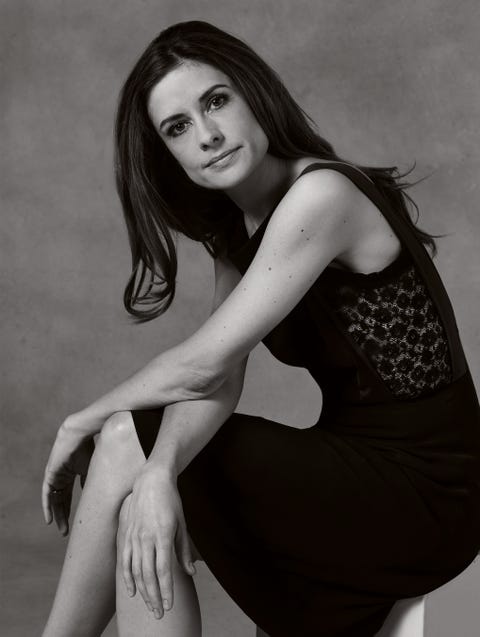 Markn for Harper's Bazaar
This year, the Green Carpet Fashion Awards went digital for the first time. Filmed virtually at the Teatro alla Scala in Milan, using a clever mixture of visual FX, animation and holograms, the event was broadcast live online and on Sky Arts, making it available to a larger audience than ever before; a significant move during a year when the event is arguably more important than ever.
Eco Age founder Livia Firth first launched the Green Carpet Challenge 10 years ago, along with Lucy Siegle, and the pair have been promoting and encouraging vital conversations around sustainability for the past decade. We caught up with Firth to discuss what place the red carpet has during a pandemic, what sustainability actually means, and the enduring power of celebrity endorsement.
Below, discover five ways that she believes we can move forward in fashion.
Fashion must be seen as a form of activism
"For me, this year has been the year of transformation in the way that people will view fashion. At the Green Carpet Fashion Awards, we always use fashion as a political tool and so we look at the world through the lens of fashion. What we wear every day makes a huge difference as citizens because that makes a huge statement about what we want in our world.
"With the pandemic and also with the way that 2019 closed, we have to remember that Australia was burning and then coronavirus arrived and then the Black Lives Matter movement reminded us of the incredible need for justice in the world. The fashion awards could not have been detached from everything that has happened, so this year we had to be disruptive even in the way we were running it. It's completely groundbreaking and fits fashion on the political agenda, hopefully."
Sustainability can – and should – be stylish
"When myself and Lucy Siegle started, sustainability was referred to as eco-fashion and was considered neither sexy or glamourous. The Green Carpet Fashion Awards really changed the landscape completely because it proved beyond reasonable doubt that sustainability isn't really to do with style – it's about the materials used and about the people that make the piece, and that they are being paid and treated fairly to produce it.
"The conversation has changed a lot and the fact that we started working so closely with designers really opened up their minds about opportunities of producing in a different way, so a lot of celebrities started wearing sustainable clothes and then that was featured in magazines – so the conversation just changed and grew from there."
Celebrities need to use their platform for good
"This is not the time in history where you have a big platform and you shut up. If you look at celebrities like Cate Blanchett – she launched the rewear challenge this year. Take Jennifer Aniston, she's been wearing vintage dresses to red carpet events for years, showing that vintage and second-hand are key to real circularity in fashion, which is how it should be. The people who have the platform need to be vocal like this.
"It's changed a lot because, during lockdown, I have been talking with celebrities and designers about how celebrities are going to walk a red carpet now, wearing make-up and expensive jewellery, during a time where a lot of people are dying, are unhappy and have lost jobs. You just can't do that [in the same way as before]. But they can if they make the right stance, like Cate Blanchett being at Venice highlighting sustainability and wearing ethical jewellery, then suddenly you are telling a story on environmental rights and human rights so it is almost becoming the solution.
"This is how we go forward. The future of the red carpet is about sustainability. I don't think that anyone should ever walk again on the red carpet without having something to say or wearing something sustainable. Otherwise, stay home."
We should embrace digital innovation – but also be cautious
"We need to be careful about how we use digital; it's good to reach a wider audience, like with this year at the Green Carpet Fashion Awards which is global and everyone will watch – not only the people in Milan. It also means that no one is flying to Milan for it so that's good too if you look at it like that. The hologram technology is a fantastic solution to have someone appear on the other side of the world that otherwise would have [had to travel in person] for that event.
"But we also have to be careful that digital doesn't replace humans and that human rights aren't an afterthought. When you look at automatisation in factories or a solution like that, we don't just remove the people because we found a digital solution – it's a double edge sword."
We must learn from the pandemic
"During the lockdown, it was very beautiful to see how we all came together as a community, as we were all isolated at home and we all revalued what we cared for and what we were missing. The majority of people probably missed more of their friends that they couldn't hug, rather than the clothes that they couldn't buy. There has been so much awareness globally about looking at the impact of fashion, like in Bangladesh – not because of human rights issues but because of the pandemic and being paid by the brands.
"Suddenly, we became one world and we became more united than ever. My hope is that we won't forget that and we will reconsider the way that we were consuming before as it made us understand how absurd it was. The fashion industry also has to take these lessons on board; it highlights how unsustainable every business model was and how fundamentally flawed it was.
"It's a dramatic situation, but if you want change, it doesn't happen out of harmony. It happens out of a shock to the system and we needed that in order to change. We've been talking about sustainable fashion for years; there have been numerous conferences, round tables and discussions about the circular economy. Now we have to change it with action – we are all in trouble. But sometimes trouble is good."
In need of some at-home inspiration? Sign up to our free weekly newsletter for skincare and self-care, the latest cultural hits to read and download, and the little luxuries that make staying in so much more satisfying.
SIGN UP
Plus, sign up here to get Harper's Bazaar magazine delivered straight to your door.
SIGN UP
This content is created and maintained by a third party, and imported onto this page to help users provide their email addresses. You may be able to find more information about this and similar content at piano.io